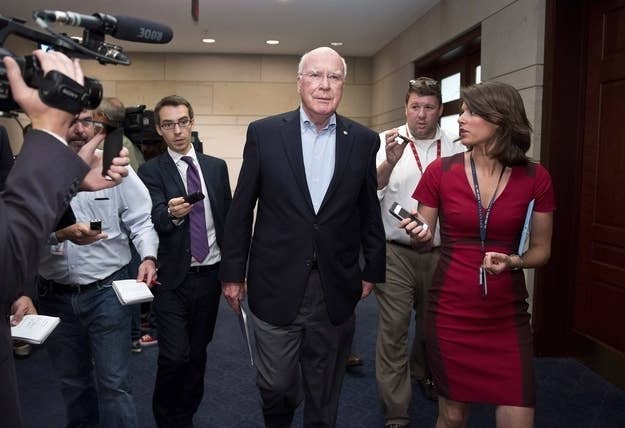 WASHINGTON — Members of Congress who attended a classified briefing Sunday remained highly skeptical of voting to approve a military strike on Syria, and said the administration would need to be more specific about the exact scope of the attacks in the coming days.
Congress is not set to reconvene in Washington until Sept. 9th, but roughly 60-70 representatives and several senators came to D.C on Labor Day weekend to attend the briefing. The meeting came a day after President Barack Obama announced he would seek congressional authorization for the attacks.
"I'm still very skeptical about the President's proposal. It is not clear to me that we know what the result of this attack would be, or whether it will be effective," said Democratic Rep. Jim Himes, who serves on the House intelligence committee. "And in that room, there's a lot of memories of another time when the president's people came in and said they had slam-dunk intelligence and that's not an episode most members ever want to repeat."
There was widespread concern among members, even those generally supportive to striking Syria, that administration's draft resolution was far too broad and open-ended. Vermont Sen. Patrick Leahy, the chairman of the judiciary committee, said after meeting that the language would "be amended in the Senate" to tighten the wording of the authorization.
"It is a broad document and given the specificity with the president has been speaking on this, it is a little difficult to reconcile what he's asked for with the document that is now before us," said GOP Rep. Scott Rigell, who led more than hundred members of Congress to sign a letter asking the President to seek a congressional vote before striking Syria.
Some of the president's closest congressional allies expressed hesitancy about a resolution that did not specify an end date.
"I myself have questions about any authorization for the use of force that goes beyond discreet task of sending a strong message that the use of chemical weapons is against not only international law but all moral authority on this planet," said Rep. Xavier Becerra, the chairman of the Democratic caucus.
Becerra said he did not believe that Democratic leadership would pressure their members, or "whip" them, into voting for the resolution.
"Anytime you talk about the use of military force, I don't believe that any member can be whipped into doing one thing or the other. It's a vote of conscience and I think this is the supreme vote any member of Congress can take," he said.
On the Sunday talk show circuit, Secretary of State John Kerry said he believed that Congress would ultimately back the administration in authorizing a strike against Syria, especially in light of evidence that victims of a chemical weapons attack in the country tested positive for sarin.
"I don't believe that my former colleagues in the United States Senate and the House will turn their backs on all of our interests, on the credibility of our country, on the norm with respect to the enforcement of the prohibition against the use of chemical weapons, which has been in place since 1925," Kerry said.
Rep. Elijah Cummings, a Democrat from Maryland, said it was incumbent on the administration to help members explain to their constituents why Syria's use of chemical weapons compelled America to act.
"That's something we need to be able to explain," he said, noting he had not decided if he would vote to strike. "That has to be a part of the education. Congress people are listening to their constituents, constituents need to know the significance of the chemical weapons."
Beyond the broad worry that the strikes would not be as limited in scope as the President has suggested they would be, some Republicans fretted that Obama might go ahead with a strike anyway even if Congress votes down the measure. But the White House hasn't said what they might do in that scenario.
"It's interesting the president hasn't made congress relevant in his administration until now," said Rep. Dennis Ross, a conservative from Florida. "So, if we don't approve it he might consider us irrelevant again."