WASHINGTON — If Bernie Sanders decides not to run for president, it will be for one of two reasons.
First, the dour Vermont socialist worried during an interview with BuzzFeed News Tuesday, he might wind up doing more harm than good to the progressive movement.
"If I do it, it has to be done well. And that's not just for my ego," he said, seated in his airy Senate office on blue couch beneath three indifferently framed Vermont tourism posters. "The worst thing I could do is run a poor campaign without the organizational support, without the money — and then have people say that the ideas themselves are ideas that people don't support."
So Sanders, who has spent his career fighting money in politics, who handily won his re-election without running a single television ad, will run only if he thinks he can raise "tens of millions" of dollars for the primary. And this brings us to the second reason.
Sanders is weighing a primary challenge to Hillary Clinton, a prospect with massive advantages — attention, a place on the debate stage — and the huge handicaps of facing a giant political network and a candidate whose super PAC plans to raise as much as $500 million. And then, after that, there's the conservative money that would pour into a general election.
"The depressing part about that is that even if you did something phenomenally well — say you have 3 million people giving a $100 contribution each, which would be an enormous achievement — you'd be raising one-third of what the Koch brothers say they are spending."
As Sanders continues, it becomes clear that this isn't even the really depressing part. No, the really depressing part is grander than just him or one race.
"The question then occurs whether or not at this point in history you can beat the money folks," he muses. "It may be that they have too much power and too much money and a real progressive may not be able to take them on."
From Sanders' vantage point (the corner of the couch, it should be noted, nearest the door), even the best campaign won't be able to shatter the icy grip of the corporate oligarchy on American life: the corporate money, flowing floodgates opened by Citizens United, the three main television networks that have barely covered the Trans-Pacific Partnership, a major trade deal, the generalized American apathy.
"The situation," Sanders pronounces, "is fairly dismal."
The senator, with his striking bald dome, his Brooklyn accent, and a manner that's blunt to the point of abrasiveness, is often caricatured as "grumpy" or "grouchy." He tends to live up to the caricature. He received us with the enthusiasm of a smart, bored student forced to stay late for detention.
And yet, despite his lack of ordinary political skills and the deck that he sees as badly stacked against him, sometimes Sanders thinks he could pull it off. There have been sparks, lately, of a kind of leftism not seen in America for a generation — the Occupy movement, the surge of excitement for Elizabeth Warren's candidacy, the daily feedback from Sanders' own buzzing, under-the-radar Facebook page, which — with 906,000 likes — is the biggest of any Democratic senator's official Facebook presence.
"We do very, very well on Facebook. We may have on some days more people talking about us than the rest of the Senate combined," Sanders said. "It tells me, that is just one example, that there is a great deal of interest out there about the ideas we are talking about."
For example, on Wednesday morning, Facebook statistics showed more than 1,000,000 people were "talking" about the senator — more than the entire Senate combined, more than the Washington Post, Speaker John Boehner, the White House, or the New York Times, a Sanders aide noted. His official page receives, according to the traffic tracking site Alexa, more visits than any other senator's. Statistics provided to BuzzFeed News under an exclusive arrangement with Facebook showed his Facebook "interactions" trailing only Hillary Clinton, Elizabeth Warren, and John Kerry among prominent Democrats over the last week, and ahead of Joe Biden — though sentiment, by their calculations, was more split on Sanders (just 52% positive) than on other figures.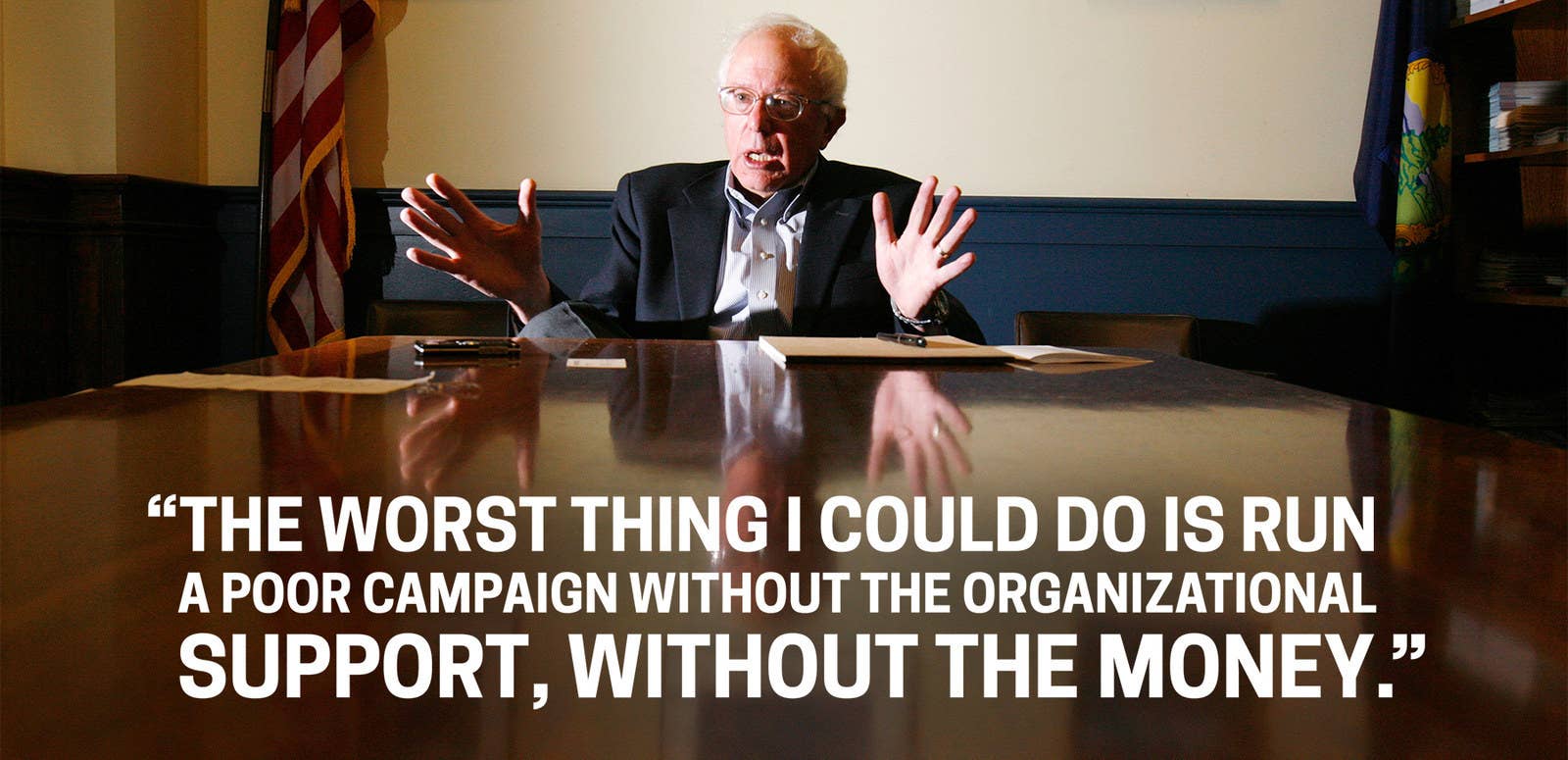 "I think there is a great deal of support for the necessity of taking on the billionaire class," Sanders said, "for bringing people around the progressive agenda which talks about rebuilding our infrastructure, for creating jobs, for a national health care program, raising the minimum wage to a living wage, to dealing all the way with climate change, dealing with Wall Street. There's a lot of support for those kinds of ideas."
That is Sanders' agenda, the same as it has been since he was elected out of Burlington City Hall to the House of Representatives in 1988: sweepingly progressive, drawn from an anti-corporate tradition whose roots are as much in Ralph Nader's career as in the modern Democratic Party.
"We don't need establishment politics. We need a level of grassroots organizing that we have not seen since maybe the 1930s," he said.
Sanders has made a decision not to take shots at Clinton, and despite our repeated attempts, he will not be baited into it.
"If I run, I'm not running against Hillary Clinton," he said flatly, and waited for the next question.
He listened impatiently as we read the names of Clinton's speaking clients: Goldman Sachs, Bank of America, Citigroup.
"I have not taken money from those groups. They have not invited me to speak," he replied.
Sanders has, though, been preoccupied lately by questions of finance. Though the fight for which he is presently best known is the effort to derail the Trans-Pacific Partnership trade agreement, he is also intensely focused on doing what he can to support Greece's new government, led by the leftist Syriza party.
"Greece is in a sense the canary in the coal mine for austerity programs, which has in this case been pushed upon them," Sanders said. "It's terribly important that they be allowed to implement what they campaigned on: raising the minimum wage, undoing the privatization, getting the electricity to people who needed it and creating jobs in their country."
Sanders has put in calls to the Treasury Department, the International Monetary Fund, and to Federal Reserve Chair Janet Yellen to plead the Greek case.
He's "made my feelings known that we should do everything we can to allow Greece and their new government to develop a pro-growth policy."
A question about whether he thought he could build support for this campaign was met with a deadpan glance.
"I don't think there's momentum in the Senate," he said.
Sanders has been fairly effective for a guy who is by definition isolated — one of two independents in the Senate — and who isn't a particularly easy person to deal with. But he, along with Republican Jeff Miller in the House, helped write and pass a sweeping $16 billion veterans bill as the chair of the Veterans Affairs committee last year, signed by President Obama in August.
And while he may not be known as a guy who wants to be everyone's best friend, Sanders is a reliable vote in the caucus, described by several sources and members who have worked with him as a team player who gets along with Democratic leadership. There's a level of understanding that Sanders will take a stand when he feels like it's necessary (and is given space by Democratic Leader Harry Reid to do so) but is not one to gum up the works.
And while he is a radical in his politics, he can stand, to a surprising degree, on ceremony. Sanders has, for a 73-year-old Vermont grandfather, gone viral rather regularly on the internet, once for shouting down several anti-Israel hecklers at a town hall in Cabot, Vermont, to the glee of supporters of Israel. He bridled at the notion that this was about Israel. This was about town meetings, which are "what democracy is about."
"You want to ask me a question, ask me a question," he continued in spirited defense of town hall meetings. "Don't disrupt me. I don't believe that's democracy."
Indeed, Sanders said he remains troubled by "the terrible attacks on Gaza, the loss of civilian life, and the overreaction by Israel." He had skipped Benjamin Netanyahu's speech to Congress that day — he was the first member of the U.S. Senate to say he wouldn't attend it — and has no illusions about what he sees as the "bad players on both sides" of the Middle East conflict.
Sanders is more focused, as always, on domestic policy, and in particular on the TPP, whose broad spectrum of agreements around everything from intellectual property to food safety and labeling has become a rallying cry for the left in the United States, Britain, and around the world.
"Minimum wage in Vietnam is 56 cents an hour," Sanders says. "American workers should not be forced to compete against people making 56 cents an hour."
These are the lonely fights Sanders is used to fighting — often on his own — but now his causes are at the top of the agenda for the progressive left in the House and Senate as those coalitions have expanded.
And if he does run, he keep his Senate seat, unlike his colleague Marco Rubio.
"Of course I will. I'm a Senator," he said.