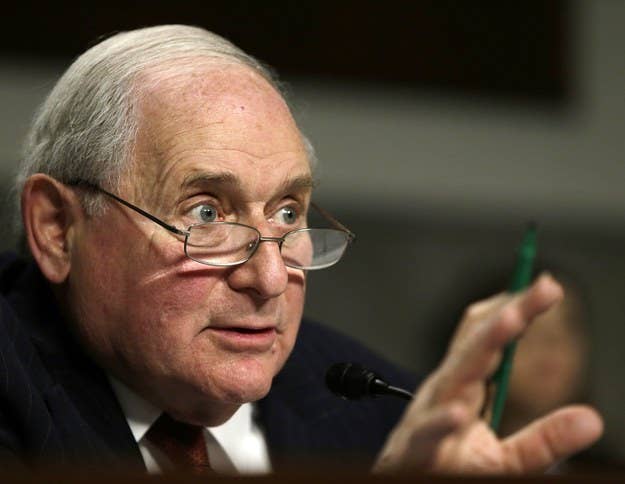 WASHINGTON — House Republicans blocked a vote on a measure this week that would allow young undocumented immigrants to serve in the military — and Senate Democrats will probably soon do the same thing.
Republican Rep. Jeff Denham has pushed aggressively in recent weeks for a vote on the bill, called the ENLIST Act. This week, he attempted to attach it as an amendment to the mandatory National Defense Authorization Act (NDAA). The legislation would create an eventual path to citizenship for military DREAMers.
Despite Majority Leader Eric Cantor insisting that he supports the idea, House leadership blocked Denham's amendment, charging that the NDAA was not the appropriate vehicle for the bill.
Denham has since lobbied senators to put the measure in the Senate's version of the NDAA, he confirmed to BuzzFeed, in hopes that when House and Senate negotiators meet to "conference the bill," the ENLIST Act would make it in there.
"We're going to utilize every opportunity possible," Denham said.
Those efforts look unlikely to succeed, however.
Democratic Sen. Carl Levin, the chairman of the Senate Armed Services Committee, said on Thursday there was "consensus" among Democratic senators to not include it in the Senate version of the bill.
"I'm not planning on it," he said. "I'm all for the bill, but I've been told it's not a propitious time to try to move it. Tactically, it's not good time move it."
"There's a consensus among people who support it even, internally, that inside this was not a good time to try it. Again, I'm all for it, but I took that advice but we don't want to try something that would be counter productive," he said.
There are Democratic advocates for the bill. Sen. Dick Durbin — the No. 2 Democrat in the Senate — has been trying to speak with Levin about allowing the bill to come up as an amendment. He recently held a field hearing in Chicago on the topic where he expressed his disappointment in Cantor for not allowing the House to vote on the amendment. Durbin's office pointed to a statement from the field hearing to highlight his support for the military DREAMers.
In that statement Durbin called on House Republicans to pass immigration reform, and also said the Department of Defense and the Obama Administration should move forward with and executive action should they not.
"If the House Republicans refuse to move immigration reform, the Defense Department should use its authority under current law to authorize the enlistment of Dreamers," he said. "Enlisting Dreamers is 'vital to the national interest' because it would make the Armed Forces more diverse and inclusive, and it would allow the Armed Forces to access a well-qualified, educated, homegrown talent pool."
But blocking the military provision is considered important politically for Democrats' bigger plans on immigration this year. One Democratic aide said Democrats didn't want to push anything that would give House Republicans a reason to not go further on broader immigration legislation this year.
"We don't want to give them an excuse to say, 'OK, we're done now,'" the aide explained.
Sen. Chuck Schumer not-so-subtly suggested why Democrats wouldn't push to get the ENLIST Act through the Senate at a press conference on Thursday. Senate Democrats attempted put all the pressure they can on House Republicans to pass a comprehensive immigration bill, or bills that would allow the two bodies to conference, instead of acting on smaller fixes.
"We are not going to go along with minor fixes that fail to address the huge systematic problems of our immigration system today," he said. "If the oil is leaking in your car, your muffler has a hole in it, and you have a flat tire you don't change the windshield wipers But that's what they want to do with this ENLIST Act. Republicans are barely even considering that, but it doesn't even scratch the surface of our immigration system."
"So anyone [that] thinks the ENLIST Act is going to satisfy anybody that something was done on immigration reform is whistling to the wind," he added.
Cantor has said that the military bill could come up in the House as a standalone vote sometime in the future. Denham has also said he'd be open to the Department of Defense and President Obama allowing DREAMers to serve in the military through an executive order.
Sen. Dick Durbin is not sponsor of the ENLIST Act.
This post has been updated with information from Sen. Durbin's office.