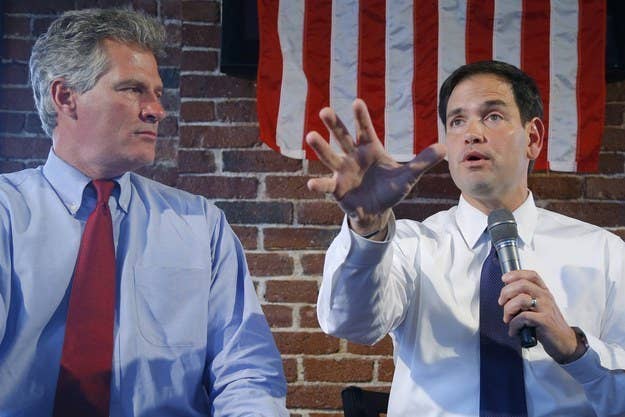 MANCHESTER, New Hampshire — A day after a gunman carried out a terrorist attack in Canada, Sen. Marco Rubio said the United States needs to invest more time and energy into identifying "homegrown extremists before they take action" in America.
Speaking to a group in New Hampshire while campaigning with the GOP candidate for governor, Walt Havenstein, Rubio was asked for his response to the Ottawa attack that left one soldier dead.
"This is a real new risk in the 21st century. We've never confronted something like this before. We've been warning about it but it is real. You don't have to get on a plane anymore and go to the Middle East," he said. "You can be radicalized in your own home on the internet."
Rubio said that the United States needs to change its security posture, to not just focus on tracking terrorists coming from overseas to attack America but to try to identify people who are becoming "radicalized" early on.
"Sometimes it will be uncomfortable because they will be American citizens, people who have grown up here their whole lives who don't fit the profile of people we've often thought of as a terrorist," he said. "Now it's no reason to be paranoid. The enormous majority of people you will interact with will not be a homegrown violent extremist, but it only takes one. While we debate our civil liberties, which are important and we should protect them, we also have to have the capability of identifying threats before anything happens."
The comments follow more than a year of intense debate about surveillance in the United States after the breadth of the NSA's domestic surveillance was made public by Edward Snowden. During about the same period, the Boston Marathon bombing and existence of limited numbers of Americans leaving to join ISIS abroad has also brought attention to some small pockets of domestic radicalization.
In a follow-up question with BuzzFeed News, Rubio explained that better surveillance needs to occur — primarily through social media — to track potential threats.
"We have to have the surveillance capabilities, not to spy on Americans, but to understand if someone is visiting these online sites, if someone is starting to post things on Facebook and Twitter that shows their leaning with extremists, if someone is starting to show up at mosques and say extremist things, that there is a way for us to identify them and potentially prevent an attack before they happen," he said.
During the question and answer session with the audience, Rubio was also asked why Obama "refuses to call terrorism terrorism."
"Is it because in the book that he wrote says he will always side with the Muslims so actually he is a Muslim?" the audience member asked Rubio.
"I don't know about all that but I can tell you this, it is terrorism," Rubio said. "Is it true that the enormous majority of people who identify with the Muslim faith are not terrorists? Of course it is. It's important for those countries to condemn this for what it is. But we cannot ignore that this is terrorism."