Marco Rubio's Early Iowa Win
Rubio invested early in Iowa candidates and Iowans are walking away from him impressed.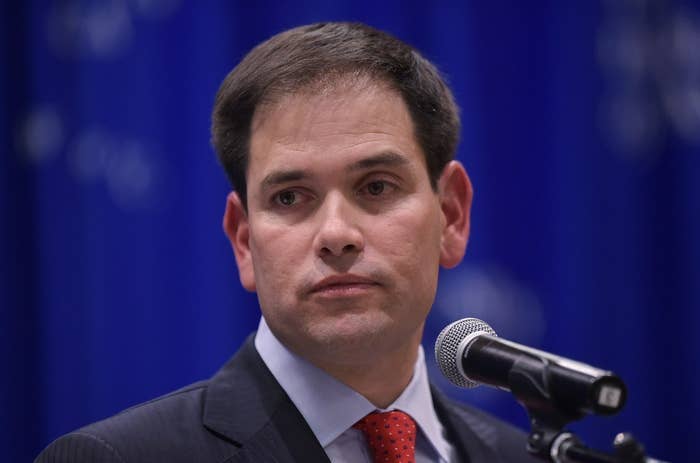 DUBUQUE, Iowa — Matt Giese brought a caricature of Marco Rubio in the hopes that the Florida senator would sign it.
Giese has drawn caricatures of practically all of the potential 2016 candidates (including a particularly unflattering one of New Jersey Gov. Chris Christie) but he was excited to see Rubio for the first time.
Rubio took one look at it and laughed. The drawing featured a thicker head of hair than one he actually does, something Rubio readily admitted. He signed the drawing and posed for a photo. Giese wasn't alone last week in Iowa in his excitement — at all. Person after person came up to the Florida senator, looking for a photo or an autograph, full of praise.
Rubio invested early in Iowa and several of its winning candidates, including Senator-elect Joni Ernst and Congressman-elect Rod Blum. And as he stumped for them in the final days of the campaign, Iowans last week were not only happy to meet Rubio, they were enthusiastic about his message and many were openly eager at the prospect of a presidential campaign.
The immigration debate of 2013 undoubtedly damaged Rubio politically — irrevocably, according to many. But people in Iowa, the kind of people who show up to rallies for Ernst and vote in Republican primaries, are much more receptive to Rubio than you might think. People say they like Rubio — and they really like the domestic-focused, middle-class message he is trying to regain his political footing with.
And that enthusiasm certainly extended to the candidates Rubio was in the state to support.
"I would encourage all you to go out on the internet and read what the senator has written about poverty," said an elated Blum, then running for Rep. Bruce Braley's open seat, told a room full of his supporters. "Some of the very interesting ways, the good ways, the 21st century ways to lift the non-working poor, up to working poor, up to middle class."
Blum is the same man with a sign on his door that reads, "The NSA: The only part of the government that actually listens."
But as Blum fought to win (and ultimately won) the most heavily Democratic district in Iowa, he turned to one of the more hawkish members of the Republican Party.
Rubio kept up a busy campaign schedule in the last few weeks of 2014 campaign, making stops in Iowa, New Hampshire, South Carolina, and his home state of Florida. He campaigned with Blum on Wednesday and spent last Tuesday crisscrossing the state with Republican Senate candidate Joni Ernst. Rubio was one of Ernst's earliest and most enthusiastic supporters, a move not unnoticed by party officials in the state. His top communications director was dispatched to work on Ernst's campaign and his top political adviser was in Iowa on election night. In addition to three campaign stops together on Tuesday, Rubio was the headliner at the roughly 600-person Scott County Reagan Dinner where Ernst also spoke.
Rubio's speeches, in Iowa and other state he's traveled to this year, have focused on what he called "the next great American century." His message is heavily critical of Democratic policies, big government, and President Obama (though, interestingly, not Hillary Clinton).
"It is immoral, it is un-American that the only people who can't send their kids to the school of their choice are poor parents," Rubio said in Dubuque.
And in South Carolina: "There are people struggling to make ends meet at $12 or $13 dollars an hour. Quite frankly I don't know how they do it often times."
And in New Hampshire: "It's about taking the American dream and expanding it to reach more people than ever before."
And back in Iowa: "They try to sell us the idea that big government is good for the people trying to make it and that's a lie."
But despite the big government criticism, Rubio's messaging is also distinctly optimistic in tone — which resonated with a lot of the Iowans who spoke with BuzzFeed News. Rubio told BuzzFeed News that he's already spoken with Mitch McConnell, the Republican leader, about bringing his policy proposals to floor in the next Congress should Republicans take the Senate.
"i think if I could get votes on a lot of these, they would pass. Some of them aren't controversial," Rubio said. "[McConnell] has been meeting with a lot of different offices about setting the agenda and obviously we think these should be a part of that agenda."
The speeches of the potential 2016 candidate are hard to describe as anything but stump speeches: laying out a policy prescription, talking about Republicans visions for 2014 and beyond, and presenting an optimism about the future of the United States. His aides say his focus on poverty and upward mobility is nothing new and it's something he's been working on since his time in the Florida State House. Back in January, Rubio delivered a speech on the 50th anniversary of the "War on Poverty," striking many of the same tones he is now.
"I understand why people are starting to doubt the American dream," he said in Dubuque. "But here's our message: I understand times are tough but we are on the eve of another American century. We are on the eve of the most prosperous and secure time in American history if we only do what it takes to achieve it."
Unsurprisingly, Democrats have a more cynical take of Rubio's approach, criticizing him for his votes against minimum wage and paycheck fairness in the Senate.
"Marco Rubio's presenting a false choice. We can help the least fortunate while expanding economic opportunity for everyone," said Michael Czin, a spokesman for the Democratic National Committee.
But the positivity of his message — in contrast to the often grim messaging from some of his Republican peers — resonated with Iowan attendees.
Jim Nelson patiently waited to shake Rubio's hand after the dinner and when he got the chance to, implored him to run for president.
Nelson told BuzzFeed News he'd seen several Rubio's floor speeches on C-SPAN, but was wowed by what he had seen in person.
"He's got the vision, the emotion of it, he's lived it. He gave that whole speech tonight without a note or a teleprompter," Nelson said. "He's very eloquent. Everybody thought Obama was a great speaker but there was nothing behind it. He's the real deal."
"He really just has a positive message and you can't help but get charged up with it," said Dennis Powers in Dubuque. "He's an abundance thinker, rather than a scarcity thinker."
"I think he's got some spunk to him that the party needs," Giese, who lists Walker and Rubio as his top two favorites for a 2016 run, said. "I think he can draw in more minorities, I think his story resonates, he's lived it. And being younger, I think his message can appeal to younger people so they don't always vote Democrat."
.