Rival Gun Group Attacks NRA Over Database
"This should not surprise anybody that the NRA would be gathering names or frankly isn't that opposed to it," said NAGR executive director Dudley Brown in light of BuzzFeed report.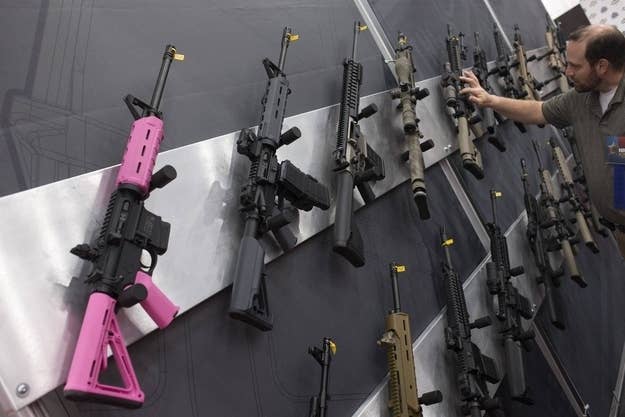 WASHINGTON— The National Association for Gun Rights (NAGR), a group that positions itself to the right of the National Rifle Association, slammed its rival Thursday after BuzzFeed reported that the NRA has been building a vast secret database of gun owners.
"Certainly every organization has a right to collect information and try and market but I think the salient point here is that the NRA really isn't opposed to databases in the first place," said NAGR executive director Dudley Brown in an interview. "When's the last time the NRA talked about repealing the Brady check? Or asked candidates for office if they would want to repeal Brady checks? They haven't. This should not surprise anybody that the NRA would be gathering names or frankly isn't that opposed to it. "
The NRA did not immediately return a request for comment.
The NAGR is staunchly opposed to background checks for gun owners and believes that Americans have a constitutional right to carry a weapon without any government regulation or registry. They've repeatedly attacked NRA-backed Republicans, including House Majority Leader Eric Cantor, who they believe aren't fully committed to 2nd amendment rights and have accused the NRA of secretly conducting "backroom deals" on gun legislation.
Brown said that the majority of NAGR membership comes through email, Facebook and direct mail solicitation. Kentucky Sen. Rand Paul has been known to send out fundraising appeals for the group.
Brown said the NAGR has contacted states to inquire about permit lists but "mostly just to see whether the state makes it available and see if this information is being given out." Brown said they do this to warn their members that such information could be given out and referenced a January map in the Journal News that listed the names and addresses of gun permit holders in parts of New York. The publication later removed the map.
"When they can acquire that kind of data and put it out online for everyone to see, it does I think beg some serious privacy questions," he said. "I don't want the government to know I have a gun, and I certainly don't want it broadcast and advertised. We know the NSA is on everything, but the fact is, so is the NRA."
Brown called the NRA's tactics of collecting data through their own training programs "unprincipled."
"You set up the system that by law requires people to go through this training, of course we believe you shouldn't have to have a permit at all that's why we push constitutional carry all over the country because it removes the database issue," he said.
Kate Nocera is the DC Bureau Chief for BuzzFeed News. Nocera is a recipient of the National Press Foundation's 2014 Dirksen Award for distinguished reporting on Congress.

Contact Kate Nocera at kate.nocera@buzzfeed.com.

Got a confidential tip? Submit it here.