Republicans Shut Down The Idea Of Another Shutdown
The Obamacare rollout may be bad, but GOP lawmakers are united against repeating the same strategy that caused a government shutdown last month. Learning from their mistakes?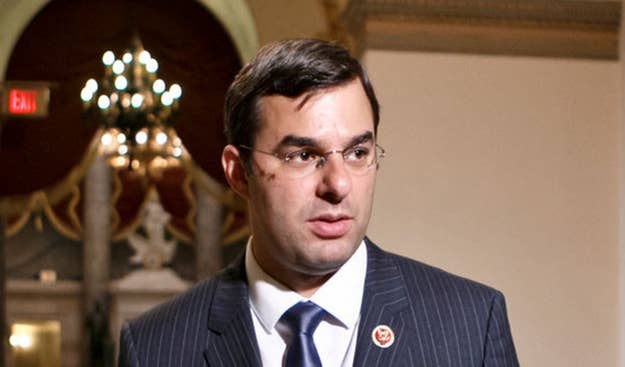 WASHINGTON — If you thought the disastrous first month of the Obamacare rollout might give conservative Republicans on Capitol Hill another case of shutdown fever, think again.
Republicans' efforts to tie federal budget negotiations to Obamacare-related demands backfired for the GOP in October when the party shouldered the majority of public blame for the government shutdown. The problems with the health care law since then have given Republicans endless fodder for attacks against Democrats — and many in the GOP are basking in an "I told you so" moment. But even the conservative lawmakers who dragged their leadership into a politically perilous fight over defunding the health care law in October have no desire to go down that road again.
"We need to repeal law, and Republicans are going to keep pushing for repeal. It doesn't work and it's not going to work," said Rep. Justin Amash, a close ally of Sen. Ted Cruz, who led the defund push. "Separate from all of the spending negotiations we should be working on repeal. It's the right thing do, regardless if you have a spending bill coming up or debt limit bill coming up. I don't think you need to attach the issues together."
The deep-set problems with Obamacare have sent Democrats into a panic. The website still isn't working properly. Millions of people have seen their individual plans cancelled. And the president himself announced an administrative "fix" to the cancellation problem Thursday, but that only left Democrats divided.
As far as some conservative Republicans are concerned, all they have to do now is sit back and watch Democrats scramble to fix the problems.
"No one wants [a shutdown], no one wants that," said Rep. Jim Jordan. "The people who want to change this law are the people in the other party. This is Harry Reid's problem now. And [red state Democrats] are all talking to him."
Rep. Trey Radel laughed at a reporter when asked if he thought some in the conference might attempt to defund the law as part of the budget negotiations. When he stopped chuckling, Radel said that the president pushing to delay parts of the law on his own gives some validation to the Republican position.
"We cant do that, it's not going to be defunded. But President Obama is doing what we asked for from the beginning. President Obama exemplifies why Democrats shut down the government, not Republicans. All we asked for was everything the president is doing right now," he said. "Make it fair, delay it. Right now America is looking at this and saying wow, maybe Republicans were right."
South Carolina Rep. Mark Sanford said the Obamacare news, and the administration's proposed fix, "lays validity to a point a number of different folks tried to make at the time of the shutdown."
"I think it gives legitimacy to the Republicans at that time," he said.
A House leadership aide said that the silver lining of the shutdown was that the divided Republican conference came together, and the Tea Party wing of the House, wary of leadership, suddenly had Speaker John Boehner's back.
"We went through that experience together, we fought side by side. There was a level of trust that was built up between leadership and the conservative flank. It was never about principle, it was about strategy and that strategy failed," the aide said. "What we said was going to happen is now happening so the best thing for us to do is go with a targeted strike and don't make this about us."
Both Boehner and Senate Minority Leader Mitch McConnell have ruled out any possibility of shutting down the government over Obamacare again. Cruz has said he will continue to push for repeal of the law, calling in the "essence of pragmatism" to do so, but has not indicated how he might bring up a repeal bill.
Cruz instead, blamed the president for the shutdown in October.
"There is some irony that just a few weeks ago President Obama was willing to and in fact insisted on shutting down the government rather than agreeing to any reforms that would mitigate the disaster that is Obamacare," he said. "And now he's out proposing those reforms. At the end of the day, the proposals President Obama and Congressional Democrats are proposing are nothing more than cosmetic band aids."
"The reasonable pragmatic middle of the ground solution is to acknowledge it's not working, let's start over," he added.
Kate Nocera is the DC Bureau Chief for BuzzFeed News. Nocera is a recipient of the National Press Foundation's 2014 Dirksen Award for distinguished reporting on Congress.

Contact Kate Nocera at kate.nocera@buzzfeed.com.

Got a confidential tip? Submit it here.