Rand Paul's New Mission: Helping Out The Republican Establishment
The Kentucky senator has long been a thorn in the side of the GOP establishment. Now, two years before a bigger election, he's campaigning all over the country for them.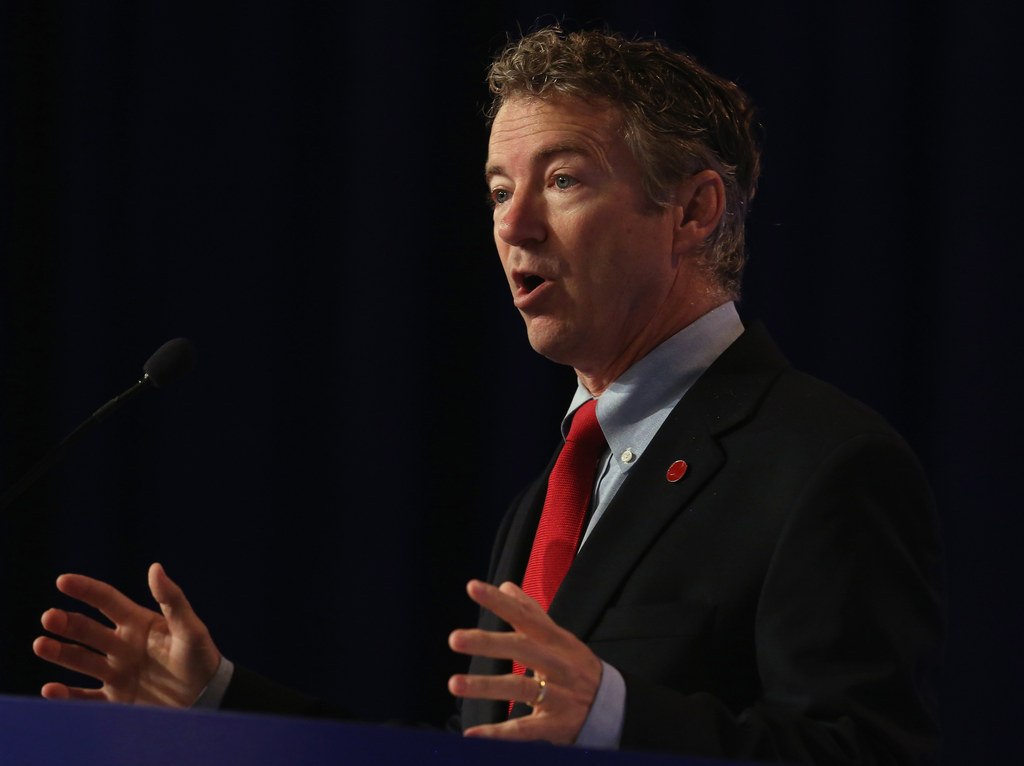 RALEIGH, N.C. — When Rand Paul walked into the diner in downtown Raleigh, Tracy Perina started to get emotional.
Paul was in town on Wednesday to stump for Thom Tillis, the Republican candidate locked in a tight race with Democratic Sen. Kay Hagan. Tillis had come into the diner as well, but Perina, clad in a "Ron Paul for President" T-shirt, was entirely focused on getting a photo with Kentucky senator. After she did so, she burst into tears.
"I'm so embarrassed," she said, wiping her cheeks. "It's just…I can't believe I just met Rand Paul."
Perina explained to BuzzFeed News that she was not a Tillis supporter and, in fact, until Paul had shown up to support him, she had been considering voting for the libertarian candidate in the race, Sean Haugh.
"I trust Paul and his opinion," she explained. "Of course Thom Tillis is better than Kay Hagan, but he's an establishment Republican."
Voters like Perina — libertarian-leaning and actively engaged — are exactly the reason Tillis and other Senate Republicans are clamoring to have Paul come to their states. And Paul, a likely presidential contender in 2016, is happy to oblige.
Back in May, Paul came to North Carolina to stump for Tillis' primary opponent, Greg Brannon, much to the chagrin of many Republicans who had rallied around Tillis. At the event, at a point when Tillis' victory was a foregone conclusion, Paul called Brannon a "dragon slayer" and said Washington didn't need more of the status quo — an unsubtle suggestion that Tillis would simply be more of the same.
Four months later, everything's different. The shift, Paul argued in an interview with BuzzFeed News, has a lot to do with a general election — instead of the Republican ideological splits on display in a primary, the choice now is much simpler.
"The views of the Republican Party are remarkably different than the views of the Democrats," Paul said. "There's a variety of views within the Republican Party but when you line up Republican to Republican, Democrat to Democrat, and policy to policy, to me it's a night and day difference."
"The distinctions between the parties are so much greater than the distinctions within the party."
In the coming weeks, he'll head to Kansas to support both Republican Sen. Pat Roberts and Gov. Sam Brownback, both of whom are struggling in the polls. He'll also be making stops in Michigan, New Hampshire, Iowa, and Georgia for Republican candidates in those states. Next week, he's headlining a Republican National Committee fundraiser in New York, followed immediately by a fundraiser for the National Republican Senatorial Committee at the home of former Oracle CEO Larry Ellison. These are not exactly the gestures of someone on the outs with the "establishment."
"I'm trying to help smooth things over," he said. "We fight amongst ourselves in primaries … Democrats don't agree with each other all the time. Yet they seem to somehow come together and quit fighting, and we need to do the same thing."
Democrats have hit Paul wherever he's gone, of course. A Hagan press release called Tillis and Paul "two peas in a pod on eliminating the department of education." The Democratic National Committee has called Paul "infamous for trying to have it both ways" on issues like voting rights, as he headed to North Carolina to campaign for Tillis, the legislator who helped craft and pass a law that limited early voting, got rid of pre-registration for 16- and 17-year-olds, and ended same-day registration. Democrats' favorite word to describe Paul is "fringe."
Besides the constant attention from Democrats, and the clear sense that Paul doesn't always quite agree with the candidates he stumps for, the campaigning has a big, obvious upside: It means a lot to Republicans. Should he run for president in 2016 — and all indications are that he will — the work he's doing now could pay off when he needs the favor returned.
"People don't forget stuff like this," said one Republican strategist who has been critical of Paul in the past. "His quick willingness to get on board will pay dividends down the line."
The strategist also pointed out that Paul's work was in stark contrast to Sen. Ted Cruz, another likely presidential candidate, who has openly sparred with the NRSC despite holding the title of vice chair for the committee. Cruz has "antagonized" Republican leadership, the strategist said, for sharply criticizing the committee during the primary season. But things could change soon: Now that primary season is over, Cruz's office says he has plans to campaign for several candidates this month (which ones will be announced at a later date). More recently, Cruz transferred $250,000 to the committee.
The gratitude for Paul's efforts extends to the NRSC, where a spokesman called Paul an "enthusiastic and cheerful advocate" for their candidates.
"Sen. Paul's enthusiasm not only resonates with core Republicans, but his message also appeals to younger voters who are fed up with Washington and want to shake things up," Brad Dayspring, the spokesman, said.
And when it comes to the uneasy ideological alliances, Paul sees a second benefit in showing up in places where he's not fully in line with the candidate: his ability to persuade on some of the core libertarian issues he cares about.
"I've told Republicans frankly, if you want to win the libertarian vote, tell voters what aspect of your platform is libertarian," he said. "I encourage people everywhere I go to talk about things that are important to libertarians — audit the fed is important, not detaining people without a trial, not taking people's records and spying on people, small constitutional government, not going to war with out congressional approval. All of these things are important to libertarians."
"The only way the Republican gets the libertarian voter is they address those issues … The war on drugs is a big deal," Paul said. "We think people are kept in prison for too long for too much of the time."
In practice, that persuasion may not be quite taking in North Carolina. At the diner in Raleigh, a reporter quizzed Paul: Was his presence in the state meant to get libertarians to support Tillis? Paul deferred to Tillis for an answer. But he did note that "many of libertarian ideas are Republican ideas."
Tillis wouldn't go there, and dodged the question. A follow-up email to his campaign about what libertarian ideas Tillis shared with Paul went unanswered.
"We want any member of the Senate caucus down here to show the broad base of support we have for this campaign," Tillis said.
But Paul is undeterred. In an interview, he said he believes that shying away from libertarian ideas is the wrong way to go for Republicans. His travel schedule, he said, proves that GOP candidates are looking for his help. And as he's tried to be seen as a different kind of conservative, he believes his schedule is a reflection of where the party is heading.
"It shows that libertarian-ish kind of ideas are popular," he said.
And has he been surprised by all of the interest in him?
"No, I'm a good person, it doesn't surprise me at all," he deadpanned.
This post has been updated with more details about the NRSC fundraiser Paul is headlining.