Rand Paul Is (Mostly) On His Own This Time
Most GOP senators won't be "standing with Rand" as Paul launched into what will likely be a very long floor speech on Wednesday to fight the Patriot Act.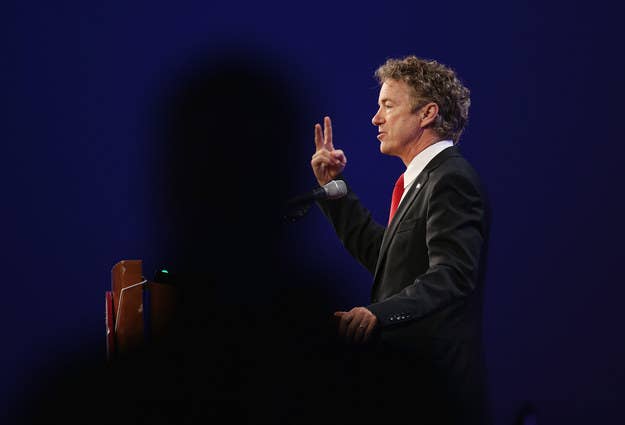 WASHINGTON — When Rand Paul delivered his now-famous filibuster on drones, he was joined by more than a half dozen senators — including Marco Rubio and Ted Cruz — who helped him out by asking long-winded questions to give him a break from speaking.
The drone filibuster is a key moment in the Paul's mythology as a candidate: The hours-long speech launched the phrase "Stand with Rand" and elevated his profile among a much broader audience of American voters on an issue that Paul clearly cares about.
But this time, as Paul speaks on the Senate floor against renewing the Patriot Act, he will mostly be on his own.
With the expiration of the post-9/11 law looming, several of Paul's allies on surveillance are supporting the USA Freedom Act, the bipartisan bill that ends the government's ability to bulk collect phone data along with other changes to surveillance but largely extends the Patriot Act.
At a recent event in Philadelphia, Paul acknowledged his battle would be largely symbolic. "I will do everything possible. The rules are tricky in the senate but we will do everything possible including filibustering Patriot Act to stop them," he said. "People watching the process realize that they can ultimately beat me if they have the votes. They have the votes inside the beltway but we have the votes outside the beltway."
Technically, Paul's Wednesday speech is not a filibuster (the pending business on the floor is a trade bill and debate can be cut off at a set time early Thursday morning). But he and his 2016 campaign team are banking that his largely libertarian base will be elated by the speech — aides and Paul's campaign Twitter account began tweeting about the "filibuster" shortly after Paul started speaking.
Paul says the bipartisan bill doesn't go far enough, and has actually argued it makes it worse, recently arguing that it "actually expands the Patriot Act" by allowing phone companies, instead of the government, to hold on to the data records. He wants nothing short of these provisions of the Patriot Act ending. A spokesman for Sen. Mike Lee, who is a cosponsor of the USA Freedom Act, announced on Twitter that Lee would join Paul "in support of full debate and amendments on the USA Freedom Act." Paul said he wanted "time on the floor to debate this and amendments we put forward on the Senate floor will be given a chance to be passed or rejected."
But even Democratic Sen. Ron Wyden, who has teamed up with Paul to fight any kind of short-term extension to the Patriot Act, supports USA Freedom, the bipartisan effort. Senate Majority Leader Mitch McConnell has said he'll allow USA Freedom to come to a vote, and Paul aides said it was "tbd" if he'd try to stop that bill as well but that he would likely vote no on that bill. Wyden's support for Paul's efforts only go so far as to help him reject a short-term extension. Wyden was the first senator to join Paul on the floor Wednesday afternoon. On Tuesday he said his goal was to end the bulk collection program.
"I expect that there will be a number of members on the Democratic side who will oppose a short-term extension," said Wyden.
"[Paul] and I are very much of the view that the bulk phone record collection must go, it does not make America safer and it compromises our liberty," he added.
Paul is the only Republican member in the Senate opposing both the extension of Patriot Act and the USA Freedom Act. Marco Rubio has sided with McConnell and others to push for a "clean" extension of the Patriot Act with no changes. Meanwhile, Ted Cruz is the co-sponsor of the USA Freedom Act along with several other Republican members who want to see changes to the data-collection program — an issue more or less spearheaded by Paul, who now stands alone.
More hawkish Republicans essentially rolled their eyes at Paul's filibuster threats.
"If he does that's fine. It'll be a 12-hour delay and he'll get his headlines and we'll move on," said Sen. John McCain, who has never been a big fan of Paul's. "There's an old saying that goes 'the dog barks but the caravan moves on … It'll last however long his bladder lasts. How could you possibly work out an agreement with him? Fortunately, he only has one vote."
But even a slight delay could mean the end of the bulk-data-collection program.
The National Security Agency has already announced steps are being taken to wind down the bulk collection program "to ensure that it does not engage in any unauthorized collection or use of the metadata."
The House is leaving town for Memorial Day recess on Thursday, and the Senate is scheduled to adjourn as well. McConnell is banking on the idea that the USA Freedom Act will fail and a short-term measure will be all that is able to pass the Senate, even though the House has said they've done their work already by passing USA Freedom.
This post and the headline have been updated to reflect the fact that Ron Wyden and Mike Lee would join Rand Paul on the Senate floor.
Kate Nocera is the DC Bureau Chief for BuzzFeed News. Nocera is a recipient of the National Press Foundation's 2014 Dirksen Award for distinguished reporting on Congress.

Contact Kate Nocera at kate.nocera@buzzfeed.com.

Got a confidential tip? Submit it here.