Rand Paul Huddles With Bipartisan Group On Syria Opposition
"We wanted to have something that would invigorate those who are opposed... It helps to get people together to reinforce each other," Paul said.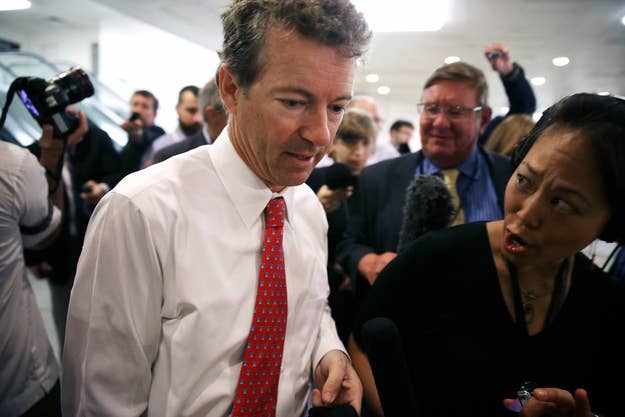 WASHINGTON — Kentucky Sen. Rand Paul held a bipartisan strategy session on Tuesday with about 30 members of the House and Senate who oppose using military force in Syria.
While a new diplomatic Russian proposal to have Syria turn over its chemical weapons stockpile to the international community could prevent a congressional vote on striking Syria, Paul said it was important for members to come together to keep up their vocal efforts in opposition to a strike.
"It's a beginning, and the way things work around here, the caucuses put pressure on you," Paul said. "So we wanted to have something that would invigorate those who are opposed to talk to their colleagues because what will happen in both caucuses, both Republican and Democrat caucus, the fervor will be whipped up to support this and they'll be told things only by one side. It helps to get people together to reinforce each other."
A handle of House Democrats who have been outspokenly against attacking Syria attended the meeting, including Wisconsin Rep. Mark Pocan, Hawaii Rep. Tulsi Gabbard, Florida Rep. Alan Grayson, and Minnesota Rep. Rick Nolan.
"It was a group of members from the House and Senate who have taken positions opposing a U.S.-led military strike in Syria. And the conversation was about how we can prevent us from getting involved in another war," said Gabbard. "There was a lot of sharing of ideas and open and candid conversation and representative of what we are hearing across the country."
Paul has been one of the leading libertarian voices in the Senate, and long opposed military intervention in Syria. He said the group also discussed meeting again in the next week and said he was hopeful more Democrats would attend. Rep. Justin Amash, a Michigan Republican who shares much of Paul's worldview, said the bipartisan meeting was a natural next step for members who oppose striking Syria.
"It reflects a kind of growing movement in the public to have bipartisan work to protect our civil liberties and make sure we follow the constitution and the rule of the law," Amash said. "We think it's important to work together, because we are representing the American people together."
Paul called Russia's diplomatic option "hopeful," but if a vote does occur, he believed there was enough opposition to bring it down.
"I think they are going to avoid a vote… If in a week's time nothing's happened, maybe there is a vote," he said. "I still think we have a good chance of winning. We had a bipartisan group here this morning; we're talking about meeting again hopefully with a bigger bipartisan group in week. It's pretty amazing that we can have enough of a significant caucus going on since the leadership on both sides is really whipping against us."
Kate Nocera is the DC Bureau Chief for BuzzFeed News. Nocera is a recipient of the National Press Foundation's 2014 Dirksen Award for distinguished reporting on Congress.

Contact Kate Nocera at kate.nocera@buzzfeed.com.

Got a confidential tip? Submit it here.