Rand Paul: Executive Action On Cuba OK
The Kentucky senator hates Obama's unilateral use of his office but said issues of diplomacy have been a part of "the executive branch's purview."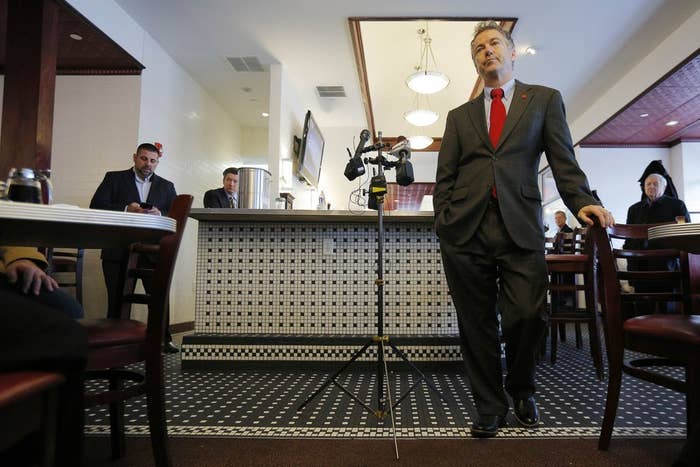 MANCHESTER, New Hampshire — Sen. Rand Paul kicked off his whirlwind New Hampshire trip Wednesday morning, meeting with libertarian-leaning Republican legislators in the state.
He did, as he so often does, go after President Obama for his executive actions and pledged that should he ever be president (and he will very likely run), he would roll back as many executive actions as he could and make it more difficult for a president to use that power.
"The biggest problem with President Obama's administration is that he's attempted to legislate and that's not his jurisdiction," he told reporters here.
However, there's one area in which Paul says the president was right to act unilaterally. Last month, Obama moved to normalize relations with Cuba and open an American embassy in the country. Paul has supported the policy.
"Diplomacy and where we have embassies I think have historically been part of the executive branch's purview, so I don't think they are analogous," Paul said when asked by BuzzFeed News if he felt the use of the executive authority was appropriate when it came to Cuba.
Sen. Marco Rubio, another potential 2016 candidate, told ABC News last month that Paul was the "chief cheerleader of Obama's foreign policy."
"Rand, if he wants to become the chief cheerleader of Obama's foreign policy, he certainly has a right to do that," Rubio said. "I'm going to continue to oppose the Obama-Paul foreign policy on Cuba because I know it won't lead to freedom and liberty for the Cuban people, which is my sole interest here."
Paul recently hit back telling Politico that Rubio's statement was "childish."
Kate Nocera is the DC Bureau Chief for BuzzFeed News. Nocera is a recipient of the National Press Foundation's 2014 Dirksen Award for distinguished reporting on Congress.

Contact Kate Nocera at kate.nocera@buzzfeed.com.

Got a confidential tip? Submit it here.