Rand Paul And Ron Wyden Will Fight The Reauthorization Of The Patriot Act Together
Aides in both offices confirm the two senators are coordinating their efforts to stop a straight reauthorization of the Patriot Act.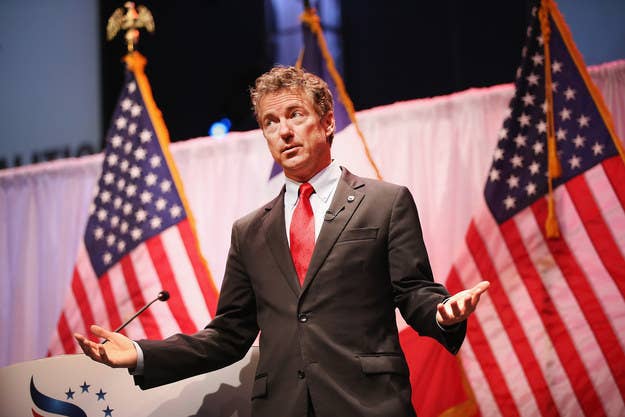 WASHINGTON — Democratic Sen. Ron Wyden and Republican Sen. Rand Paul are teaming up to fight a straight reauthorization of the Patriot Act in the Senate.
The two are coordinating their opposition to an extension of several provisions of the law that are set to expire at the end of June, aides for both senators said.
Senate Majority Leader Mitch McConnell has introduced an extension of the law, without any changes to some of its more controversial elements — like the bulk collection of phone data. Wyden and Paul, both long-time critics of the expanded surveillance practices, will work together to try to prevent that clean extension from happening.
Paul, an aide said, is ready to "work with anyone who supports our opposition." Wyden announced on Sunday that he intended to filibuster any short-term extension of the law "without major reforms like ending the collection of phone records," and an aide in his office said he was "closely coordinating" his efforts with Paul going forward.
"We will be filibustering. We will be trying to stop it. We are not going to let them run over us," Paul told the Union Leader of his efforts at a campaign stop in New Hampshire on Monday.
It's unclear at this point how McConnell will proceed, though the House is set to pass a bipartisan bill, dubbed the USA Freedom Act, that changes some of the more controversial elements, while extending the law itself. A companion bill in the Senate is supported by bipartisan group that includes Sens. Patrick Leahy, Mike Lee, and Ted Cruz — but McConnell has not committed to bringing that bill up. Paul has said he would like to see the entire Patriot Act repealed, whereas Wyden is generally supportive of the USA Freedom Act but would like to see more done to reform surveillance programs.
This is not the first time the pair have worked together: In 2013 when Paul gave a 13-hour talking filibuster on the Obama administration's drone policy, Wyden was the lone Democrat to come to the floor to help.
Kate Nocera is the DC Bureau Chief for BuzzFeed News. Nocera is a recipient of the National Press Foundation's 2014 Dirksen Award for distinguished reporting on Congress.

Contact Kate Nocera at kate.nocera@buzzfeed.com.

Got a confidential tip? Submit it here.