Obama Wants To Bomb Syria Again But Congress Is Much, Much Quieter This Year
"The circumstances are different entirely [this time]," said Rep. Trent Franks.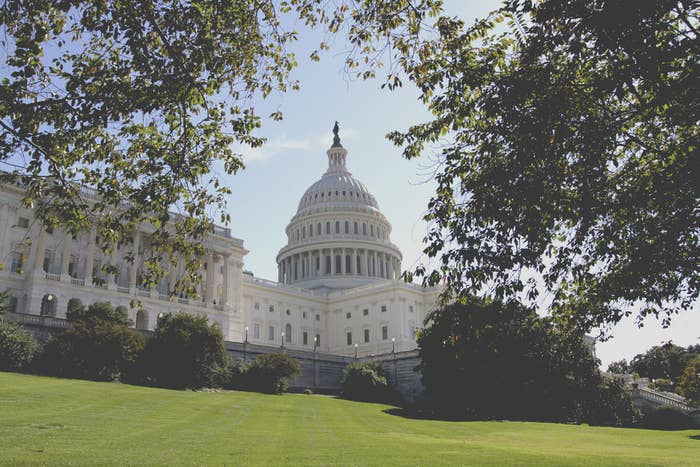 WASHINGTON — Almost a year ago this week, lawmakers rushed back to Washington, cutting the summer recess short after President Obama announced he wanted Congressional approval to strike Syria.
This year, the administration is reportedly mulling an intervention on the other side of the conflict: strikes against the Islamist terrorist group ISIS in Syria, which is one of a number of groups fighting to overthrow Bashar al-Assad, rather than the regime itself. And lawmakers on Capitol Hill calling for congressional approval are much more subdued, even among conservative Republicans who vehemently opposed intervening against Assad.
It's a sharp contrast to 2013. Then, many lawmakers flew back for briefings from administration officials. And in the days and weeks prior to the president's announcement, members of both parties demanded explicit approval before a U.S. intervention in the Syrian conflict. Some 116 members of the House signed onto a letter spearheaded by Rep. Scott Rigell that called for the White House to seek approval from Congress before carrying out military action in Syria. At that time, the president wanted to conduct strikes in Syria in response to the Assad regime's use of chemical weapons against its own people.
But 2014 is different. The prompt for airstrikes is now twofold: the ISIS takeover of swathes of Iraq, which has already elicited U.S. airstrikes in that country for the past two weeks, and the videotaped murder of American journalist James Foley at the hands of ISIS terrorists last week.
The normally noisy Syria doves have been abnormally quiet in the weeks since Obama began strikes against ISIS in Iraq. Sen. Rand Paul has said very little on this issue, compared to last year when he vocally opposed striking the Assad regime. And Rep. Justin Amash, who often takes to Twitter to share his views, hasn't said much either. A spokesman for Amash didn't respond to requests for comment about the possibility of strikes against ISIS in Syria.
"There's a reticence on our part to readily say that [Obama] should just do what comes instinctive to him because it's nearly always wrong," said Republican Rep. Trent Franks, who signed on to the Rigell letter last year. "However, when we see a demonstrated monstrous enemy like ISIS that is murdering and beheading its way across Iraq then of course we have a different perspective of trying to get this president to respond."
In part, the argument is that the threat of ISIS (or the Islamic State of Iraq and Syria) to the United States is far greater than the threat Assad posed, despite his savagery against his own people.
"ISIS is a clear unequivocal monstrous enemy of the innocent and let me just suggest to you that if the president hadn't been caught asleep at the wheel he would have known that before we would have," Franks said. "The circumstances are different entirely [this time]."
Foley's brutal murder has also quieted some in demanding the president seek immediate approval to attack ISIS.
"The video did curb the discussion, let alone the call for a vote. We're also out of session and that's a factor," said Rep. Peter Welch, a Vermont Democrat who believes the president needs to seek congressional approval for more attacks.
Welch believes that as the recess draws to a close, more members will begin to speak out and ask that Obama come to them for approval for additional airstrikes. While he said that Obama's decision in early August to strike Iraq to defend military interests in Irbil and conduct a humanitarian mission to help Yazidi refugees on Mt. Sinjar had broad congressional support, further escalation would require a full debate in the House and Senate.
"The recent airstrikes that President Obama ordered initially were about addressing a humanitarian disaster and the decision had to be made immediately or not at all. It was an emergency where quick action or no action needed to be taken," he said. "The Foley murder has galvanized the collective horror of Congress…but there are a lot of unanswered questions, and we need to have a debate before we can have a vote. And if we go into Syria that literally puts us on the side of Assad. What are the implications for the U.S with respect to our opposition to Assad?"
The White House has indicated that they have consulted with Congress on the staff level but would not commit to seeking a congressional vote.
"What we're talking about now is not about the Assad regime, but about this threat that's posed by [ISIS] that's operating both in Iraq and in Syria," said White House Press Secretary Josh Earnest.
On Tuesday, Earnest appeared to rule out the possibility of seeking Congressional approval, telling reporters on Air Force One, "The goal of the mission from last year was aimed squarely at the Assad regime ... The situation a year later is markedly different."
The situation is indeed different: last year, the administration was calling for Assad's ouster, while it is now reportedly sharing intelligence with the regime about the jihadist threat and conducting drone surveillance of ISIS over Syria. Though Earnest said there are "no plans" to coordinate with Assad against ISIS, the administration's potential decision to combat the terrorist group inside Syria would put it on the same side as Assad — a stunning reversal from last year.
Some of those in Congress who are staying quiet on the subject of strikes against ISIS in Syria say that they are giving the administration more leeway because ISIS poses a greater threat to the United States than Assad.
"Of course" ISIS poses more of a threat, Franks said. Though Assad is a "failed leader," he said, "that's unfortunately one of the conundrums you have in the Middle East, you have sort of a disaster on both sides of a particular equation and that's the case in Syria."
There are signs that Congress won't stay quiet for too much longer. On Monday, Sen. Tim Kaine — who has long argued for repeal of the 2001 Authorized Use of Military Force — was among the first members to release a statement calling for congressional approval.
"This fight, and the threat posed by ISIL, is serious enough that Congress and the Administration must be united on U.S. policy going forward," he said. "I urge the Administration to use the next two weeks to clearly define the strategy and objectives of its mission against ISIL, then bring it to Congress for a debate and authorization vote."
And members say that they would come back early and be involved — if the administration wanted them to.
"If the president feels like it is an immediate crisis I know that I and that most of colleagues are willing to go back tomorrow to discuss this," said Rep. Beto O'Rourke, who signed the Rigell letter last year. "But he has not made a point of consulting with Congress on this."