NSA Domestic Spying Opponents Undeterred By Mark Udall's Loss
"Sen. Udall has long been on this issue and his loss will certainly be felt but NSA reform is not a one senator issue and not a one-party issue.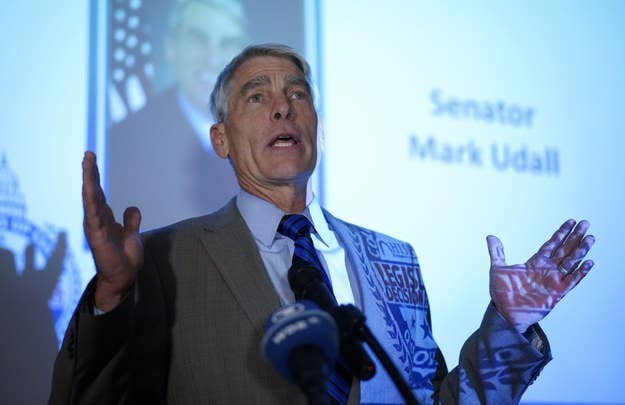 WASHINGTON — Civil liberty advocates were upset on election night when Colorado Sen. Mark Udall lost to Republican Cory Gardner, but no one in the community was ready to announce changes to the NSA's bulk-data collection program dead.
Udall had been a vocal opponent of the NSA's data collection, specifically section 215 of the Patriot Act, which was the subject of many of the disclosures leaked by Edward Snowden. He was one of the first Democrats to for the resignation of CIA director of John Brennan after it was revealed the agency spied on Senate computers. And while his campaign focused almost entirely on reproductive issues, in October he did go up with an ad touting his work for NSA surveillance.
But when the dust cleared a bit on Wednesday morning, advocates remained convinced they would see traction on changing some of the bulk-data collection practices in the next Congress.
In part, that's because the issue isn't strictly partisan. Conservative Republicans like Sens. Rand Paul and Mike Lee have called for changes to the NSA — and the GOP is now in the majority. House Republicans have picked up seats, but a fair number of the new members are critical of the NSA's programs.
Additionally the deadline to tackle reauthorization of section is in June of next year.
"I do think this is a set back but its important to remember but this is a slightly different situation than other kinds of legislation that might have more difficulty moving forward because the patriot act is going to expire, section 215 is set to expire June 1, 2015. If nothing passes then section 215 expires," said Elizabeth Goitein, the co-director of the liberty and national security program at the Brennan Center for Justice.
"That is not going to happen," she continued. "Something has to get through and the House the dynamics in the house have not shifted significantly, which means it a straight reauthorization will not get through."
Goiten still called Udall's defeated "a major loss" and a "huge blow to the civil liberties community" but suggested that because of the re-authorization deadline and the dynamic in the Republican-controlled House changes to section 215 were very likely — even if they don't go as far as some advocates might want.
"Something has to happen and it will likely be an improvement," she said.
The American Civil Liberties Union, which has also been pushing for changes to the Patriot Act, said they would be looking to Republican leaders in the Senate and the House to continue the effort.
Neema Singh Guliani, legislative counsel for the ACLU said senators like Paul would be critical to the effort.
"It's been really bipartisan, and that's unique," she said. "A number of Republicans have said, 'We want to work across the aisle' and this issue is sort of a test of whether they follow through on some of those statements."
An aide for Paul said that the senator planned to be fully engaged and at the center of the issue in the next Congress and that he continued to oppose significant portions of the Patriot Act.
"Sen. Udall has long been on this issue and his loss will certainly be felt but NSA reform is not a one senator issue and not a one-party issue," Singh Guliani said.
Kate Nocera is the DC Bureau Chief for BuzzFeed News. Nocera is a recipient of the National Press Foundation's 2014 Dirksen Award for distinguished reporting on Congress.

Contact Kate Nocera at kate.nocera@buzzfeed.com.

Got a confidential tip? Submit it here.