North Carolina's GOP Senate Candidate Won't Commit To Supporting McConnell
Thom Tillis says he wants to be an "independent" senator and won't commit to supporting Mitch McConnell for Republican leader.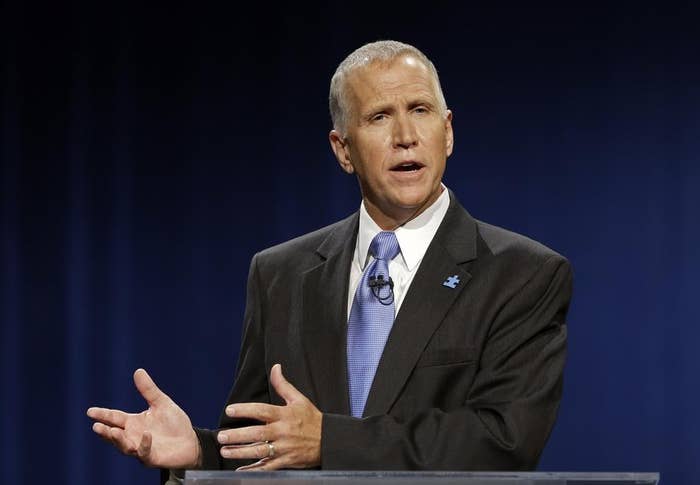 WILSON, N.C. — Thom Tillis, the Republican candidate for Senate in North Carolina, wouldn't commit to supporting Minority Leader Mitch McConnell, if both of them win this fall.
"I'm not going to look past the most important election and that's the election in November," he told BuzzFeed News on Saturday. "I think there are a number of people in Republican caucus who would be great leaders and it would be great for them to be in that position."
He may not be looking past election day, but Tillis did try and lay out part of his vision for the Senate should Republicans take the majority. He is locked in a tight race against the Democratic incumbent Sen. Kay Hagan and considers his race the real majority-making state for Republicans.
"I've met with probably 30 members of the sitting Republican senators over the last year and I never neglect to let them know that I'm going to expect our leadership to do things differently," he told supporters. "I'm going to expect our leadership to respect the minority."
Hagan has also been vague about supporting Senate Majority leader Harry Reid next year should she win reelection.
"Harry Reid is our leader, and I certainly do support Harry," she told Politico in April. "And I have a huge race going on right now, and I will be victorious. And I will be back next year. And we can talk all about that then."
Republicans and the Tillis campaign's major attack on Hagan is that she is a "rubber stamp" for President Obama and the Senate Democrats. Tillis, who served as the speaker of the state House, said he would work to be "independent" for the state.
"We need somebody to cross party lines and finally get something done for this country. A senator who votes 92% with the president doesn't work for us here in North Carolina," he said.
"People here want someone who is going to be independent, someone who is going to stand up for North Carolina," he added.
Tillis' remarks were notable because he's positioned himself as deeply conservative, and pushed through significant Republican priorities during his time as speaker. At the same event, a supporter asked him to clarify what he meant by "independent," and Tillis went on to say that it actually meant getting Democrats to vote with Republicans.
"I'm talking about the kind of compromise where we convinced Democrats to help us override the governor's veto for bills that cut…taxes and spending. By getting Democrats joining with Republicans that overrode a veto for medical malpractice reform…that's the stuff I'm talking about," he said. "That's bipartisanship. What it was was not necessarily embracing a liberal principles, it was having conservative policies so compelling that Democrats would have the courage to vote with Republicans against a Democrat governor."
As Tillis has campaigned, he's tried to explain the various positions and policies he put into place in North Carolina, as he tries to woo undecided voters.
"Speaker Tillis is desperately trying to run from his record of cutting education, defunding Planned Parenthood and vowing not to increase the minimum wage because he knows that's not what North Carolina's middle class families need," said Hagan spokeswoman Sadie Weiner.
This post has been updated with Sen. Kay Hagan's comments on supporting Harry Reid as leader.
Kate Nocera is the DC Bureau Chief for BuzzFeed News. Nocera is a recipient of the National Press Foundation's 2014 Dirksen Award for distinguished reporting on Congress.

Contact Kate Nocera at kate.nocera@buzzfeed.com.

Got a confidential tip? Submit it here.