Lawmaker Denies Saying North Carolina AG Should Be Impeached For Not Defending Same-Sex Marriage Ban
State Sen. Norm Sanderson's office said comments about impeachment were made by "someone else in the room…and it was taken to be the senator."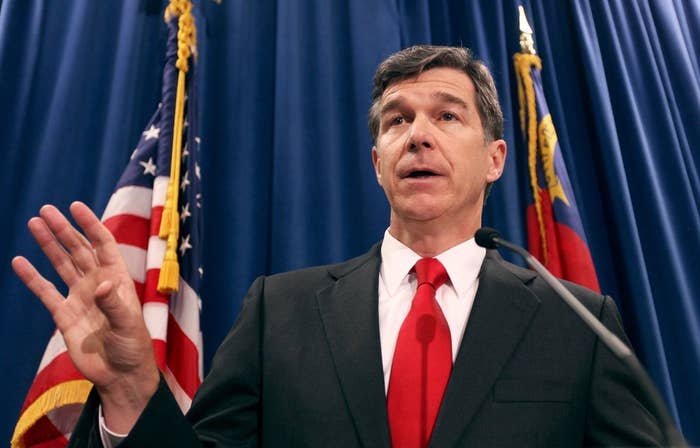 WASHINGTON — A state senator in North Carolina made waves last week for reportedly telling a Tea Party group the Republican legislature planned to impeach the state's attorney general over the AG's decision to stop defending North Carolina's ban on same-sex marriages. But the state lawmaker's office said Friday it was someone else in the room.
According to the Carteret County News-Times, state Sen. Norm Sanderson reportedly told the crowd that Attorney General Roy Cooper's decision to stop defending the ban was impeachment-worthy and the paper quoted him as saying, "If he's not going to defend what we, the citizens of North Carolina, want him to defend, we need to probably impeach him because he's been a vocal opponent of the marriage amendment ever since it was passed."
Sanderson's office said Friday that the senator's comments were "misinterpreted" and the comments about impeachment were made by "someone else in the room…and it was taken to be the senator," said Sanderson's legislative assistant Kathy Voss. Voss said that at "no time has the senator discussed impeaching Attorney General Roy Cooper, the only discussion that occurred was relating to the intervention."
Several North Carolina papers picked up the remarks and a national reporter from Talking Points Memo even asked the campaign of the Republican candidate for Senate, House Speaker Thom Tillis, if Tillis would support impeachment (his campaign said he would not).
The Carteret County News-Times reporter, Mark Hibbs, told BuzzFeed he "stands by the story."
Voss said Sanderson was explaining that the legislative leaders of the House and the Senate could intervene and defend the same-sex marriage ban if for some reason the attorney general decided he would not.
"The comments attributed to him in the press as they relate to the impeachment of the state attorney general were misinterpreted," Voss said. "In addressing concerns related to the defense of Amendment One, he explained there was a statute in place that allows the senate president pro tem and the speaker of the House to intervene – key word — on behalf of the citizens of north Carolina to defend the laws of this state should they agree and if the AG fails to do so."
"He was asked about impeachment and replied that that is certainly an option for any state elected official to be removed from office under certain circumstances however that would be a decision made by leadership," she continued. "He then redirected the discussion to what he was talking about which was intervening not impeachment."
Cooper had announced last month he would no longer defend the ban on same-sex couples' marriages, known as Amendment One, after the 4th Circuit Court of Appeals struck down a similar ban in Virginia. The 4th Circuit also has jurisdiction over Virginia, Maryland, West Virginia, North Carolina, and South Carolina.
When asked why Sanderson never asked for a correction, Voss said that Sanderson believed it to be a "a non-issue. He didn't say it."
"He has not stomped his feet or asked for a retraction. He was happy to be quoted on what he did say and what he did say had to do with intervening and not with impeachment," she said.
Kate Nocera is the DC Bureau Chief for BuzzFeed News. Nocera is a recipient of the National Press Foundation's 2014 Dirksen Award for distinguished reporting on Congress.

Contact Kate Nocera at kate.nocera@buzzfeed.com.

Got a confidential tip? Submit it here.