No One On Capitol Hill Is Particularly Happy With Obama's Plan For Afghanistan
Their reasons are different, but progressives and war hawks alike panned the president's plan to leave 9,800 troops in Afghanistan until 2016. "Automatic renewal is fine for Netflix and gym memberships, but it is not the right approach when it comes to war," Sen. Jeff Merkley said.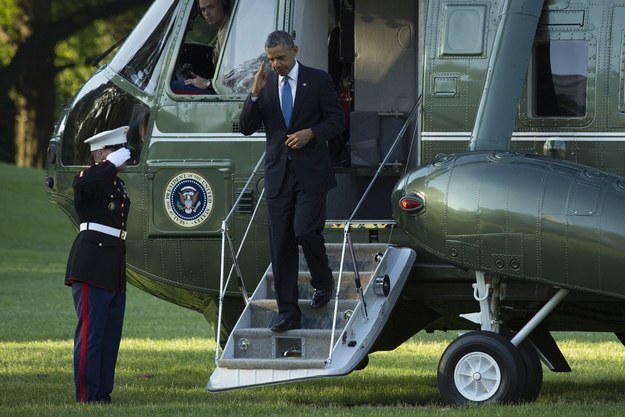 WASHINGTON — It's hard to find a member of Congress that is particularly pleased with President Barack Obama's announcement that he planned to leave roughly 9,800 troops in Afghanistan until the end of 2016.
There were a few positive statements came from Democratic and Republican House leadership, but for the most part, the announcement landed with a thud.
Progressives are calling for Obama to end the war and bring the troops home as soon as possible. Meanwhile, a group of Republicans question the wisdom of announcing such a strict timeline at a level lower than some generals have proposed. And then there's a bipartisan group of lawmakers who want Obama to come to Congress and ask for a vote to reauthorize the war.
"The president just extended the war two more years," said Democratic Rep. Peter Welch. "Congress, at a bare minimum, should be insisting on a vote and a debate …To simply extend a 13 year war by another two years simply because it's off the front pages and have Congress not debating or voting is irresponsible."
While Welch said it was the responsibility of Republican leadership to bring a vote, he called the announcement a "major change" in Obama's foreign policy.
"The president has made a major change in Afghan policy by extending the troop presence for two years, that's a major revision in administration policy," Welch asserted. "My strong view is that Congress has the responsibility to debate that, and then vote yes or no."
The chairmen of the Progressive Caucus, Reps. Keith Ellison and Raúl Grijalva, echoed Welch's sentiment.
"No decisions should be made on a lasting troop presence in Afghanistan until Congress weighs in … President Obama promised he would end the war in Afghanistan. We are glad the original combat mission in Afghanistan is coming to a close, but keeping a residual force of over 9,800 in the country after 2014 is not ending the war," the lawmakers said in a statement.
The debate over whether or not to vote on the end of the war has re-emerged in recent weeks. The House completed it's work on the National Defense Authorization Act last week, but during the debate House leadership blocked a vote on an amendment offered by Rep. Jim McGovern to end the war and transfer security responsibilities to the Afghan government.
Obama stressed in his announcement that the combat mission in Afghanistan would be over by the end of 2014, and the troop presence in the country would focus strictly on training Afghan forces and working on counterterrorism. Minority Leader Nancy Pelosi said the plan was a good one and in a statement the president was adhering to "his core promise: to enhance the security of the American people, to end the war in Afghanistan responsibly, and to bring us closer to the day when all of our troops can come safely home."
But there's bipartisan support in the Senate for requiring the president to come to Congress for reauthorization. Democratic Sens. Jeff Merkley and Joe Manchin have cosponsored a resolution with Republican Sens. Mike Lee and Rand Paul to have the president come to Congress and ask to extend the troop presence beyond the end of 2014.
"Automatic renewal is fine for Netflix and gym memberships, but it is not the right approach when it comes to war," Merkley said in a statement.
The war hawks in Congress weren't pleased either. Sens. John McCain, Kelly Ayotte, and Lindsey Graham released a joint statement calling the plan "a triumph of politics over strategy." The three Republicans blasted the president and said announcing an end to troop presence would only help al Qaeda and other enemies in the region.
Many Republicans pointed to the full troop withdrawal from Iraq as evidence that setting a specific date for full withdrawal from Afghanistan was a mistake.
"Does the President seek to replicate his mistakes in Iraq where he abandoned the region to chaos and failed to forge a real security partnership?" said House Armed Services chairman Buck McKeon. "We are in Afghanistan because it was the spawning ground of al-Qaeda and the devastating attack on American soil. Those threats still exist. We leave when the Afghans can manage that threat, rather than on convenient political deadlines that favor poll numbers over our security."
Rep. Adam Kinzinger, an Illinois Republican who served in Iraq and Afghanistan, accused the president of "having his cake and eating it too" by trying to appeal too much to too many people without fully considering the broader policy implications.
"I was ticked and I still am," Kinzinger said. "He can say 'guess what by the end of my presidency I'll have ended the second war.' Why is that a bad thing [to have troops] in 2017 and not in 2016 ? This president put it on himself and not the next president to make that decision, so I just saw it as completely and utterly political. It makes no sense to put a timeline on withdrawal. The mistake he made in Iraq is the same one he's going to make in Afghanistan. You have Fallujah, which is now under the control of al Qaeda, and there's no benefit to that."