New York GOP Congressman Apologizes To Reporter He Threatened To "Break In Half"
Michael Grimm said his emotions got the better of him when he told NY1 reporter Michael Scotto he'd push him off a balcony. Scotto accepted the apology.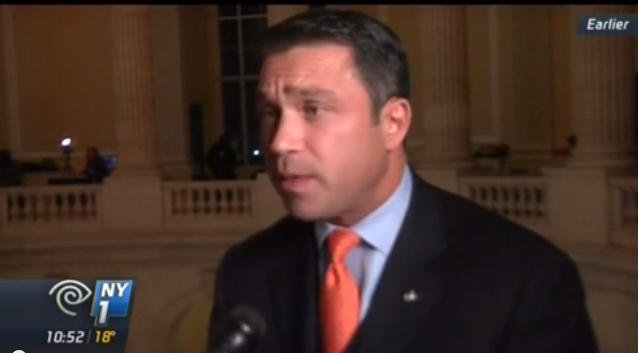 WASHINGTON — New York Republican Rep. Michael Grimm said Wednesday he called a NY1 reporter Michael Scotto to apologize after physically threatening him during a post-State of the Union interview.
Grimm had refused to answer Scotto's questions regarding an investigation into his 2010 campaign fundraising, and, moments later, threatened to throw Scotto off of a balcony and "break you in half, like a boy." The entire exchange was caught on tape by the NY1 cameras.
"I'm a human being and sometimes emotions get the better of you and the bottom line is it shouldn't have happened," Grimm told reporters on Capitol Hill Wednesday. "You lose your cool and that's why I apologized. When you are wrong, you are wrong and you have to admit it and it shouldn't happen."
Scotto tweeted that he had accepted the congressman's apology.
"Bottom line is I lost my cool and I apologized," Grimm said. "My constituents know I'm extremely passionate about them. They expect Michael Grimm to have their back and that's what I'm known for and I'm very passionate about it. And unfortunately when you are that kind of person that has a lot of passion your emotions can get the better of you. There's no excuse. Mike was gracious and gracious enough to accept my apology and put it past us."
Grimm did not answer a reporter's question Wednesday as to whether he had spoken to House leadership about the incident with Scotto. He also said that he had not been drinking.
In a statement the previous evening, Grimm appeared to double down on his reaction, accusing Scotto of taking a "disrespectful cheap shot."
Grimm's New York colleague Rep. Peter King laughed the incident off.
"I've fought with reporters myself; it's a contact sport. If you can't take it, get out," King said smiling.
"It's different in New York… I think it's hurt him if he backs down," King said.