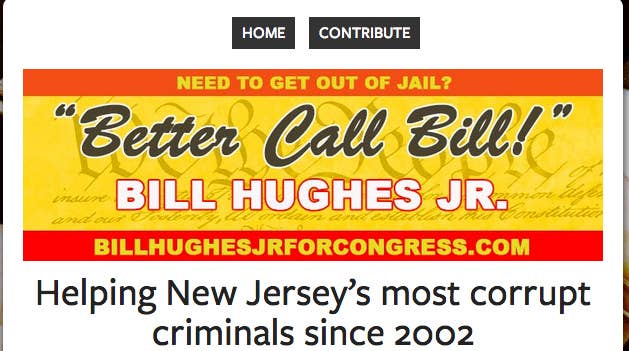 WASHINGTON— A New Jersey Democratic group will formally request a federal investigation against the political arm of the House GOP with the Federal Election Committee over fundraising websites Democrats charge are misleading and potentially illegal.
The Atlantic County Democratic Committee is filing the first official complaint Monday morning against the National Republican Congressional Committee, Rep. Frank LoBiondo, and his reelection committee over a slew of NRCC-owned fundraising websites attacking LoBiondo's challenger, Bill Hughes Jr.
The Hughes websites are part of a larger NRCC digital campaign targeting Democrats: The site URLs seem supportive of the Democratic candidate and often look very similar to an official campaign site. The group has come under fire recently for similar websites in different districts, after it was reported that a supporter for a Democratic candidate in Florida mistakenly gave money to the group through one of the websites. At least 15 such sites have been created. The content of the page is against the Democratic candidate and a smaller disclaimer at the bottom states the page was created by the NRCC.
For example, billhughesjrforcongress.com directs to a page with a large banner that says, "Need to get out of jail? Better Call Bill!" but then goes on to say Hughes has been "helping New Jersey's most corrupt criminals since 2002."
"As part of its fundraising efforts, since October 2013, the NRCC has recently engaged in deceptive, misleading and potentially fraudulent activity by establishing a website that is branded as the website of a Democratic congressional candidate," the complaint reads. "The website is seeking donations — and thus seeks to profit in bad faith, through false, fraudulent and deceptive tactics — from utilizing the name of a Democratic congressional candidate all in violation of [U.S. code]."
The complaint says even the content of the attack website only "discusses legal matters Hughes worked on in a biographical tone," and the disclaimer comes after a large "DONATE" button.
The NRCC has defended the practice as both legal and effective but have also said they will return money to anyone who says they mistakenly donated.
"I think that sites are clear in terms of the disclosure and the content where were coming from," NRCC press secretary Daniel Scarpinato told CNN last week. "And I also think it's important for voters to get all the perspectives on the candidates. So just as a candidate is going to put information out about themselves, we're going to put out information about the candidate that they are not putting out that we think is important for voters to know."
Read the full complaint below.