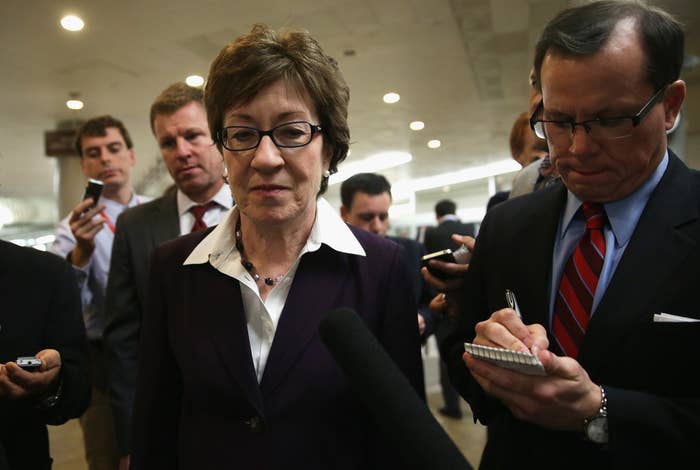 WASHINGTON — One of the most untouchable senators this year is a Republican from a blue state.
National Democrats have not spent any money against Sen. Susan Collins. Even in a year where Democrats are spending millions on seats in red and purple states — including dropping $1 million in South Dakota as late as last week — the Democrats' Senate campaign arm never really even tried to attack Collins. Despite representing a state that voted twice for President Obama, in a year with a competitive governor's race, Collins will likely cruise into another term.
The DSCC has endorsed the Democratic candidate, Shenna Bellows — but they haven't given her any financial support. And little national attention has come Bellows' way; when Michelle Obama campaigned last month for the Democratic candidate for governor, Bellows was nowhere to be seen (a scheduling conflict interceded, according to her campaign).
The utter lack of national support has progressive groups, who've strongly supported Bellows, confused and angry. The Bellows campaign has tried to chip away at Collins' well-established image as a moderate, independent representative and said that reinforcements from Washington could go a long way in helping their campaign.
"Susan Collins is out of step with Maine voters on everything from paycheck fairness to shutting down the government to her endorsement for unpopular Gov. Paul LePage," said Bellows campaign manager Katie Mae Simpson.
"We're glad to have been endorsed by the DSCC, and because Maine is a cheap media market, we continue to believe that added resources here could make a decisive impact on Election Day," she added.
But, of course, there is a good reason for this reluctance: Collins remains very popular in the state. And, outside of a handful of progressive groups, she commands the support of seemingly everyone in Maine. Planned Parenthood is staying neutral and a prominent LGBT rights groups has supported Collins: These are groups that typically throw their weight behind Democratic candidates.
In May, Angus King, Maine's independent senator, endorsed Collins. From there, a slew of Democratic outside groups elected to sit this one out. Earlier this month, Planned Parenthood actually asked Bellows to stop saying Collins had voted to defund the group.
"We have not endorsed in the Maine Senate race, which is not unusual when both candidates have good positions on women's health," said Eric Ferrero, the vice president of communications for Planned Parenthood's political arm. "As senator, Susan Collins has a strong record when it comes to protecting women's access to health care."
In June, Bellows wrote in the Huffington Post that she was running in part on a pro-LGBT platform, arguing she would work to pass a strong version of the Employee Non-Discrimination Act if she won the seat. Bellows worked on marriage equality issues in Maine as the executive director of the American Civil Liberties Union. A week later, the Human Rights Campaign endorsed Collins. EqualityMaine, a pro-LGBT rights group in the state, did not endorse either candidate.
"We have two candidates who are supportive of equality issues and we see that as a thing to celebrate," said EqualityMaine spokesperson Ian Grady.
Mike Lux, a progressive strategist in Washington, said that Collins has been hugely successful in keeping up her moderate image among voters in Maine, even though he doesn't believe her voting record reflects that.
"Conservatives feel like she's one of them and whenever they've needed her vote she's been there," Lux said. "People in Maine, at least this is the conventional wisdom, people in Maine just don't view her that way. She's obviously cultivated that image and it does make it tough."
And as Bellows' campaign tries to paint Collins as anything but moderate, that message hasn't broken through even with the core Democratic base: The poll released Tuesday from the Bangor Daily News showed Collins' enjoying support from 34% of Democrats.
The DSCC wouldn't respond to multiple requests for comment but a source working for outside groups involved in senate races said that polling showed, even after messaging attacks on Collins, no clear path to victory. The source called Collins' popularity partially due to the "Snowe effect" — a reference to former moderate Republican Sen. Olympia Snowe who was a hugely popular figure in the state.
"Maine loved having the two of them. Collins is still insanely popular," the source said. "We'd love to play… but there's just no point."
A second Democratic strategist said the hesitancy to go after Collins can be traced back to 2008, the last time she was up for reelection.
"If we couldn't win that seat with Obama on the top of the ticket in 2008, it'd be insane to think we would be able to do it in 2014," the strategist said.
Some progressives disagree and are starting to openly question the decision-making of the DSCC.
Democracy for America, a progressive group that has spent $300,000 in support of Bellows, said that their own polling showed Democrats liking Collins until they described her positions on things like the Keystone Pipeline and her votes against minimum wage and paycheck fairness.
"This is someone who has reliably voted with Republicans every single time they've needed her vote," said DFA's Executive Director Charles Chamberlain.
"I don't understand it. The DSCC has outraised the NRSC quarter after quarter," Chamberlain said of the decision to stay out of Maine. "They have the resources to spend in Maine and it would have a monstrous impact, a much bigger impact than it would have in say Kentucky or Georgia right now."
Chamberlain said that Democrats were making a mistake by not stepping up for Bellows, but the late investment in South Dakota has given the group some hope they will come around.
"We knew it was a race we needed to get in," he said, "And our hope, much like in South Dakota, is that by getting in and getting in big we were hoping we could wake up national Democrats and national establishment and get them to invest in this race."
The Progressive Change Campaign Committee is another group that's been somewhat active in supporting Bellows both on the campaign and fundraising side, raising around $93,000 for her.
"There's a tendency in D.C. to stick with the conventional wisdom in an off-year election to support Republican-light candidates instead of progressive populists and we believe that is a mistake," Chamberlain said.
This post has been updated to clarify that Planned Parenthood is staying neutral in the race.