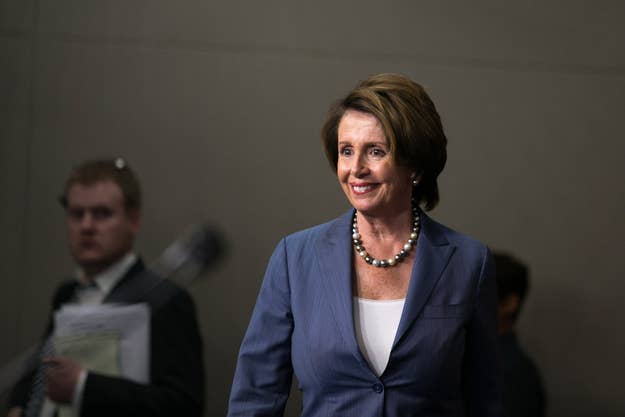 WASHINGTON — House Minority Leader Nancy Pelosi said that Democrats would not run only on Obamacare in 2014, but the election would be primarily about the budget and jobs.
Despite the troubled rollout of the law, Pelosi maintained that congressional Democrats are "very excited about" the health care overhaul.
"Yes they could have done a better job of describing it," Pelosi said of the White House messaging on the law. "No, they didn't hurt us for 2014."
Pelosi saw 39 Democrats vote last week for a Republican plan to allow insurance companies to reissue canceled plans, despite a White House veto threat and leadership whipping against the bill. Many observers took the Democratic dissent as a sign that Obamacare would be a tough issue for the party in the upcoming midterm elections.
"The Republicans want to play politics with an issue. They put up a political gestures and some of our members responded in a political way," she said a BuzzFeed Brews event. "But that doesn't mean that they are not working in their districts to make sure people have the information they need to enroll. This is history and the future and progress."
"We stand by the policy we're proud of it. And any big transformative initiative is hard," she said.
"[The election] will be about jobs, it'll be about growth in our economy, it'll be about Medicare, it'll be about their budget: Medicare where the Democrats are, millionaires where they are."
Pelosi contended that Republicans only want to talk about Obamacare because they are hoping to avoid a host of other issues, including immigration reform.
"They don't want to talk about immigration, they don't want to talk about ENDA, they don't want to talk about background checks on guns," she said. "This is the only subject they want to talk about. We want to talk about plenty else."
Pelosi said that she never referred to the health care law as "Obamacare," despite some Democrats (and the president himself) using the term.
"I've always called it the Affordable Care Act. Everyone may not like Obama but everyone loves affordable. I love them both," she said.