Mitch McConnell: Tea Party Leader?
Fending off a primary challenge at home, McConnell has gotten cozier than ever with the tea party. But can he be a movement leader and a Minority Leader at the same time?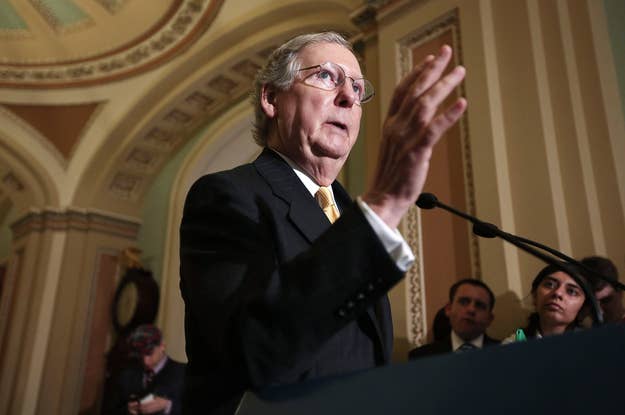 WASHINGTON— When Rep. Thomas Massie, a brash young Kentucky conservative supported by the tea party, was mulling a run for Congress he reached out to his state's senior Senator, Minority Leader Mitch McConnell.
"I spoke to his state director, and I said, 'Hey, I heard you guys wanted to build a bridge to the tea party. If he's really interested in doing that, I'm here and I'm thinking about getting into the congressional race," Massie recalled.
As the race heated up, Massie finally got a call from McConnell.
"He said, 'I'm staying 10,000 miles away from your race.'"
A lot has changed since then.
McConnell is now running for re-election in the bluegrass state and has been working diligently to fend off a primary challenger. That means he's spent a lot more time courting the tea party and often siding with the right flank of his conference in the Senate. McConnell hired Jesse Benton, who ran Kentucky Sen. Rand Paul's successful 2010 Senate bid, to work as his campaign manager. As recently as Thursday, the tea party quartet of Sens. Mike Lee, Ted Cruz, Marco Rubio and Paul could be seen entering McConnell's office for a meeting. The group, with the support of McConnell, has been objecting to a budget conference over the near weekly grumblings of Senators like John McCain and Susan Collins.
And Massie says he speaks to McConnell now about once a week, the Minority leader has supported Massie on "just about everything," and last week McConnell and a local tea party leader both spoke at a Lincoln Day dinner in Massie's home district.
"There's a sense of humility that seems to be lost on some members in the Senate where they are either tone deaf or just don't care," Massie said. "You can't say that about McConnell. He is definitely in touch with his constituents in Kentucky right now."
Paul described his relationship with McConnell as "very good."
"From everything I can see in Kentucky and elsewhere, he's doing great," Paul said.
"This is a guy who can give the same speech in the same suit in the same accent here that he does in Louisville. Not everyone can do that. But he can and does," said McConnell spokesman Don Stewart.
If McConnell's tea party drift is bothering the more establishment element of his conference, they aren't saying so publicly. McCain and Sen. Lindsey Graham have been openly critical of Paul and Cruz, but when it came to McConnell, they held their fire.
"Mitch has got to worry about his own race but he's also the minority leader," said Graham. "I think he's doing well pushing back but working with Democrats where he can. There are divisions [in the conference] but you can't blame Mitch for that. Confidence in Mitch is strong."
"I think he's doing fine job. I understand he has to run for re-election," McCain said.
With the support of guys like Paul and Massie locked down, it's highly unlikely McConnell will face a real primary challenge. That's not stopping Democratic Senatorial Campaign Committee from pointing out regularly that McConnell's approval ratings are underwater, although no Democratic candidate has entered the race.
"Mitch McConnell is the least popular Senator in the country because he's the walking talking embodiment of everything that's wrong with Washington D.C.'s partisan political culture," said DSCC spokesman Justin Barasky.
Sources close to McConnell say he's a master of the long game, understanding that he needs to not alienate any section of the conference if Republicans retake the Senate next election and he has the chance to become Majority leader.
"He lets Susan Collins be Susan Collins and Ted Cruz be Ted Cruz," said a Republican close to McConnell's orbit. "Don't get me wrong, he can be ruthless but he's very comfortable letting his members lead on issues they care about."
This strategy allows McConnell to be a chameleon of sorts, working as a consumate insider for years, and earning the trust of his Republican colleagues, while giving him the flexibility to pivot hard to the right come election time.
He has core group of trusted allies in Republican leadership, like Sens. Lamar Alexander, John Barrasso, and Roy Blunt, to help with priorities and messaging in the Senate.
"While he led the fight on Obamacare, we had a lot of members who had a lot of strong interest and expertise and were able to go out and do a lot," Stewart said as an example of how McConnell delegates power. "He has a lot of members who can go out and do important things and get the credit for it."
McConnell's ability to move closer to a tea party ideology has been aided this year by not having to take votes that are inconsistent with where his state is politically. A bigger test will come when the fight over raising the country's debt ceiling approaches late in the summer or early in the fall.
He has done some of the kind of old-school deal making the tea party hates: McConnell was key to brokering a deal with Vice President Joe Biden in January to avert the so-called "fiscal cliff" that was passed with overwhelming bipartisan support in the Senate.
Since then though, Democrats have been chiding McConnell for what they see as obstructionism for the sake of politics.
"It's a shame, it really threatens this institution," said Majority Whip Dick Durbin. "This has been a chronic problem, it isn't new, but it seems worse now that he's running for re-election.
And not everyone back home is thrilled with McConnell's strong position heading into 2014. Preston Bates, the founder of a Kentucky based super PAC 'Liberty For All' that has supported libertarian minded candidates like Massie and Paul, says McConnell leaves much to be desired.
"Liberty and Mitch McConnell are inconsistent. He can hire as many image consultants to runaway from his record as a crony crusader, but those paying attention see beyond his sound bites and are looking for a better alternative," he said.
And Tea Party Patriots co-founder Jenny Beth Martin says she was in more of a trust but verify mode with McConnell.
"It seems that every four and a half years or so it seems that people who are up for re-election go back to paying attention to the campaign promises that they made," she said. "So our challenge when some one like McConnell goes and starts voting more along the lines of tea party values and he winds up re-elected, we have to make sure he still continues to do that after election day in 2014."