Michele Bachmann Is Back
Republican leaders hope to revive the tea party spirit. "Why aren't you impeaching the president?"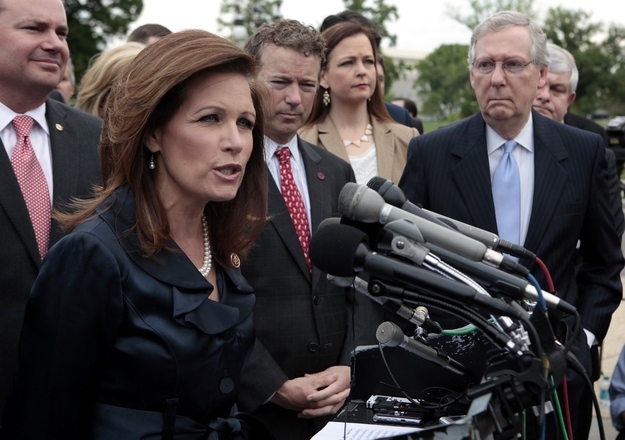 WASHINGTON — Remember Michele Bachmann?
Tea party star, momentarily plausible presidential candidate, and the face of the conservative reaction of 2010, she seemed to diminish with the tea party movement. She struggled for reelection in 2012, found herself investigated for alleged misuse of campaign funds, and she was panned for making claims at the Conservative Political Action Conference that President Obama was living a lavish tax payer–funded lifestyle.
But Bachmann's political obituary was premature. She turned out dozens of activists and — perhaps more important — key Republican Party figures for a Thursday morning press conference. Standing beside her were Senators Ted Cruz, Rand Paul, and Mike Lee, and even Minority Leader Mitch McConnell. To top it off, House leadership had scheduled a vote on her bill to repeal Obamacare for the same day.
"This is a momentous day," she glowingly proclaimed at the top of the event.
Bachmann was there as one of her party's leading spokeswomen on revelations that the Internal Revenue Service had improperly targeted conservative and tea party groups.
"It's very important to ask, and now it is reasonable to ask, could there potentially be political implications regarding health care: Access to health care? Denial of health care? Will that happen based on a person's political beliefs or their religiously held beliefs?" she asked. "These questions would have been out of bounds a week ago. Today these questions are considered more than reasonable and more than fair."
Bachmann, though she maintained a large national following, had struggled to find friends in Washington, beyond close conservative allies like Iowa's Rep. Steve King, and had been estranged from her party's leadership. The final straw seemed to come last July, when Bachmann and four other Republicans signed onto a letter suggesting that Huma Abedin, a top aide to then-Secretary of State Hillary Clinton, had ties to the Muslim Brotherhood. She was widely criticized by Republicans, including House Speaker John Boehner, for pushing the theory.
But now she is back — a sign that those Republican leaders see a new national moment electrifying their conservative grassroots.
And the fact that McConnell appeared with Bachmann Thursday, and that House leadership's bill to repeal Obamacare is Bachmann's legislation, could boost Bachmann's muscle in the House. McConnell spoke only briefly at the event and promptly left, but still he had shown up.
The IRS scandal has been a call for action for Bachmann. It didn't matter, she said, that President Obama had condemned the actions of the IRS or that he had ousted the head of the agency.
"The American people have not been told the truth," she said. "What we need to know is what did the White House know and when did they know it."
Bachmann would not say whether she believed the president should be impeached, but told reporters that she was asked at least every weekend why Congress wasn't moving to do so.
"I have been home in my district, there hasn't been a weekend that has gone by that someone says to me Michele, what in the world are you waiting for in Congress? Why aren't you impeaching the president? He's been making unconstitutional actions since he came into office," she said.
Bachmann told the conservative website World Net Daily that people were right to ask about "the credibility of the elections" in light of the IRS revelation.
The thought of allowing Bachmann to become the public face of the fight against the Obama administration is making some Republicans cringe. While there are plenty of legitimate reasons to investigate the president and his administration, some members say they don't want to be seen as endorsing Bachmann's often over-the-top rhetoric.
"The administration has basically handed us a gold mine of legitimate scandals," said a Republican congressman. "If she starts to turn them into conspiracy theories, it's not going to be good for any of us."
And as the House got ready to vote yet again on repeal of the health care law, Democrats were happy Bachmann's name was attached to the effort.
"Doing something over and over and expecting a different result is the definition of insanity," said a senior Democratic aide. "Michele Bachmann is the perfect poster child for this effort."