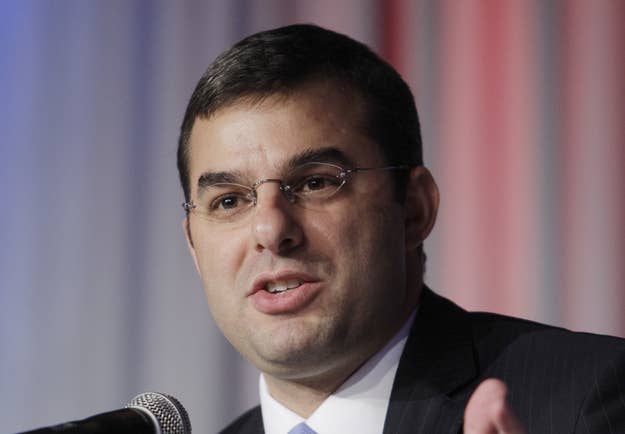 WASHINGTON — Rep. Thomas Massie likes to joke that he calls his Michigan colleague Justin Amash "Mr. Speaker."
Massie cast the sole vote for Amash for House speaker back in January, and proudly wears a "LIBERTY" pin on his lapel — a gift from Amash — under his official member pin
"He's only got to get 217 more votes," Massie, a Kentucky Republican, said laughing.
While he may not be close to becoming speaker of the House, Amash has slowly but surely become one of the more prominent Republicans in the rebellious wing of the House conference, as evidenced Monday when he effectively forced the actual Speaker of the House John Boehner to allow a vote on his amendment to partially defund the National Security Agency as part of the Department of Defense appropriations process.
The revelations that the NSA had been collecting the phone and internet data of millions of Americans en masse has given Amash a prime opportunity to move forward with some of his most important priorities.
Boehner and Amash had been negotiating over the amendment and Amash had threatened to vote against a procedural vote on the bill — and bring some 20 Republican votes along to defeat it — if his amendment did not get a vote.
"I would be very surprised if you could get a Department of Defense appropriations rule through this house with out a reasonable amendment like this being allowed on the floor," Amash said last week in an interview with BuzzFeed.
But Amash appears to have gotten what he wanted and in turn proved himself a powerful leader in the Republican conference — enough that he forced leadership to take him seriously.
"We're optimistic that his amendment will pass, and if it does, it will give him the opportunity to vote for final passage," said Amash spokesman Will Adams.
That attitude didn't go over well with leadership aides, who bristled at the notion Amash had extracted something from his leaders. "The leaders have been clear with members whose amendments are being made in order that they are expected to vote for the bill on final passage if their amendments are adopted," a leadership aide said.
Michael Steel, a spokesman for Boehner, said the speaker "does not support the Amash amendment."
Since his arrival in Washington as part of the 2010 GOP tidal wave, Amash has not only been a consistent thorn in the side of his own leadership, which view him on good days with suspicion, to the point they booted him from the budget committee in December.
Amash said his beef with Republican leadership isn't personal, even though they kicked him off the budget committee last year. He tweeted out a thanks to John Boehner Monday for "working diligently toward resolving significant concerns over the amendment process w/r/t #NSA."
"There's no personal tension, we do have disagreements on where we need to go and I think they have a deep misunderstanding of the Republican grassroots," he said.
Another bill he introduced with Democratic Rep. John Conyers to defund portions of the NSA, similar in language to the DoD amendment, now has 43 co-sponsors. Members who've signed on include some of the House's most liberal and most conservative representatives.
Political observers are closely watching what exactly Amash's next move will be. He's been traveling around Michigan, out of his district, meeting with fundraisers further fueling speculation he'll run for Senate. He's not quite sure if he'll end up running, but there's no question he's seriously weighing it.
"Yes, I'm considering it," he said in an interview with BuzzFeed. "I am confident I would win the primary, but I think the general election is highly dependent on national mood. If the national mood favors Republicans, then a state a like Michigan is in play and can be won. If it's neutral, I think Michigan becomes difficult for any Republican.
"But I certainly believe, based on all my interactions in the state and in my community that a Republican like me has the best chance of winning the Senate seat."
A potential Senate bid could ruffle national party feathers: Establishment Republicans haven't exactly been shy about criticizing Amash. Recently Karl Rove called him "the most liberal Republican" in the House, which prompted Amash to quickly tweet out a link showing he voted with Minority Leader Nancy Pelosi the least often of any Republican member.
There are no indications that Amash plans to quit throwing punches at what he disparagingly calls the "establishment" GOP.
"Those who are in the establishment are totally out of touch with what's happening on the ground, totally out of touch with our communities, and don't understand what republicans think in today's world," he said.
"People want a congressman to be honest with them about what's going on here. They are sick and tired of the lies, the deceit, the condescension, the arrogance. They want someone to tell the truth to them. Even those who might not agree with my positions on particular legislation appreciate the fact that I'm transparent and consistent, and principled rather than partisan."