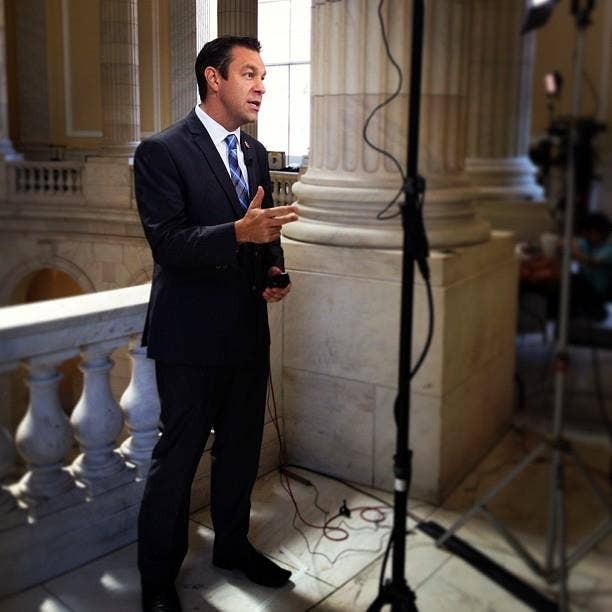 WASHINGTON — Rep. Trey Radel checks most of the boxes of a standard-issue tea party conservative: hates Obamacare, rails against out-of-control spending, thinks liberal policies are hurting the country, makes national headlines for criticizing the president.
But the 37-year-old journalist-turned-congressman differs from his peers in some conspicuous ways: For example, he would rather jam out to "Straight Outta Compton" than "I'm Proud to Be an American."
"I believe that groups like N.W.A play a part in history. As a kid growing up in the suburbs of Cincinnati Ohio, hearing about a young black male's experience on the Southside of Los Angeles — it was eye-opening," he said in an interview with BuzzFeed. "Part of my affinity for hip-hop and even gangsta rap is because it's changed my perception of the world and what people go through. If you look at songs like '911 Is a Joke' by Public Enemy and songs by N.W.A — and I'm going to put this lightly — they sing about their experience in the streets and with law enforcement; they are expressing a valid concern."
It's not common to hear a Republican lawmaker wax poetic about N.W.A, but Radel has deliberately avoided fitting the tea party stereotype. He's deeply conservative, yes, but he'll happily tell you about the time that he ended up eating Valentine's Day dinner with Florida Democrat Debbie Wasserman Schultz. He's traveled the globe extensively and speaks Spanish and Italian fluently. And there's his hobby: making beats and remixing hip-hop songs.
"I love to make music...I used to play in a band in college. But I love make beats, House music, and remix my own hip-hop tunes."
He'll cut his own political videos, using these tracks as background music, a skill his chief of staff has dubbed "Beats with Trey." He's on Twitter and Vine constantly. And he is just as comfortable on Fox News as he is on MSNBC.
A sort of tea party renaissance man, Radel wants his Republican peers to break the political mold once in a while.
"We need to get out of the echo chamber of Fox News and talk radio. And we need to take better advantage of social media to get our message across. The Republican message, it doesn't have to be old and stodgy — it's not," he said. "One thing that I really hope to be able to do if there's any skill set I want to bring to our beloved Republican Party, is to have a more inclusive message that cuts across generational, ethnic, and cultural lines."
For Radel, that means embarking on a Spanish-language listening tour in his home district. It means he thinks some in the House need to tone down the rhetoric on things like immigration ("When you hear rhetoric like, 'We need an electric fence,' I mean, what good does that do when you say we are going to electrocute people to keep them out?") and spending a whole lot more time with people who don't necessarily agree with you.
"My first two weeks here, I made it a point to go meet every Democrat from Florida," he said. "I just wanted to say, 'I'm not here to yell at you, I'm not here to name-call, I'd just love it if we could find some areas to work together.'"
It was shortly thereafter that Wasserman Schultz invited Radel to dinner, which happened to be on Valentine's Day, with a group of other members of Congress.
"I was texting photos to my wife," he said laughing.
But beyond bonding with Democrats, Radel is a conservative member who feels that Republicans have shut out large groups of voters, like Hispanics, by their tone.
At a Heritage Institute–sponsored "Conversations with Conservatives" event on Capitol Hill in March, Radel said there were "emotional" arguments for immigration reform.
"We're not going to round up millions and millions of people, kids and grandmas and grandpas and send them to wherever," he said then.
Radel is also hoping to play a role in changing the perception that the party is stuck in the past. With iPhone in hand, Radel likes to give his constituents tours of the Capitol through videos on Vine, or communicate with them through Twitter. It's not exactly the kind of stuff that changes minds, but it gives voters a relatable glimpse into the life of the congressman.
Radel is still critical of the Obama administration and liberal policies in general. Back in January, the first series of national headlines with Radel's name in them stemmed from an interview with a conservative Florida blog, where Radel said "all options should be on the table" in response to a question about impeaching the president over executive orders on gun control.
"The 30-second sound clip that was used came from a 45-minute interview and misrepresented what I was saying in a highly negative way and I'm still mad about it. I do not want to and will not call for the impeachment of President Obama," Radel told Florida Weekly. "Here's what I was saying: We need to force discussion and debate among the people we elected to do just that. And those are the men and women of the House and the Senate. And whether President Bush overstepped his boundaries with executive orders or Obama did, we need to make sure we have all options on the table to have healthy debate and discussion."
Radel began his career as a journalist, working as an anchor at a CBS affiliate in Florida, then built up a small local newspaper, later selling it to Scripps News service. He took off with a backpack to Southeast Asia, eventually returning to Florida to anchor a TV show and become a conservative radio host.
"I got tired of just talking about [politics]. I adore this country, and part of what inspired my love for this country was all the traveling I've done," he said. "Every time I leave, it shows just how powerful and great this country is. There was an opportunity to jump in when Connie Mack went to run for Senate, I could not not run."
Watch Radel throw down some serious hip hop knowledge
Via nowthisnews.com
He answers important questions like Biggie Vs. Tupac.