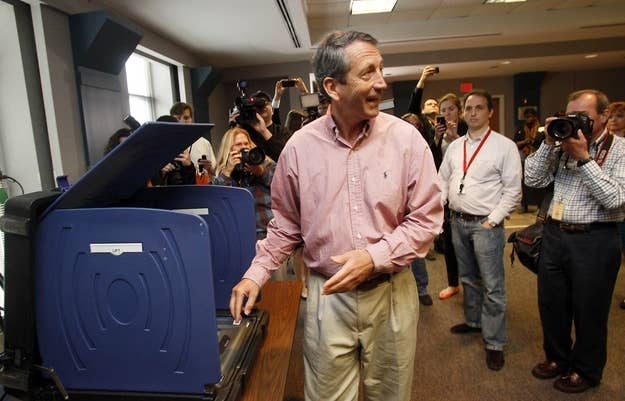 MT. PLEASANT, S.C. — Mark Sanford may have to write Nancy Pelosi a thank-you note.
The former governor of South Carolina won the House seat in South Carolina's 1st District, not necessarily because people were excited to vote for him but because his opponent, Elizabeth Colbert Busch, had a big D next to her name.
Sanford beat Colbert Busch 54- 45 percent according to the Associated Press.
In a thank-you speech to supporters, Sanford acknowledged the steep hill he had climbed to come back.
"If it was just about market-based ideas and limited government this campaign would have been won a long time ago," he said. "But I have deficiencies that are well documented as a candidate, and at the end of the day I was carried across the threshold [by supporters]."
"I am one imperfect man saved by God's grace, but one who has a conviction on the importance of doing something about spending in Washington, D.C., and it's my pledge to you going forward that I'm going to try and be the best congressman I have ever been," he added.
The list of Sanford's negatives was long and well known to voters here: As governor, he left the country to visit his mistress in Argentina, who he is now engaged to. He told aides he'd been hiking the Appalachian trail. He had used taxpayer money to travel there. His ex-wife Jenny accused him of trespassing at her house in the middle of his campaign.
But none of that seemed to matter in a district where Republican presidential candidate Mitt Romney won by more than 15 points. Sanford was flanked by his family, his staff, and a packed house of supporters. And he even gave a shout-out his fiancée, Maria Belen Chapur, who flew in from Argentina for the victory party.
"Thank you for being here, love," he said.
Try as hard she might, Colbert Busch was unable to convince voters that she wouldn't support Democratic leadership, or what policies she might vote against. She argued she would be an "independent voice" for the district. She ran a focused and disciplined campaign, rarely going off message, but she also stuck to designated talking points she rattled off whenever she was asked a question.
"I'm an independent businesswoman," she said many times here. "I want to work for the people of South Carolina's 1st District."
But by giving broad and vague answers to basic questions, such as "would you vote to repeal Obamacare," Sanford was easily able to fill in the blanks, never missing an opportunity to bring up the fact that Colbert Busch was getting financial support from the Democratic Congressional Campaign Committee and other Democratic groups. He struck the same note in a last minute email to supporters on Monday night: "Their goal is clear — give Pelosi another vote for the Speakership, and in the process help President Obama cement his legacy."
"What I would say is that if there was turning point in this election, it was me standing on the side of the sidewalk with a Nancy Pelosi cutout having a debate we weren't able to have in the1st District," he said Tuesday morning after casting his vote.
Pelosi released a statement after Colbert Busch's loss.
"Elizabeth Colbert Busch put an overwhelmingly Republican district in play," she said. "Elizabeth ran a tough campaign, and the outcome of this election only strengthens her record of fighting for her state and community."
Sanford had gotten money from outside groups too, but the National Republican Congressional Committee had abandoned the race and Colbert Busch outraised Sanford by enormous margins.
Over and over again in the district, the message from voters was the same: Sanford's not great, but he's a Republican.
"We didn't support him initially. The man we were supporting lost to Mark, but we believe in conservatism, so we changed our loyalty to Mr. Sanford," said Dick Kohl. "To stay at home was to give an automatic vote to the Democrats."
The House Majority PAC spent $426,000 on the race on top of the $458,000 spent by the Democratic Congressional Campaign Committee hoping to embarrass Republicans on their own turf.
DCCC chairman Rep. Steve Israel blasted out a statement tying Sanford to all congressional Republicans.
"House Republicans' outreach to women voters now has Mark Sanford as the face," he said. "Republicans now have to defend him and stand with him until Election Day."