Marco Rubio's Link To South Carolina Is Stronger Than You Think
Still working to rebound from a rough 2013, Rubio hits the Palmetto State again this year — with a friend in Sen. Tim Scott and a South Carolinian as a political adviser.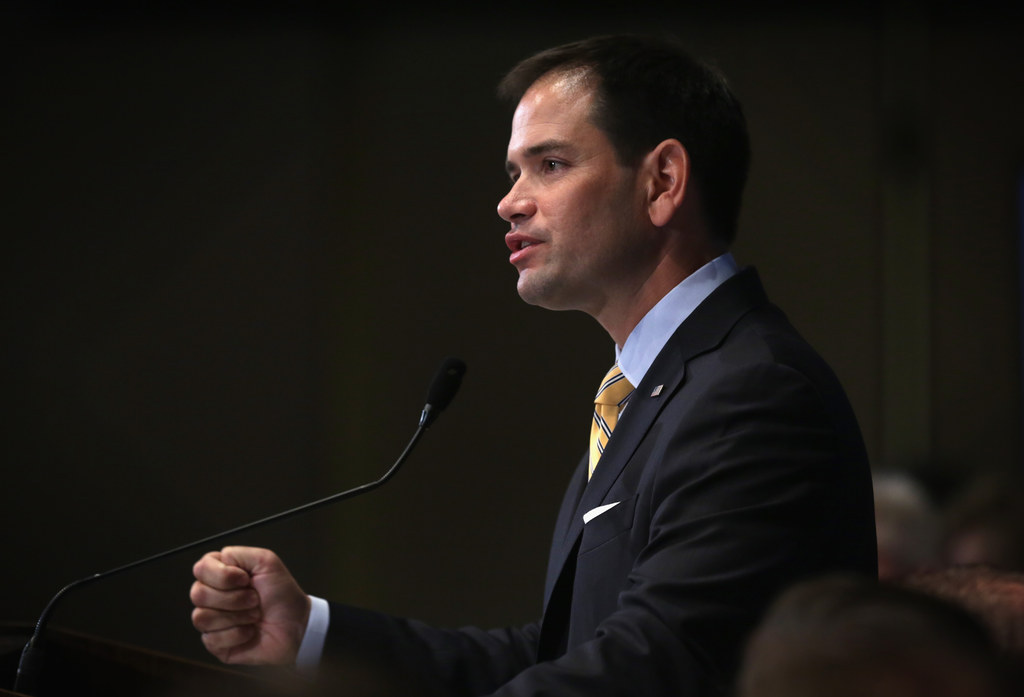 COLUMBIA, South Carolina — When Marco Rubio was running a long-shot Florida Senate campaign in 2010, he fundraised in Columbia, South Carolina with then-Sen. Jim DeMint.
On Wednesday, Rubio was back — in the exact same room he'd been in with DeMint four years earlier. This time he was ostensibly there to help raise money for the state party and help support Sen. Tim Scott's election in November, the man who had been appointed to replace DeMint in the Senate.
It's no secret that Rubio is weighing a presidential run in 2016, and he has invested early in South Carolina: making several trips there, talking to voters, and meeting with important political figures. This trip, he said, was about helping out fellow Republicans but it was hard to miss the emphasis on his longstanding ties to the first-in-the-South primary state.
"We have a lot people here who have been helpful to us in our efforts around the country, trying to fire Harry Reid as the majority leader," Rubio told reporters after the lunchtime fundraiser. "There are folks that have been helpful to me here going all the way to even before I was a senator."
It also didn't hurt that Rubio got to speak to a room full of active Republicans, and that Scott, enormously popular among conservative and establishment types alike, introduced Rubio as "an amazing person" and said it was the "epitome of iron sharpening iron when I'm around Marco Rubio."
Scott said Rubio had traveled to the state early in the year so the two men could go to church together.
"We had no cameras, no TV stations, nothing. Marco wanted to come and have an experience without the press because authentically and sincerely, Marco has a desire to build healthy relationships," Scott told attendees. "That is hard to find in Washington, D.C. A man whose commitment is there when the cameras are not."
The state's other senator, Lindsey Graham, has not been as kind to Rubio in recent weeks. Graham criticized Rubio in an interview with the Weekly Standard, arguing that when it came to 2013's immigration efforts on Capitol Hill, the Florida senator was "so afraid of the right." With candor unusual for 2016 speculation, Graham said Rubio is not ready to be president.
Asked by BuzzFeed News about Graham's remarks on Wednesday, Rubio called them a "non-factor."
"Those things are not relevant in terms of what anyone is thinking about doing in the future," he said. "I have respect for Lindsay Graham. I worked with him, I agree with him on a lot of things especially on foreign policy and we will continue to work together. It's just one of those things that goes on in politics now and then, but it's a nonfactor for me."
A state Republican source described Rubio as someone who has been working hard behind the scenes to "build the kind of relationships it takes to understand and win South Carolina," and said that Rubio has been known to text and call state GOP officials with some regularity. Behind the scenes, there's Terry Sullivan, a longtime South Carolina operative who is now Rubio's top political adviser. And it's outside of the political sphere, but sources say one of Rubio's closest friends is Frank Martin, the University of South Carolina basketball coach.
In addition to the fundraiser on Wednesday, Rubio attended a small meet and greet in the morning with local GOP elected officials and party leaders.
In Columbia, Rubio's crowd seemed impressed by Rubio, if a little skeptical. They listened intently to his remarks, largely touching on poverty and school choice. They laughed when he made fun of former Florida Gov. Charlie Crist's party switching. And during the question-and-answer session, no one even asked about immigration.
The good chunk of 2013 Rubio spent helping craft the Senate-passed immigration bill remains Rubio's biggest hurdle within the party. Conservatives revolted against that bill — declaring it amnesty — and Rubio has been distancing himself from it ever since.
Over the summer, Rubio was in South Carolina to headline the "Faith and Freedom BBQ," an annual fundraiser put on by GOP Rep. Jeff Duncan. However, it wasn't conservatives who gave him a hard time about his work on the immigration bill, but a number of immigration activists who showed up to heckle him.
"I think that whole situation earned him some kudos with a lot of the folks who were skeptical of how he'd handled the whole immigration thing," said one of the attendees who did not want to be named. "He just handled [the heckling] well and they helped him look good doing it."
Rep. Joe Wilson, a staunch House conservative who represents the Columbia area, was elated to have Rubio there and brushed off any a suggestion that Rubio would have trouble with South Carolina Republicans. Instead, Wilson said, people should be more focused on the fact that Rubio, a young Hispanic Republican, was there with Tim Scott, the only black Republican in Congress.
"We love having him visit, he's such a positive figure and it's truly inspiring too that he's with another positive figure and that's Tim Scott. It's not just symbolic, it's real," Wilson said. "We can always talk about the open door of the Republican Party and how people are welcome, well this is proof."
"The perception that some of the media tries the portray that Republicans are a bunch of stodgy fuddy-duddies, they need to come to South Carolina. In every category of non-stodgy we score," he added.