Marco Rubio Still A Favorite Among Social Conservatives
The Florida senator has recently been the target of some friendly fire on the right, but at the start Faith and Freedom Coalition conference, he's the star of the show.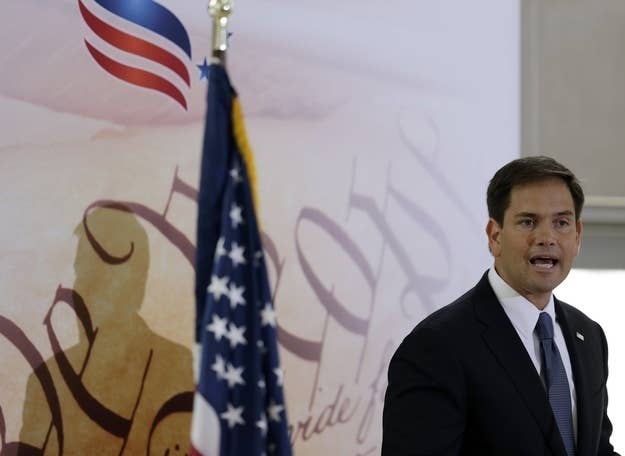 WASHINGTON— At the kickoff of a three-day conference for social conservatives, Marco Rubio was clearly among friends.
Rubio, the Florida Republican who has taken a significant amount of heat from conservatives for his role in helping craft a comprehensive immigration reform package, emerged from a Faith and Freedom Coalition luncheon as the clear star of the show. Rubio was the final speaker at the lunch, following Sens. Rand Paul, Ron Johnson, and Mike Lee.
In his speech, which cited the fifth chapter of Matthew, Rubio sermonized about America's greatness and the need for Christian conservatives to continue to speak up for their causes and be "a light in the world" and said they had been called to "preserve something that is valuable."
He spoke of the greatness America, and "the issues we hold dear, such as marriage or the value of every life or compassion towards our fellow man, we are called to preserve those things."
"This call for us to silence ourselves and stop speaking about the values we know work is a big mistake," he said.
Rubio has been hit hard by conservatives for his work on immigration: As recently as Wednesday, the Heritage Foundation released a graphic of Rubio with the tagline "Amnesty? Guaranteed. Border Security? Not so much." But amongst the audience at Faith and Freedom, there was no animosity on display. Ralph Reed, the group's founder, has been supportive of Rubio's work and called the Senate immigration bill "a good start."
The audience peppered his speech with shouts of "Amen!" and gave him a rousing standing ovation following his speech.
"He's the best speaker," said Joseph Byrd, a 19-year-old from Augusta Georgia. "He's very captivating."
Rubio only briefly mentioned his work on immigration reform, and acknowledged that there were those that were "conflicted and divided" even among his supporters.
But ultimately he made the appeal to the Christian right in the room that the work was about "compassion."
"At the essence of our immigration reform is compassion. Is the idea that not only do we believe that people of all walks of life can succeed if given the opportunity, we actually want that," he said. "We want to be the place where they can succeed. Now clearly through an orderly process, through a legal process, but we believe these things. And we are motivated in that regard by our compassion."
As the luncheon ended and attendees waited for buses to bring them to Capitol Hill for several hours of lobbying, people gushed over his message.
"If Republicans want to be competitive they have to get over these issues, they have to stand up and get immigration reform done," Esteban Carrillo, a 24-year-old who cited ending abortion as the issue he cares most about. "I think Rubio is going to be able to do that."
Kate Nocera is the DC Bureau Chief for BuzzFeed News. Nocera is a recipient of the National Press Foundation's 2014 Dirksen Award for distinguished reporting on Congress.

Contact Kate Nocera at kate.nocera@buzzfeed.com.

Got a confidential tip? Submit it here.