Libertarian Republicans Not Ready To Dub Edward Snowden A Hero
They argue that the NSA spying programs were wrong but say whether Snowden broke the law is a separate issue.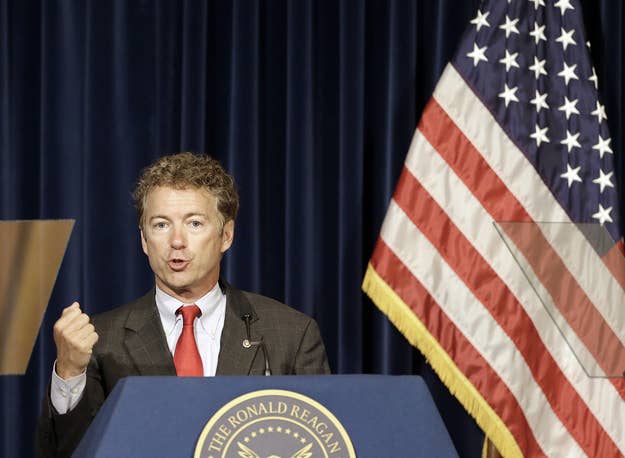 WASHINGTON — Libertarian Republicans may be unified in their distaste for domestic spying operations, but so far they're divided — or avoiding the subject altogether — when it comes to whether the source of leaks about the programs is a hero or a traitor.
For some, it appears that Edward Snowden, a former National Security Agency contractor who exposed a series of domestic programs, may be a traitor.
"From what I know, yes, but I usually don't call people a traitor without knowing all the facts," Sen. Mike Lee said Tuesday. "From what I've been told, the guy broke a whole bunch of laws, and it's a problem."
Others, like Sen. Rand Paul, argue the programs he leaked may have been technically legal but the laws that allow them to exist need to be changed.
"I think it's a side point, I think the Bill of Rights is being violated, our privacy is being violated," Sen. Rand Paul told CBS on Tuesday when asked if he felt Snowden was a hero. "We need to hold the president accountable and say, look, we don't want the government following us around every day. When people choose civil disobedience, they are at their wits' ends. They have no choice."
"Personally, I'm trying to work within the law and change the law," he added.
Some are keeping quiet altogether. Sen. Marco Rubio, who sits on the intelligence committee, said there was still an ongoing investigation and he did not want to comment on Snowden yet.
But former Rep. Ron Paul, Sen. Paul's father and the original libertarian standard-bearer in the House, praised Snowden and the Guardian's Glenn Greenwald for bringing the story to light.
"They have done a great service to the American people by exposing the truth about what our government is doing in secret," the elder Paul said.
Snowden, a now-former defense contractor for Booz Allen Hamilton, leaked information to the Guardian and Washington Post and has fled to Hong Kong. Snowden's leak revealed court documents allowing the government to collect so-called metadata of millions of Verizon customers and exposed the existence of a program called "PRISM" that collects information from nine tech companies.
Lee, a Utah Republican, has introduced legislation with Sen. Jeff Merkley to declassify significant portions of secret court rulings that authorized both programs.
"It will help ensure that the government makes sensitive decisions related to surveillance by applying legal standards that are known to the public. Particularly where our civil liberties are at stake, we must demand no less of our government," Lee said in a statement.
Rep. Justin Amash said he was working on a lawsuit with several other members of Congress to try to get more disclosure from the FISA court orders and "examine the scope of the Patriot Act as it's being applied by courts."
"I do think it's important that the American people have a government that's abiding by the rule of law and following the Constitution," he said. "If these disclosures help us do a better job of following the intent of our founders and the spirit of the Bill of Rights, then that's a good thing."
Amash said that the disclosures of the surveillance programs were overall a positive thing, but the legality of what Snowden did was a "separate question."
Republican leadership, however, isn't mincing words about Snowden. After Snowden revealed himself to be the source of the leak, House Speaker John Boehner called him a "traitor," and Republican Minority Leader Mitch McConnell said he hoped Snowden would be "prosecuted to the fullest extent of the law."
Snowden has found a defender in Thomas Massie, a Kentucky congressman who told Roll Call on Monday he did not think Snowden should be prosecuted.
"Whether or not this program was authorized by Congress, it seems to me that this is an unconstitutional activity," Massie told the paper, "which would make it illegal, and he should have some kind of immunity."
Kate Nocera is the DC Bureau Chief for BuzzFeed News. Nocera is a recipient of the National Press Foundation's 2014 Dirksen Award for distinguished reporting on Congress.

Contact Kate Nocera at kate.nocera@buzzfeed.com.

Got a confidential tip? Submit it here.