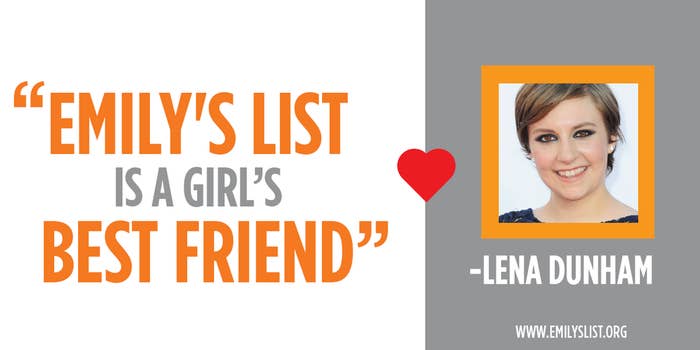 WASHINGTON — "Girls" star Lena Dunham will be using her book tour in part to promote candidates endorsed by EMILY's List, BuzzFeed News has learned.
EMILY's List — a group that works for female Democratic candidates supportive of abortion rights — has partnered with Dunham for the tour of her book, Not that Kind of Girl.
Dunham had reached out to EMILY's List prior to her book tour, aides familiar with the conversations said, and wanted to use the tour to help the group with get-out-the-vote efforts for Democrats in the midterms. The group has provided her with the number of women voters who drop-off in a midterm elections specific to whichever area she is on the tour, and she'll use them the numbers when encouraging the audience to vote in November. They also gave her names and details of candidates to talk about on the tour.
She'll also promote the group on her Instagram and Twitter accounts.
According to New York Magazine Dunham told a New York audience that she viewed both writing and voting as "a way to get empowered."
"So let's vote and write our way to a better future," she said.
In 2012, Dunham cut an ad for the Obama campaign comparing the first time voting to losing one's virginity.