Leadership Tries To Calm Angry Democrats With Post-2014 Strategy
After the dismal 2014 elections, House Democrats are anxious, critical of the leadership, and wondering if it's time for a message overhaul. Leadership has plans in the works.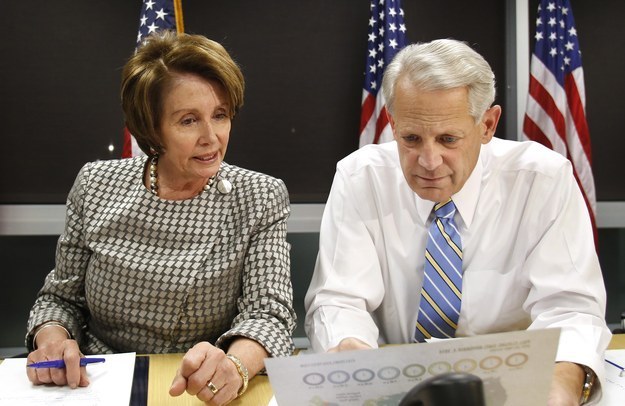 WASHINGTON — On Tuesday, House Democrats streamed out of their weekly caucus meeting slightly more upbeat than they'd been in weeks.
They'd just met with Treasury Secretary Jack Lew, and in the days after the Thanksgiving break, Democratic lawmakers sounded ready for the future.
"[Lew] has firm grasp of the facts and when you listen to him you think after, 'How the hell did we lose?'" said New Jersey Rep. Bill Pascrell. "It's obvious that we are our own worst enemies but there is some good news."
The slightly improved mood follows weeks of bitterness and finger pointing among Democrats over the results of the 2014 midterms. But many of those underlying tensions have not disappeared. The leadership has a plan in the works to attempt to address what went wrong.
Democrats are still anxious about what went wrong in 2014 and wondering what the next steps are to address it. A dozen members who spoke with BuzzFeed News (many of whom declined to go on the record so they could speak freely) said they feel the Democratic leadership hasn't done enough to fully evaluate — or even acknowledge — the extent of the losses.
But the prevailing concern was that Democrats failed to develop a cohesive message that broke through to the electorate — and it is time for an overhaul. Sources said hundreds of thousands of dollars were spent polling last year's "Jumpstart the Middle Class" messaging platform. Members want to know: What will be different this time?
"We lost 70 seats in the last four years and just kind of returned to business as usual," said one Democratic member. "We reelected leadership because there wasn't a sense that it was the leadership's fault."
"But where's the plan? Where's the assessment of what we need to do to win? There's been no re-evaluation to reckon that we've been hammered several elections in a row," the member added.
Virginia Rep. Gerry Connolly said it was "unsatisfying" there hadn't been a caucus meeting yet to evaluate the losses.
"We collectively as a caucus need to spend some time in depth analytically looking at the results, what went wrong, and how we can take collective action to win the next cycle," he said. "That's the mission."
(A leadership aide later told BuzzFeed News that Connolly had missed a post-election caucus meeting where some of his points had been discussed.)
Although she was elected unanimously to lead Democrats again, Pelosi has not been immune to criticism. This became most clear when an election for the ranking member of the Energy and Commerce Committee turned into a public spat over whether Tammy Duckworth — a pregnant, double-amputee Iraq War veteran — could vote by proxy. (She was unable to travel due to her pregnancy.) The Pelosi-backed candidate in the ranking member race, Anna Eshoo, ultimately lost to Frank Pallone.
"The first thing that absorbed our attention was completely about us and had nothing to do with the outside," one member said of the ranking member flap. "That's a very inward looking thing and we should be looking out now."
Pascrell was skeptical a real soul-searching would take place.
"I think there's a 50/50 chance it'll happen — I don't give it anything better than that," he shrugged.
But leadership seems aware of the concerns. An evaluation is in the works, and plans are under way for a more cohesive strategy heading into the 114th Congress.
In late January, Democrats will gather in Philadelphia for their issues conference, where much of the real planning will begin to take shape. They'll hear from President Obama, who is also confirmed to attend. And perhaps more importantly to the caucus, the conference will focus on coming up with a plan for the next two years.
Pelosi recently created a new policy and communications entity in the caucus to be led by Rep. Steve Israel, the former Democratic Congressional Campaign Committee chairman. The caucus voted on and approved the new communications arm and Israel said the leadership team was working on developing it "in probably the most vigilant way we have ever have."
Israel is currently hammering out the details of the new communications group. He estimates roughly a dozen members will be involved, and he's currently on a self-described "listening tour" with caucus members to field complaints and hear suggestions. He anticipated the details of the membership and the budget would be completed this month so they would be able to start in earnest by the time the issues conference begins.
"The Republicans have done a much better job of laddering up taxes and spending where Democrats ladder down to 16-point plans. That's our problem," Israel said in an interview with BuzzFeed News. "We have to the ladder up to that one theme that voters identify with…. We're building out an infrastructure we've never built out before."
Israel stressed that polling had shown that voters agreed with Democrats on their overall economic message, but had deep anxiety and dissatisfaction with the economy.
"This historic anxiety by middle-class voters has put Republicans and Democrats on a very short leash," he said. "In 2006, they gave the leash to Democrats; in 2010, they yanked it and gave it to Republicans. Middle-class voters are looking for a party with specific solutions to their problems."
Israel also addressed a complaint some members have: that there has not been enough candid examination of the past year.
One member had complained to BuzzFeed News that, after the election, Democratic leadership focused too much on hailing the retention of many Democratic incumbents, despite such a terrible overall year for the party.
"A couple of the caucuses after the election, they were like pep rallies, people were like getting up and a bunch of us were shaking our heads and were like, Gosh, this sounds like we won," the member said. "We didn't."
Israel said he understands that but his goal is to not "re-litigate the past" but "reorganize the future."
"We have a responsibility to accept what we did wrong but not minimize what we did right," he said. "The fact of the matter is when you are looking at a 63% dissatisfaction with the economy — a worse mood than 2010 — we ought not minimize the fact we mitigated the losses. But we better not rest our cap on that."
After publication, a leadership aide noted to BuzzFeed News that Connolly did not attend a post-election caucus meeting where several of his issues were discussed.