Kentucky's Senate Race Off To A Wild Start At Annual State Picnic
Republican Sen. Mitch McConnell and Democrat Alison Lundergan Grimes give dueling speeches the rowdy Fancy Farm picnic. Fifteen months out from the election, the gloves are already off.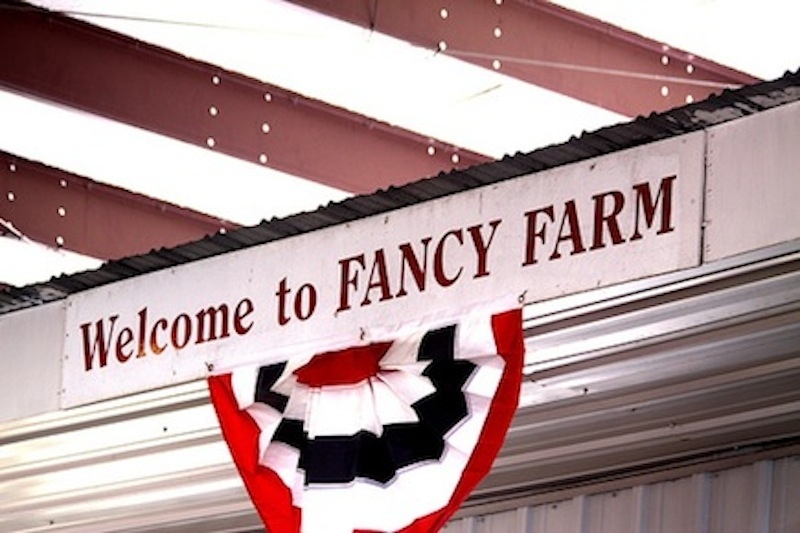 FANCY FARM, KY. — Each year, the annual Fancy Farm picnic in Western Kentucky features rowdy crowds, 8,500 pounds of meat, and a whole lot of political smack-talk. And this year it was the unofficial kick-off of what is sure to be one of the most contentious Senate races in the country between Republican Minority Leader Mitch McConnell and the Democratic Secretary of State, Alison Lundergan Grimes.
Candidates brave enough to take the stage here (and if they are running for statewide office, there's not much of a choice), have to deliver short speeches to an audience ready to give them hell — or cheer them on — depending on who is speaking.
"It's not bullets you fear but jeers and cheers (for your opponent) and the momentary mental lapse of twist of tongue that could be the gaffe that everyone talks about the next day," wrote former Kentucky Secretary of State John Y. Brown III. "You fear humiliation on the most prized of our state's political stages, the platform for political speeches at Fancy Farm."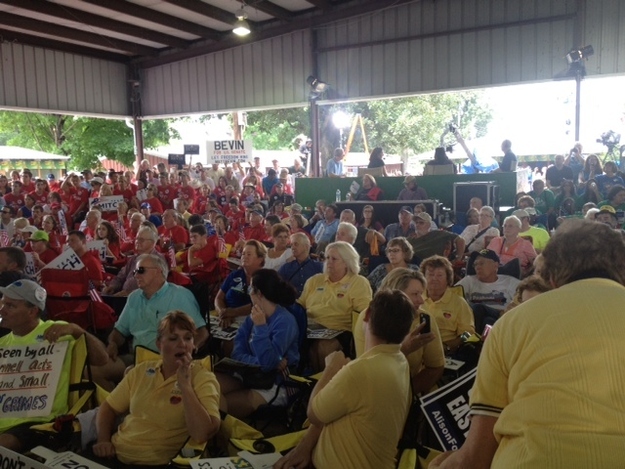 Fifteen months out from the election, McConnell and Grimes both made clear it was going to be a long, intense campaign and laid out the general themes voters could expect to hear up until election day. McConnell hit hard at President Barack Obama, "nanny state liberals," and Majority Leader Harry Reid, who he called "Nevada's yes man for Barack Obama." His message: supporting Grimes means supporting the President policies.
"We're going to decide what kind of America we want to have. Barack Obama's vision for America or Kentucky's vision," he said.
Grimes' main line of attack was that McConnell, a 30 veteran of the Senate, had become a symbol of gridlock and obstruction.
"If a doctor told Sen. McConnell he had a kidney stone, he'd refuse to pass it," she said.
The audience in the hot tent was equally divided between Grimes and McConnell supporters, not to mention quite a few folks who showed up to cheer on McConnell's conservative primary challenger, Matt Bevin. There were no moments of silence as everyone tried to scream over each other. "Mitch McConnell's got to go!" was a common refrain, followed by McConnell supporters yelling "Back to Washington!"
Grimes supporters were more aggressive in their attacks on McConnell as a candidate. Despite her initial rocky announcement for the race and what will be battle against McConnell's formidable political machine in this conservative state, Grimes voters were feeling good about their chances.
"The Kentucky state motto is united we stand, divided we fall. He is an extremely divisive person. I do not believe he's been working for the betterment of the entire country, I think he's been working for the betterment of himself," said Vanessa Rogers, who was holding a sign that said "It's time to switch. Ditch Mitch."
Little was off limits at the picnic: McConnell's wife, former Secretary of Labor Elaine Chao, was loudly booed by Grimes supporters when she was introduced. And McConnell pointedly attacked Grimes' father, former State Sen. Jerry Lundergan, for donating to Anthony Weiner's mayoral bid and "taking orders from the Obama campaign." One person in the crowd heckled McConnell as he spoke, yelling he should "come back when he grows a chin."
Without mentioning him by name, McConnell also took a shot at Bevin. He said his position in the Senate enabled him to get things done for Kentucky and take the "fight to the liberals every single day." He made specific mention of the fiscal cliff deal he crafted with Vice President Joe Biden back in January (with out actually mentioning Biden) saying he "led the charge to save 99 percent of Kentuckians from a tax increase."
"You can't get any of these things done from the back bench," he said.
McConnell's supporters acknowledge he likely has a tough race ahead of him, but with a $15 million war chest and years of experience, he'll be tough to take out.
"I think he has a race, but he's up to the task. He's who we need to be the leader of the U.S. Senate," said Cary King. "If you look at his record and his following and the political clout that he has, we'd be taking a huge step backward for our state if we lost him to either one. Nothing against Bevin or for that matter Alison but we'd be taking a huge step backwards."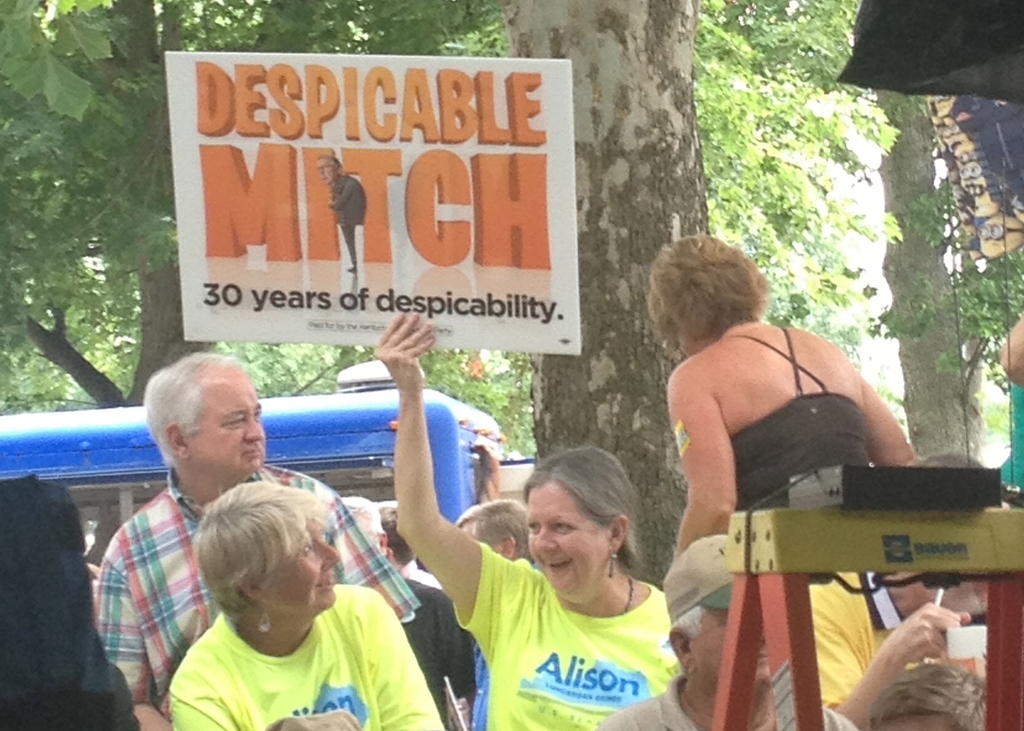 Bevin supporters, though far outnumbered, viewed their candidate as a fresh faced and serious challenger to the Minority leader.
"I voted for McConnell in the past. We need a change and 30 years is long enough," said Clint Hardy. "We need to stand up for Kentucky, so even if Republicans get the majority we'll have the majority with Rand Paul and Matt Bevin, and then we'll have two true Kentuckians representing us in the majority."
McConnell and many of his supporters in the crowd left before Bevin had a chance to speak, something that did not go unnoticed by Bevin.
"Mitch McConnell doesn't want people to actually hear they have an alternative. Obamacare is unpopular. Stop talking about yanking out root and branch and start voting in the U.S. Senate to kill it and defund it," he said, with his nine children standing behind him. "Be a man, stand up and put your money where your mouth is."