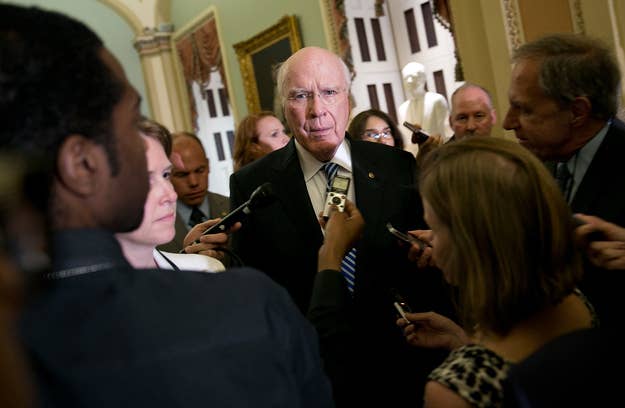 WASHINGTON — Vermont Senator Patrick Leahy might as well be the Gang of Eight's ninth member.
As the Judiciary Committee's chairman and the Senate's longest-serving member, Leahy — more than most Democrats — has had to carefully negotiate his deep-rooted progressive principles with his desire to get the comprehensive immigration reform bill out of the Senate.
And as the Senate is on track to pass the Gang's carefully compromised bill Thursday afternoon, members on both sides of the aisle give a huge chunk of the credit to Leahy for helping usher it through.
It hasn't been easy for Leahy, who from the get-go hasn't been shy about voicing his criticism since the Gang of Eight first started meeting to craft the legislation. When he felt the Gang was taking too long to introduce legislation, he told them to hurry up. At the end of the committee's markup, Leahy tried to introduce an amendment to the bill that would have extended immigration rights to same-sex binational couples only to withdraw it when the majority of the committee said the amendment would ultimately kill the bill. And he begrudgingly agreed to support a "border surge" deal crafted by two Republicans if it meant getting immigration reform passed.
"It is an understatement to say that this is not the amendment I would have drafted. It is a disappointment to me and to many. The modification to my amendment reads like a Christmas wish list for Halliburton," Leahy said in a statement, announcing he would support the amendment anyway because "legislating is about making tough choices."
His frustration with the process was on full display this week as the Senate inched closer to a final vote. Leahy, who is managing the bill on the floor, was practically yelling during a debate with Sen. Rob Portman (R-Ohio) on Tuesday over Portman's desire to have a separate up-or-down vote on his "E-verify" amendment.
"The distinguished majority leader has more patience than the senator from Vermont," Leahy said, referring to himself in the third person. "I have not spoken on this point, and I apologize for taking the time. But it's frustrating to me to hear these numbers when so much work has been done by both Republicans and Democrats on this bill to get to the point we are."
"I had amendments I would love to have, saying, 'Here's the Leahy amendment passed on the floor.' I said, no, I'm more interested in putting it in the package and let it go through," he added.
Sen. Lindsey Graham, one of the Republican members of the Gang of Eight, said Leahy's long service in the Senate — he's been there since 1975 — contributed to his ability to know when he'd need to compromise.
"I know he's got some ideas and wishes he would like to advance, but I'm very pleased with the way he's handled the issue as chairman of the committee, and committed to getting the bill out of the senate," Graham said. "I think he understands what the market can bear."
The bill is finally on its way to passage, and along the way, more than a dozen Republican senators are poised to support it. Sen. Orrin Hatch, for example, noted that the lengthy amendment process in Leahy's committee — where several of his amendments were approved — helped him decide to ultimately support the bill.
"Leahy's a good legislator. He knows you can't have everything go your own way. I think I can; that's why I work so hard. He thinks he can, but there are times where you realize you just can't," said Hatch. "You have to accommodate ideas, and Leahy's shown an ability to do that in this instance."
Even members who are staunchly opposed to the comprehensive bill had nice things to say about the way Leahy has handled his role in the process.
Sen. Ted Cruz, who has been staunchly vocal in opposing the bill, thanked Leahy at the end of the committee markup in May for "allowing vigorous debate on amendments." Sen. Chuck Grassley, who will also vote no on the final bill, praised Leahy for allowing "an open and transparent process to reform our broken immigration system."
Jim Manley, a former longtime Democratic Senate aide, said Leahy's willingness to bend on his principles to get immigration reform passed shouldn't be surprising. But it's been difficult to find in this era of bipartisan gridlock.
"What's interesting is that this shouldn't be newsworthy. That's the way legislators like Sen. Leahy approach bills. He understands that politics is the art of compromise," Manley said. "Sometimes you have to give a little bit, and in this day and age you give a lot to get Republicans on board."