How Democrats Are Trying To Annoy Their Way Into The Majority
The DCCC has quietly dispatched staff to 17 districts and worked with local groups to pester and protest Republican members. Now they think they've nabbed their first retirement in Rep. Tim Griffin. Griffin cited his young family as the reason he won't run again.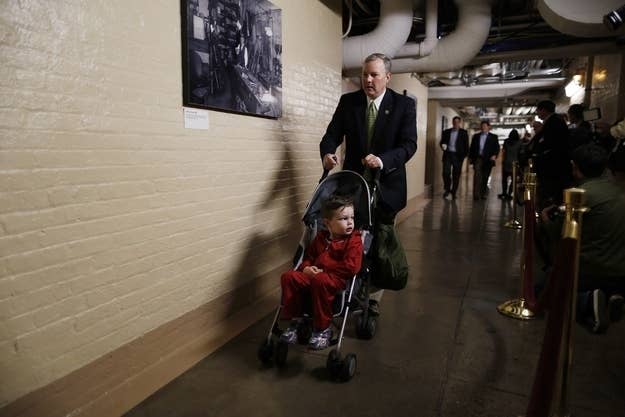 WASHINGTON — The Democratic Congressional Campaign Committee has come up with a new approach to reclaim their majority in the House of Representatives: Make life back home as miserable as possible for vulnerable Republicans.
In August, the committee very quietly dispatched staff across the country to work with key local groups in 17 districts to pester, protest, and downright annoy lawmakers they are hoping to defeat in 2014.
DCCC officials said the project, dubbed the "Heat Wave" program, was the first time Democrats had explicitly coordinated — nationwide — with on-the-ground efforts to give Republicans a hard time and ensure several waves of bad local press for the members who were targeted.
For example, Illinois Rep. Rodney Davis was sent dozens of rubber duckies and a live duck in August by a progressive group in the state who charged that Davis was "ducking" ethics questions. That event was coordinated by the Heat Wave program, and picked up by local news outlets.
Now the DCCC is taking credit for the surprise retirement of Rep. Tim Griffin in Arkansas, citing their Heat Wave effort as one of the main reasons. Griffin announced Monday that he would not run for a third term in Congress despite the fact that he had no real challengers and more than a half million dollars cash on hand.
"For the first time, the DCCC worked with state partners in the off year to put grassroots communications coordinators on the ground to harness and focus local frustration over this outrageous Republican Congress into heat on the vulnerable Republican Members – and it worked," said DCCC spokeswoman Emily Bittner.
Griffin, who was unavailable to be interviewed, has said the decision to retire was a personal one, citing his family and young children as the reason he was stepping down.
"It came as a surprise to people who only know my career and don't know me. If you know me and how important my family is to me, then it's not a surprise at all," he told the Washington Post.
And Griffin was adamant that Democrats would not be able take the seat back.
"I won by 20 the first time, 16 the last time. [Mitt] Romney won this district by 12, [John] McCain won it by 11, [George W.] Bush won it twice. I don't think they [Democrats] have a shot – I think they think they have a shot," he said. "But they don't have a shot. They are under the mistaken belief that because there was a Democrat in the seat for a long time that this is a liberal or Democrat seat. It is not. And if we put up a viable candidate, we will win this seat."
A Democratic win in Griffin's district will be no easy task, although following the retirement announcement, the Cook Political Report moved the district from "solid Republican" to "lean Republican." His district was among the reddest on the "Heat Wave" list. The list primarily included vulnerable members like Davis, New York Rep. Michael Grimm, and Colorado Rep. Mike Coffman. With the GOP taking the brunt of the blame for the government shutdown, the DCCC is hoping to keep on the pressure.
The project was in part inspired by GOP efforts in 2010, when the national committees started aggressively targeting vulnerable Democrats very early on in the cycle and capitalized on the national outrage over Obamacare. The National Republican Congressional Committee took credit for several retirements of Democratic members who hailed from red districts.
Kate Nocera is the DC Bureau Chief for BuzzFeed News. Nocera is a recipient of the National Press Foundation's 2014 Dirksen Award for distinguished reporting on Congress.

Contact Kate Nocera at kate.nocera@buzzfeed.com.

Got a confidential tip? Submit it here.