House Votes To Keep Funding Post-9/11 Military Force Laws As Obama Sends Advisers To Iraq
The AUMF isn't going anywhere this week.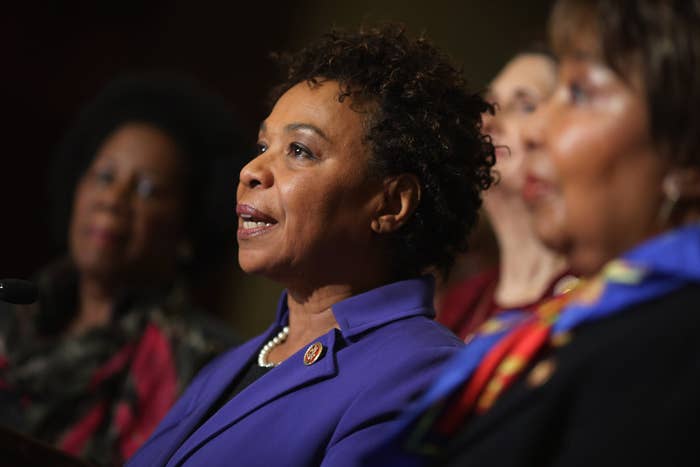 WASHINGTON — As President Obama sends up to 300 military advisers to Iraq to address the escalating threat of ISIS, Congress will allow Obama to keep his authority to handle the crisis himself.
The House voted late Thursday night to keep everything exactly as it has been, voting down efforts to limit or cut off funding for U.S. engagement in Iraq. Significant bipartisan support for changing the sweeping laws that first authorized military action for the War on Terror, however, indicate the issue isn't going to just disappear.
Several amendments to the Department of Defense appropriations bill, offered by Rep. Barbara Lee of California, were voted down. Lee tried to attach provisions to prohibit funding for combat operations in Iraq, end funding for the 2002 Iraq Authorized Use of Military Force and sunset funds to the 2001 AUMF after December 2014.
Lee wasn't upset that her amendments had failed, she said Friday. Instead she argued that the broad bipartisan group that supported her bills indicated a growing change in the Congress.
"They were really good votes," she told BuzzFeed. "They were bipartisan and we've got to continue to make sure that Congress is involved in exercising our constitutional responsibility in terms of our war making. There will be more conversations, the American people are war-weary and they are going to demand it."
The vote to end funds for the 2001 AUMF failed 157-260, with 21 Republicans voting for the amendment. The 2002 Iraq AUMF amendment failed 182-231, with 31 Republicans joining most Democrats in support of it.
A good chunk of the Republicans supporting the Lee amendments were from the Libertarian wing of the party — but not all of them were. Rep. Cathy McMorris Rodgers, the GOP conference chair, voted to prohibit funds going to the 2002 AUMF. Rep. Scott Rigell, a Republican from a military-heavy district, voted for all three Lee amendments.
"My two votes with respect to Iraq indicate my conviction that the president can use U.S military force and personnel to protect our embassy but going beyond that in my view, the authorization for use of military force is no longer valid," he said. "We've had not one, but two presidents state that the war was over."
Rigell said that the desire of Congress to continue to give the president flexibility when it comes to Iraq "cannot be refuted," and that believes strongly the president needs new approval to engage further in Iraq.
"I think that was evidenced last night with the two votes failing," he said. "This is an important debate that must take place and I appreciate my colleague Ms. Lee bringing them to the floor."
Democratic Rep. Jim McGovern, a longtime critic of the wars in Iraq and Afghanistan, said that because of House rules, it was more difficult for Lee to get enough support for the amendments to pass. On spending bills, amendments must only be related to dollar amounts — not policy — making a substantive debate harder.
"You don't even get a chance to clear your throat to explain what these amendments do and explain what they are all about," he said. "All you can do is add or subtract, if you get into policy it doesn't become germane. So I wouldn't read too much into those votes failing. There's a great deal of skepticism on both sides of the aisle about more war and endless war. Look the way the process is set up; it's hard to deliberate here."
Several Republicans who voted against the amendments told BuzzFeed they would be open to further debate on the AUMFs in the future. Rep. Ileana Ros-Lehtinen, a Republican from Florida and the former chairwoman of the Foreign Affairs committee, said while she wasn't inclined to support the Lee amendments, she still believed Congress should be having more conversations and committee hearings on the AUMF.
"I think they deserve a fuller debate and committee hearings," Ros-Lehtinen said. "I don't think this is the proper vehicle to discuss in just a few minutes such incredible far reaching consequences of a vote and the magnitude it would have."
"I hope we have further discussions but the votes shows a great deal of support," she continued. "I'm inclined to not support them no matter what venue they come from, but there are some folks who might have been inclined to support them had they been on another bill where they had more time to debate it."
Kate Nocera is the DC Bureau Chief for BuzzFeed News. Nocera is a recipient of the National Press Foundation's 2014 Dirksen Award for distinguished reporting on Congress.

Contact Kate Nocera at kate.nocera@buzzfeed.com.

Got a confidential tip? Submit it here.