House Republicans All Over The Place On Immigration Reform
"There's not a clear consensus," said Wisconsin Rep. James Sensenbrenner. "But there will be. I don't think we've gotten there yet on our approach."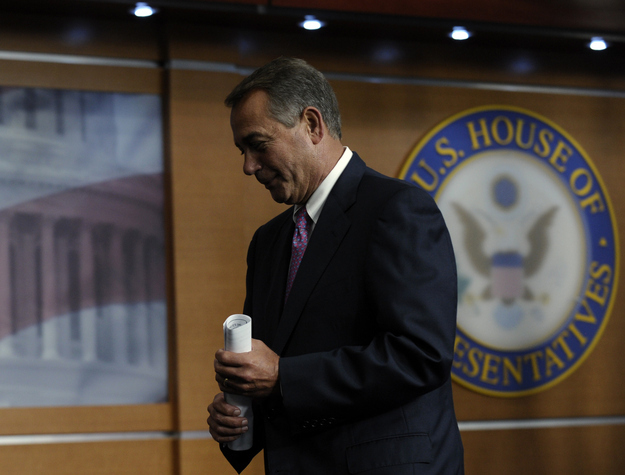 WASHINGTON — At Wednesday's closed-door meeting for House Republicans on immigration — billed as a part educational, part venting session — Congressional GOPers emerged feeling much the same way about immigration reform as they went in: all over the place.
It's not that anyone was expecting Republicans to come out of the meeting with a solid plan on how to move forward with comprehensive immigration reform. The ball is in the House's court after the Senate passed their own bill with bipartisan support last month. There are those in the conference pushing for a way forward for a comprehensive bill, those who think the approach should come in steps, and those that think any legislation they might pass will become a vehicle for "amnesty" for the nation's 11 million undocumented immigrants and that's just a nonstarter for them.
"It's hard to see a common theme evolving in there right now, besides everyone being unified around border security first," Kentucky Rep. Thomas Massie said. "None of the Republicans trust the president, nor should they, and not enough of them trust the leadership."
Others left feeling more confident leadership would find a way forward.
"There's not a clear consensus," Wisconsin Rep. James Sensenbrenner said. "But there will be. I don't think we've gotten there yet on our approach."
The message from Republican leadership was twofold: The House won't touch the Senate bill but more importantly, Majority Leader Eric Cantor told members, Republicans needed to present their own ideas for how to move forward.
"Today House Republicans affirmed that rather than take up the flawed legislation rushed through the Senate, House committees will continue their work on a step-by-step, commonsense approach to fixing what has long been a broken system. The American people want our border secured, our laws enforced, and the problems in our immigration system fixed to strengthen our economy. But they don't trust a Democratic-controlled Washington, and they're alarmed by the president's ongoing insistence on enacting a single, massive, Obamacare-like bill rather than pursuing a step-by-step, common-sense approach to actually fix the problem," Republican leadership said in a statement following the meeting.
The House Judiciary committee has moved several border security bills, but many in the conference believe that that those could be used as a way to go to conference with the Senate, and a bill would then pass with the majority of Democratic support.
Over the course of the more than two-hour meeting, House Speaker John Boehner came to the microphone several times to reiterate that was not going to be the case. He tried to relieve member concerns by assuring them conferees would not agree to a deal unacceptable to the majority of House Republicans.
Some stalwarts weren't convinced.
Alabama Rep. Mo Brooks, who is deeply opposed to a pathway to citizenship for the country's undocumented immigrants, stood at the microphone to read a line from "America the Beautiful." The line? "Confirm thy soul in self-control, thy liberty in law."
"We should never support a policy that undermines the rule of law," he said after the meeting. "Anyone whose first act on American soil was to break the law should not be rewarded with the highest honor of citizenship."
Republicans were united around the idea though that President Obama can't be trusted. Many of them pointed to the recent announcement that the administration would delay the health care law's employer mandate as their prime example of how he would not enforce laws passed by Congress.
"It's a game changer as far as our members are concerned," Ohio Rep. Pat Tiberi said. "Already you'd get six or seven different answers from members as to how to approach immigration but there's so much less trust after that announcement it hurts our effort to do big things."
Even if they cannot immediately agree on a way forward, many members said they felt completely ignoring immigration all together would be worse than doing nothing at all.
"The politics of doing nothing are on [President Obama's] side," Rep. Richard Hudson said. "The politics of doing an amnesty are worse for us. So we need to do something—we just have to be very careful about how it's done."