House GOP Weighs Next Move On The Contraceptive Mandate
With the Hobby Lobby case in front of the Supreme Court, Republicans debate whether they should move legislatively. "I don't think there is any reason to wait to see what the Supreme Court is going to do. We write the laws not the Supreme Court," said Rep. Michele Bachmann.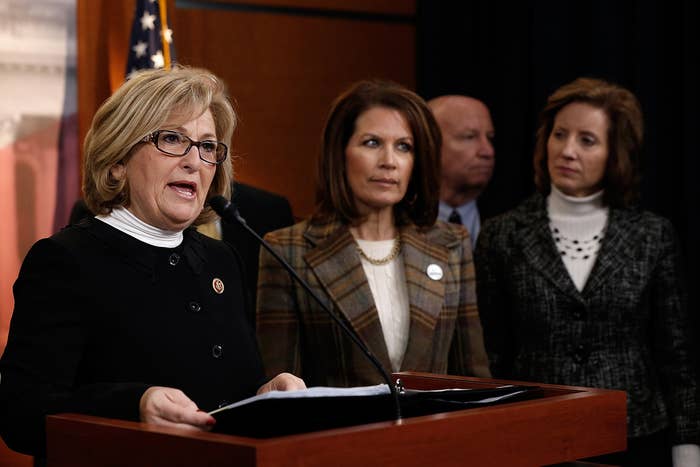 WASHINGTON — Practically every Republican member of Congress believes something needs to be done about the Affordable Care Act's requirement that employer-based health care include coverage for contraceptives.
The Supreme Court heard oral arguments this week in the Hobby Lobby's challenge on religious grounds to the contraceptive coverage requirement.
But the GOP is split on how exactly to proceed. Some members insist that House Republicans should move forward — and quickly — on a bill to exempt any individual or employer from having to purchase a health plan that covers things they find objectionable on religious grounds. Others don't see the point in taking a vote before the court rules.
When the contraceptives policy was announced in 2012, House leadership spoke out strongly against it. House Speaker John Boehner went to the floor promising, through regular legislative order, Congress would work to overturn it. But then a few things happened: A religious exemption bill from Sen. Roy Blunt failed in the Senate, and a big firestorm was set off when conservative radio host Rush Limbaugh called activist Sandra Fluke a slut after she spoke out in support of the contraceptive coverage requirement. The House never ended up moving the bill and the issue died down.
And some members would rather wait for the court to decide before putting the issue front and center in the House again.
"It's obviously in front of the Supreme Court and I don't see how it's in our best interest to weigh in on that right now," said Republican Rep. Shelley Moore-Capito, who is running for Senate in West Virginia.
But the prominence of the Hobby Lobby case has provoked staunch arguments from both sides — about women's rights from supporters of the requirement, and about religious freedom from detractors. How narrowly or broadly the court decides the case could have major implications for legal defenses based on the principle of religious freedom. And that leaves some Republicans arguing now is the right time to act.
"I don't think there is any reason to wait to see what the Supreme Court is going to do. We write the laws not the Supreme Court; the Supreme Court is supposed to interpret the laws that we write," Rep. Michele Bachmann said. "The Supreme Court does not bind our hands in any way and that's why it's very important for us to put this forward."
Rep. Steve King, a conservative member from Iowa, was insistent that the House should be doing everything it could be in advance of the court ruling.
"All the messages we can send in are good. The court reads press clippings. I would want to make sure they are hearing all sides of the argument, especially the one on religious liberty," King said. "I would be interested in moving legislation and having a debate on the floor and in the media. It's part of the messaging lexicon that helps make sure we have fully informed jurists."
Rep. Diane Black, a Republican from Tennessee, is the lead co-sponsor of the House bill that would ensure religious conscious exemptions for individuals and businesses. She said on Tuesday she had received personal assurances from House leadership that the bill would come up in committee — and move to the floor for a full vote — soon.
"We have spoken to the leadership directly and they are very supportive of it. We have just under 200 co-sponsors and it is a bipartisan co-sponsorship and it is in committee, and we would hope that it would move through the committee now that we have that many supporters of the bill," she said. "I have that personally from our leadership, that they are committed to this bill."
But the timing is still unclear. An aide to Majority Leader Eric Cantor said that there were "no scheduled updates to announce." Both Cantor and Boehner issued strong statements of support for Hobby Lobby owners, hopeful that the court would rule in their favor.
"It depends on how the court rules," said Rep. Joe Pitts, a supporter of Black's bill. "If they rule the wrong way then we'll need it, but we may not. I think leadership will wait to see how the court rules."
Kate Nocera is the DC Bureau Chief for BuzzFeed News. Nocera is a recipient of the National Press Foundation's 2014 Dirksen Award for distinguished reporting on Congress.

Contact Kate Nocera at kate.nocera@buzzfeed.com.

Got a confidential tip? Submit it here.