House Democrats Try To Change The Subject From Obamacare
New topic: the budget! "Repeal [of] the Affordable Care Act is what has been their agenda and almost solely their agenda," Steny Hoyer said of Republicans. "That is why we have not dealt with the budget."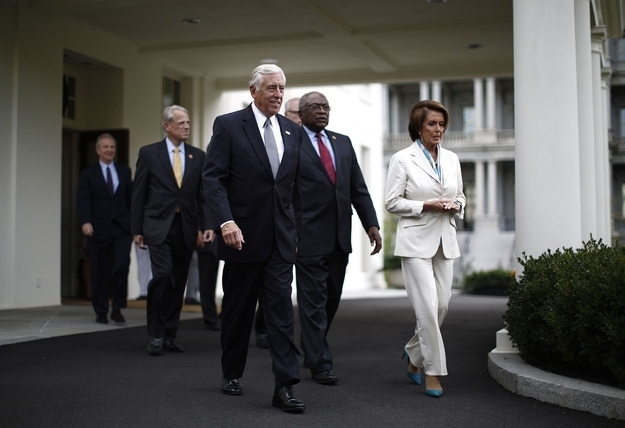 WASHINGTON — The disastrous roll out of the Affordable Care Act has been an all-consuming topic on Capitol Hill in recent weeks, with anxious Democrats openly fretting about the political ramifications of the troubled law.
But Democratic leadership is hoping to change subject in coming weeks, with several critical spending deadlines on the horizon. In recent days, the message from the top has been focused on the lack of progress in budget negotiations and not so subtly sounding the warning bell about another government shutdown in January.
"Repeal [of] the Affordable Care Act is what has been their agenda and almost solely their agenda," said minority whip Steny Hoyer this week of the GOP. "That is why we have not dealt with the budget. That's why we haven't dealt with the appropriation bills. That's why we haven't dealt with unemployment insurance, farm bill, nondiscrimination, comprehensive immigration reform, debt limit, all of those. They are all issues that need to be dealt with by December 31st."
There is little chance that congressional Republicans will let up on hammering Democrats over the law. But the hope among some Democrats is that Republican inaction on pressing issues will take some of the heat off them and put the attention back on the GOP. Not even a month ago, Republicans took a beating at the polls over the shutdown, but as the problems with Obamacare have piled up, now it's Democrats who are seeing their approval ratings tumble.
"I've been here for a little under a year and if I've learned anything in September there was this national obsession with Syria, October it was the shutdown, right now it's the website," said freshman Rep. Eric Swalwell. "This too shall pass we'll get it fixed, and we don't want to miss opportunities right now as this is going on. You can't just obsess over this, there are other things the American people are counting on us to do."
"We're not one trick ponies. I think the ACA is a national issue but how people pay their bills, how they are going to support their family are things people obviously care about," he added. "We just can't get sucked into to having that being the only issue we talk about."
Anger has been brewing in the caucus, specifically at the White House for the roll out of the law. Rep. Jim Moran described the caucus as near "mutiny level" last week.
Leaders in the Democratic caucus emerged from their meeting on Tuesday pushing a similar message: the law may be having trouble right now, but what people really care about are jobs and the economy.
Caucus Chairman Xavier Becerra responding to a question about the daily bad Obamacare news by saying that Democrats were committed to fixing the "health security law" as he referred to it. But he quickly pivoted back to talking about employment.
"We don't want to lose sight of the fact that right now, Americans are looking for work and Americans want to build again in this country and that's what we want to focus on because the reality is that we have watched this congress do virtually nothing," he said.
Minority Leader Nancy Pelosi said on Tuesday night that Democrats would not be running only on Obamacare and that her members would continue to "stand by the policy."
"We're proud of it," she said at a BuzzFeed Brews event.
"[The election] will be about jobs, it'll be about growth in our economy, it'll be about Medicare, it'll be about their budget: Medicare where the Democrats are, millionaires where they are," she said.