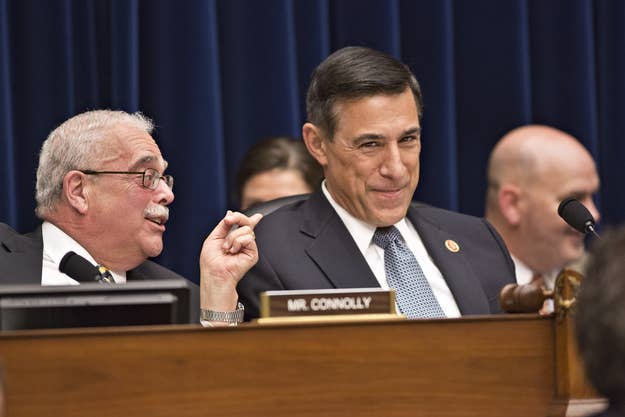 WASHINGTON — Democratic Rep. Gerry Connolly refuses to use the word "scandal."
After two weeks of brutal news cycles — with frenzied Republicans and a hyped up press corps aggressively covering every inch of three controversies surrounding the Obama administration — Connolly insists this too, shall pass.
"I think when the media repeats the word 'scandals' you are repeating partisan lines. They are issues that have occurred that have to be addressed. I don't think they rise to the level of a scandal," he said. "We had a bunch of idiots at IRS in Cincinnati who didn't know how to aggregate a flood of tax-exempt applications … but this is not some major scandal in the order of magnitude like Watergate. That's absurd."
Connolly was also critical of the way Republicans have investigated the terrorist attack in Benghazi that killed four Americans.
"Don't get me wrong, Benghazi was a tragedy, but it has no traction. They can continue to talk about it to feed their base, they forget we have a base too. Everytime they do that they are firing up our base too and alienating moderate and swing voters."
It's a tack many of his Democratic colleagues in Congress are taking, shrugging off — or downplaying — the recent slate of scandal. If there was any fear that the continual hammering of the administration from House Republicans would hurt Democrats, the party's members answered with a resounding no.
"I don't think there is any long-term political impact on House Democrats for any of this stuff," said Rep. Jim McGovern. "There clearly needs to be more accountability at the IRS and I think that will be taken care of. I think the administration has been handling it correctly.
"And yet you've got some coo coo clucks here calling for impeachment, I mean it's so absurd they are overplaying their hand," he said of Republicans. "If anything there may be a political backlash on them."
Speaker John Boehner and Republican leadership have promised to keep the political heat on the administration, and the GOP's House campaign arm — the National Republican Campaign Committee— is more than ready to make the scandals an issue for Democrats heading into 2014.
One Democratic member close to leadership said Democrats were equally confounded and angry at IRS and DOJ officials. The member added there was some concern for vulnerable members, so taking the scandals seriously was important.
"I think when you saw a lot of us in those hearings you saw how angry we were. It's hard for Republicans to argue that we don't care, we do," the member said. "We just aren't going to go on a wild goose chase. And if they do, it makes it easier for us to say they aren't paying attention to jobs and the economy."
Rep. Dutch Ruppersberger, the ranking member on the House intelligence committee, said the best thing the administration could do was to get all of the information out at once. He referenced the terrorist attack last year in Benghazi, where Republicans have argued the administration has tried to cover up all the facts, as a situation where the White House could have avoided a year-plus long investigation.
"What you have to do is get all the facts on the table as soon as possible. If you don't, the media will pick up dribs and drabs everyday and it'll keep the issue alive. Benghazi is an example of that: let's get to the bottom line, let's get to the facts, let's get everything out there," Ruppersberger said. "My recommendation to them is when there is a scandal, and I think the president did this with the IRS, it to get it out right away, lets gets it right."
Freshman Rep. Joaquin Castro said the scandals in Washington concerned him, but they had not made their way to his home district.
"I'm getting asked if I'm getting asked back home about the AP story or about Benghazi and those are important things but back home people are talking about the economy and jobs. My sense is that other Democratic members feel the same way," he said.
"Drip, drip, drip. Everyday there is something new," Boehner said of the investigation into the IRS and the improper targeting of conservative groups. "We don't know how deep this extends into the Administration and that's why our committees are going to continue to investigate this."