Harry Reid Says He "Can't Vote" For Obama's Controversial Judicial Pick
"Unless I have a better explanation, I can't vote for him," the Senate majority leader said of Michael Boggs.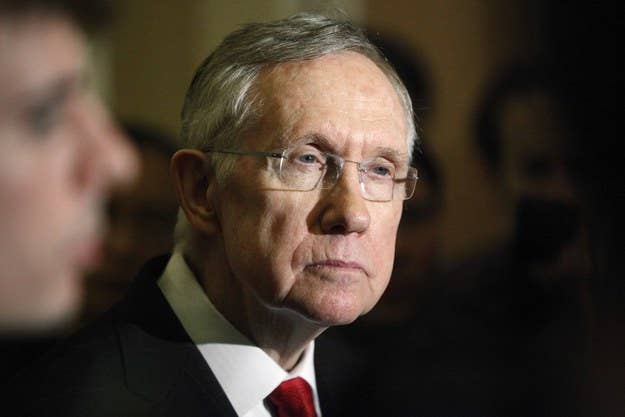 WASHINGTON — Senate Majority Leader Harry Reid Wednesday said he opposes to the nomination of President Obama's pick for the federal bench, Georgia state Judge Michael Boggs, pointing to his history of controversial positions on issues ranging from abortion to the confederate flag.
Although Reid didn't foreclose the possibility of eventually being convinced, he made clear he is deeply troubled by Boggs' past.
"I've not talked to [Judiciary Chairman] Pat Leahy personally. I will do that," Reid said in an interview with BuzzFeed. "Unless I have a better explanation. I can't vote for him. This is a lifetime appointment. He's said some things and made some decisions I think are not very good."
Reid's comments come as Boggs' nomination facing mounting opposition both in the Senate and from the Democratic base.
Progressive groups and several Democratic members of Congress have openly questioned and fought with the Obama administration over Boggs, who as a state legislator supported abortion restrictions, the Confederate flag and opposed same-sex marriage. At a confirmation hearing on Tuesday in front of the Judiciary Committee, Boggs would not comment on personal opinions and said that his record as a state judge was non-partisan as opposed to the positions he took as a lawmaker when he was representing constituents.
In addition to progressive and abortion rights groups, LGBT groups have stepped up their opposition to the nomination, lobbying senators to vote "no." White House spokesman Jay Carney said Wednesday that the president believes "each senator should vote as he sees fit," however, Obama disagrees "with anyone ... who believes Boggs is not qualified for this post."
"Boggs is not somebody I'm going to vote for unless I have some explanations on why he did that deal with the rebel flag and things he's said about abortion," Reid reiterated.
Reid said he had not spoken with the White House yet about his objections, but he planned to speak with Georgia congressman and civil rights hero John Lewis about the nomination.
"John Lewis is my man in Georgia," he said.
Kate Nocera is the DC Bureau Chief for BuzzFeed News. Nocera is a recipient of the National Press Foundation's 2014 Dirksen Award for distinguished reporting on Congress.

Contact Kate Nocera at kate.nocera@buzzfeed.com.

Got a confidential tip? Submit it here.