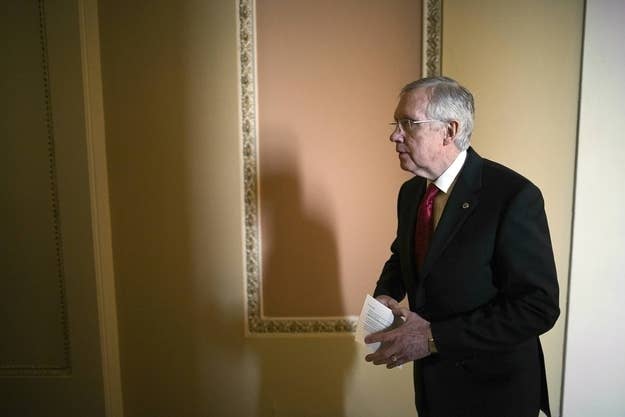 WASHINGTON — The anti-Koch brother sentiment runs strong in Majority Leader Harry Reid's house.
Reid, in a roundtable with reporters, said that it was his wife, Landra, who came up with the Democrats' new catchphrase: "The GOP is addicted to Koch."
"My wife came up with it," he said. "Swear on my life."
The Democratic Senatorial Campaign Committee is using the slogan in a series of digital ads attempting to hit Republican candidates. The "attack the Kochs" strategy is being used in races across the country, pushing back on millions of dollars worth of ads being run by Americans for Prosperity, a Koch-backed group.
The majority leader was unapologetic for his repeated attacks on the billionaire brothers from the Senate floor, and showed no sign of letting up.
"I'm after the two brothers. They are two people who are obviously trying to buy America and they have the money to do it," he said.
Reid pushed back on comparisons between the Kochs and Democratic donors, like Tom Steyer, who has said that he will raise and spend as much as $100 million for Democratic candidates who make climate change a central issue to their campaigns. Steyer made a splash in 2013 in Virginia, where he spent $8 million helping Gov. Terry McAuliffe's campaign.
"That is so desperate," Reid said. "Tom Steyer hasn't spent a penny yet; he said he's going to. I meet with people for fundraising and they make a lot of commitments. Remember, he's not trying to buy America, he's concerned about climate change — that's his single issue."
"Tom Steyer is not building his own fortune like these characters," he said.
CORRECTION (1:40 p.m.): Reid said Steyer is "not building his own fortune" like the Koch brothers. An earlier version of this post misquoted him.