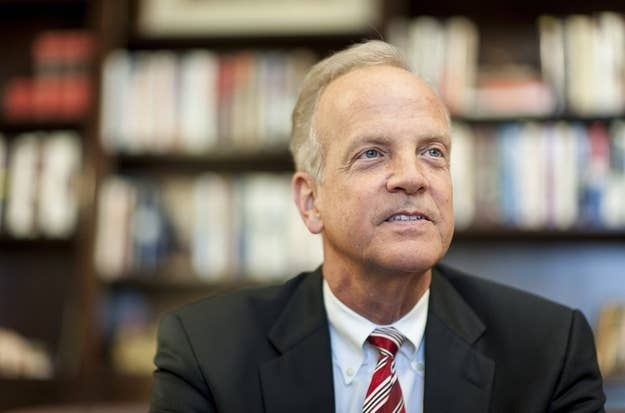 WASHINGTON — When the National Republican Senatorial Committee sent a staffer this year to Erick Erickson's RedState gathering, the intention was to keep up with outreach to grassroots organizations and candidates.
But a few days later, the conservative Erickson blasted the committee, writing on RedState that the staffer had "very derisively asked if I was going to support anyone other than challengers to incumbents."
"And they call this outreach," Erickson wrote.
NRSC spokesman Brad Dayspring played down Erickson's description of the conversation and said the staffer who attended the conservative confab had many discussions with activists over the course of the weekend.
"The fact that one of them was written about is the reality of the modern world," Dayspring said.
But the incident represents a larger issue for the committee working to give Republicans the Senate majority in 2014: trying to get the most electable conservative candidates through to a general election without completely alienating their conservative base.
"Look, it's a challenging time for the NRSC. They have to back their incumbents and at the same time, tread a very careful line making sure that they are recruiting top-tier candidates that don't run necessarily afoul of conservatives in a state. It's really a razor's edge for these guys," said Republican strategist Ron Bonjean. "The hope is we can navigate these waters so we don't have Republican Senate candidates saying stupid things that will backfire 90 days before the election."
A combination of Democratic retirements and incumbents defending their seats in red states have set up a good map for the NRSC. But the map had looked good in 2012 too, and Democrats actually expanded their majority.
For Republicans, the painful memory of Missouri's Todd Akin or Indiana's Richard Mourdock is still fresh. In Mourdock's case, he beat out incumbent Republican Sen. Richard Lugar in a primary only to go on to lose to Democrat Joe Donnelly in the general election. And Akin, who famously declared that pregnancies in the case of "legitimate rape" were rare, lost to Sen. Claire McCaskill in a state that was once seen as a prime pick-up opportunity for the GOP. Alternately, backing a candidate too early in a cycle can backfire as well. For example, early 2010 support for then-Republican Charlie Crist ended up being somewhat embarrassing when Marco Rubio eventually won the seat.
So this cycle, the committee has been taking steps to try to avoid a repeat of their 2012 disappointments. They've been working to stay in consistent communication with conservative groups (which is why they sent someone to the RedState event in the first place). Several of the top political strategists at the committee came up in the conservative wing of the party. And they've met with any Republican running who wants to meet with them in states where there's no clear frontrunner for the GOP candidacy to offer advice, staff help, or even telling those who want to run their chances of winning are slim to none.
In Alaska, they even met with Joe Miller, a tea party Republican who lost in 2010 to Republican incumbent Lisa Murkowski— after he beat her in the primary. So when Miller announced he'd challenge Democrat Mark Begich, the NRSC flatly told him his negatives were too high not only for a general election, but probably a Republican primary as well.
The committee has forcefully stated they're backing all incumbent Republicans running for re-election, including Minority Leader Mitch McConnell and Sen. Mike Enzi of Wyoming, both of whom have drawn primary challengers.
"There's one constant with elections, whether they're primary or a general, voters choose the candidate. It isn't our job to tell voters which Republican we believe is best. Our job is to reelect our incumbent senators and to build a Republican majority," Dayspring said. "Party committees aren't philosophers, think tanks or debate societies; we are carpenters in that our job is the nuts and bolts of building winning campaigns, empowering successful candidates, and leaving a Republican majority at the end of it all that is focused on economic growth for the middle class, modernizing American energy development, and dismantling ObamaCare to lower health care costs."
Dayspring did say the committee would only get involved in an open primary if Democrats started spending money to boost a candidate they believed to be the most beatable. In 2012, McCaskill's campaign ran ads during the GOP primary, calling Akin "Missouri's true conservative."
"The DNC and the DSCC are on record saying they intend to play games and influence Republican primaries in an effort to produce Todd Akin II, and that's not something we'd allow to go unchecked. Again, our job is simple: winning. So we reserve the right to do what it takes to win," Dayspring said.
Sometimes, outside groups and the NRSC can come together to support a candidate. When Rep. Tom Cotton recently announced he would challenge Democrat Mark Pryor in conservative Arkansas, he was promptly celebrated as a "top-tier" candidate by the NRSC and almost immediately endorsed by the Club for Growth.
"We don't really think about what the NRSC does," said Club for Growth spokesman Barney Keller. "We just do what we do — and if they are on the same side as us, great, and if they aren't, that's OK too."
But conservatives like Erickson have made it abundantly clear that they don't plan to let up on the NRSC anytime soon. In another post blasting the committee, and the information gleaned from his conversation with the staffer, Erickson wrote that conservatives should not be giving incumbent Republicans their blind support.
"We Republicans who value our principles should not give free rides to any incumbent solely by virtue of their incumbency. We conservatives should relish the opportunity to become scalp collectors. If the NRSC goes broke defending incumbents that Republicans in states seek to replace with better candidates, I am more than willing to help them go broke," he wrote.
Florida Republican strategist Rick Wilson said in an email that the NRSC staffers' comments to Erickson weren't helpful to their cause, and in fact made them "look like the caricature by which they are often painted: a blustery, red-suspender gang insider-protection racket lining the pockets of a tiny handful of consultants."
"No one has a monopoly on picking the right candidates. The conservative movement makes mistakes. (To wit, Akin.) The NRSC makes mistakes. (To wit, Crist.) The smart play would be to say, 'Hey, RedState, we may not agree on every primary challenge, but let's work out how to knock the hell out of the Democrats together,'" Wilson said.
Democrats, meanwhile, are downright gleeful at the prospect of messy Republican primaries blasting out almost a press release a day under the banner of "GOP TEA PARTY PRIMARY-PALOOZA."
"Despite their rhetoric, Republicans find themselves once again held hostage by the far right of their party," said Democratic Senatorial Campaign Committee spokesman Justin Barasky. "The failure of national Republicans to avoid contentious tea party primaries in more than a dozen states will plague their party through the August recess, well into 2014, and will end up as one of many reasons that Democrats keep the majority."