Elizabeth Warren's Senate
The progressive senator has raised $2.3 million for Democratic Senate candidates and is showing up in states where you'd least expect her.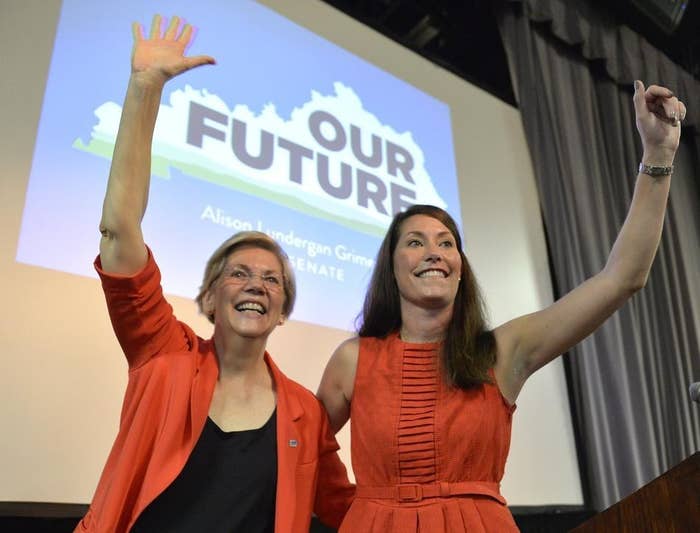 LOUISVILLE, Ky. — If Democrats hold onto the Senate this year, the biggest winner may be Elizabeth Warren.
Warren, the Massachusetts senator and unabashed populist, has been aggressively campaigning and fundraising for Democrats across the country — and welcomed with open arms in states where it's surprising to see her, like Kentucky.
On Sunday, she rallied a friendly crowd in Louisville for the state's Democratic nominee, Alison Lundergan Grimes. Next, she'll head to West Virginia to stump for Natalie Tennant. She's already been to Oregon, Minnesota, and Washington state, and more stops are likely to be announced soon. It's not just her message that Warren's spreading: According to Warren's political team, she has raised and given $2.3 million through her PAC, fundraising events, and email solicitations to 28 senate Democratic nominees — including vulnerable red-staters like Mary Landrieu of Louisiana and Mark Pryor of Arkansas. Warren's appeal for Democrats wanting to rally their base is clear: She produces enormous, almost celebrity-like, enthusiasm from supporters.
"Democrats are the same page on what's happening to America economically. That's what we're all out there talking about," Warren told BuzzFeed in an interview. "I don't agree with every Democratic candidate on every issue. But on the core economic issues, the fact the playing field is tilted, on the need to fight for working families, we are all in the same place and that's why I'm out here."
And while Grimes has tried to distance herself from President Obama and certain Democratic issues, there was little daylight between Grimes and Warren on Sunday. The two stood on stage together railing against Grimes' opponent, Minority Leader Mitch McConnell, and declared that on issues of the economy they were perfectly in sync.
Grimes called Warren "someone who has fought as hard as anyone could fight in the United States Senate." And if Kentucky sends her to the Senate, Grimes noted, "will have someone to fight for the middle class right along with her."
"As the middle child, I'm used to operating from the center," Grimes added. "My husband and I don't agree on every issue; as Sen. Warren said, we don't agree on every issue, but we do agree that Washington isn't working for Kentucky families or American families."
Republicans were almost gleeful to have Warren come to the state, giving them the opportunity to hammer home their key message in the race: that Grimes is far too liberal for the state.
"If you look at the policies Alison Lundergan Grimes is promoting and the national liberals she's associating with, she's not even hiding her allegiances anymore," said McConnell spokeswoman Alison Moore. "Alison Lundergan Grimes is outright telling Kentuckians that if she's elected her only problem with Barack Obama would be that occasionally he's not liberal enough for her taste."
The Republican Party of Kentucky spokeswoman Kelsey Cooper referred to Warren as the "radical anti-coal Massachusetts Senator" in an email to reporters.
"Alison Lundergan Grimes' empty rhetoric and desperate attempts to fool Kentuckians into thinking she'd be an 'independent voice' in the Senate are laughable at best, considering her crystal clear demonstration of a steadfast allegiance to the liberal ​Obama agenda," Cooper said.
But Democrats see changes within their own party and believe Warren's populist message could have a broader appeal heading into 2014.
"There has been a shift, and the shift has been in the Senate of a rising tide of populism within the party," said Democratic strategist Jim Manley. "It's been not only on the far left but the far right, as well. Elizabeth Warren's rhetoric on Wall Street isn't that much different than Rand Paul's."
"Last cycle I think it would have been confusing to people that a liberal senator from Massachusetts was coming in," he continued, "but the country has shifted and her economic policies resonate across a fairly significant part of the political chessboard."
For their part, Grimes' campaign was also happy to have Warren there, if only to contrast the candidate with McConnell on economic issues. The rally at the University of Louisville, put on by the school's college Democrats, focused on college affordability and student loan debt — an issue they believe can get out the key younger demographic in November. And Warren, as the Senate leader on a bill to lower the interest rate on student loans, was the right surrogate for the occasion.
"It's about billionaires or students and I stand here with a woman today who said in that choice I'm going with the students. Alison said I'm ready to stand with students," Warren told the crowd. "That's what this race is all about. It's about a man who stood up and filibustered a student loan bill. Think about that...You send us Alison Grimes instead of Mitch McConnell and you change that."
Warren was mildly self-deprecating when asked if she was surprised to find Democrats speaking perfectly in unison this cycle on the issues she'd made a name for herself on.
"I've never done this before! I don't have previous cycles. I was a candidate last time, so this is my first time at the rodeo," she said, laughing. "In that sense, I make light of it. But it's what I talked about in my campaign, it's what I talk about on the floor of the United States Senate, it's why I am glad to stand beside Alison, Natalie, and others to talk about in their races. This is about whose side do you stand on, are you with millionaires and billionaires or with people who are trying to build a future?"
Warren's ability to fundraise for fellow Democrats could help her own future aspirations, whatever they may be. Though she has emphatically denied she has any plans to run for president, it certainly doesn't hurt to give generously to colleagues now.
"She's in the process of building a power base within the Senate," Manley said. "For someone in year two and a half, she's raised an impressive amount of money. This helps build up chips for whatever she has in mind further down the line."
The crowd on Sunday was excited for Grimes, but there were many clad in T-shirts that declared: "I'm from the Elizabeth Warren wing of the Democratic Party." As the rally ended and Katy Perry's "Roar" blared, it was Warren who was mobbed from fans for photos.
"Would I have 100% been here if Warren wasn't coming? No," said Gary Turner, who said he hoped Warren might run for president someday. "She's like what Obama was, she's just got something about her. I am all for Alison and I hope she wins but I wanted the chance to see Warren."