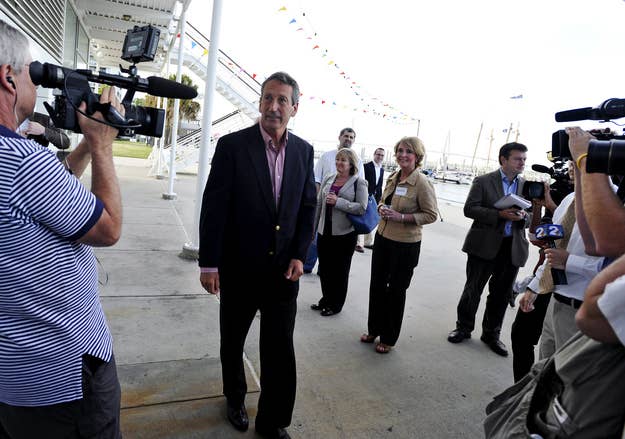 DANIEL ISLAND, S.C.— Mark Sanford had commandeered my keys.
We were getting ready to leave Gerald's Tire Store in Mt. Pleasant — one of several impromptu campaign stops the former Governor had made Monday morning as part of his House campaign against Elizabeth Colbert Busch. The plan was for Sanford to ride shotgun to his next stop so we could have some time for a one on one interview.
Earlier in the day, the laid back former Governor of South Carolina had hopped in the back of the car of Yahoo! News reporter Chris Moody, and later he'd take a ride with The National Review's Betsy Woodruff.
"You wanna hang out? Let's hang out. I'll drive! You have to ask questions and pay attention," he said, over my protestations. "I know where I'm going."
There was no stopping Sanford. Much to the chagrin of his campaign staff, he tends to do as he pleases on the campaign trail, stopping at places off the schedule and talking to literally everyone. So he was going to drive and that was that, despite my grumbling that he wasn't exactly on my rental agreement. I said a little prayer and hopped into the passenger's seat for the latest installment of what already had been a bizarre reporting trip on a unique campaign.
Over the course of our ten-minute car ride, Sanford was willing to talk about, well, really anything and acted like a guy who has nothing to lose, not someone who's political comeback would be decided the next day.
He spoke about the rough patch his campaign had hit two weeks ago: when his ex-wife Jenny accused him of trespassing. He claimed that he had just been watching the end of the Super Bowl with his son.
"I think it took people sometime to digest that," he said. "But as has often happened, people heard me out and then they want to talk about jobs or the economy."
He spoke glowingly of his four sons, the eldest of whom is graduating from college in two weeks (a year early to boot).
And Sanford, whose 2009 affair derailed what had once been a promising national political career, has plenty of reason to be loose and conversational in the closing days of the special election: polls released over the weekend showed he'd closed a 10 point gap in just under two weeks, putting him neck and neck with Busch.
"If you've been where I've been back in 2009, it's all a blessing," he said. "If I have the chance to serve in this role, I'll be thrilled. If I don't, I'm at peace. I'll go back to real estate."
This wasn't the first display of Sanford's freewheeling style when it comes to the press — on Saturday, the Governor took myself and two other reporters on a mission to "find a woman that doesn't like me.""
Arriving in Daniel Island, I let go a sigh of relief. Sanford had successfully avoided wrecking my rental and we only pulled into the wrong shopping plaza once. We met up with South Carolina GOP chairman Chad Connelly at a shipping store. It was a quick stop and then on to a half dozen other stores where Sanford went out of his way to shake every hand.
While Sanford seemed happy to be giving so many interviews, there may have been another reason he hopped in our car: his driver, Martha, a young staffer whose job it is to get Sanford places on time and keep him on track (she is rarely successful).
"She's just an awful driver, terrible," he said. "She's almost killed me several times."