Democrats Turn To Progressive Agenda To Motivate 2014 Voters
Facing a huge midterm drop-off in the turn out among their key supporters, Democrats are starting to make direct appeals. Operatives point to the Virginia governor's race as proof they can turn people out in an off year.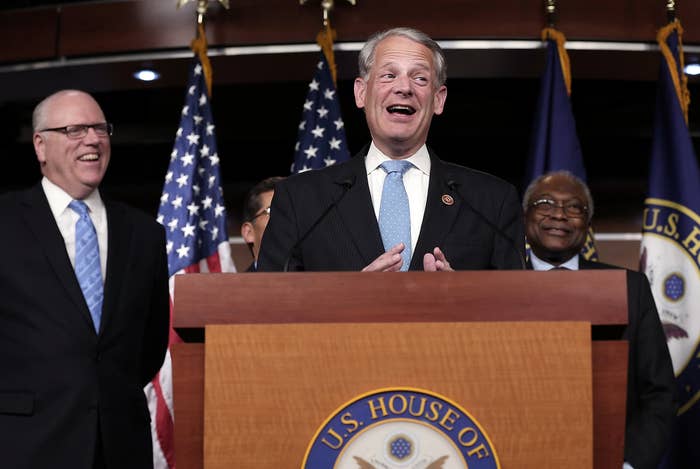 WASHINGTON — To say "it all comes down to turnout" is both cliché and incredibly true for House Democrats in 2014 if they have any hope at all of regaining the majority.
While they have maintain cautious optimism this year about their prospects for taking back the majority, most political experts put Democrats' chances of doing so at slim to none. And part of the problem — according to party officials — lies in the enormous drop-off in turnout during the midterms among key groups in the Democratic electorate: young people, African-Americans, Latinos, and women.
Because of that drop-off, the campaign committees and members themselves have been sharpening their focus on progressive and core Democratic issues to motivate these all-important base voters. It's a new focus learned in part from the lessons of 2010, Democratic operatives say, when many felt party did not adequately engage those groups and House Republicans took control of the House.
Again and again at the Democratic agenda retreat in Maryland last week, party leadership and members pushed hard on the notion that they were fighting for the issues most Americans (and especially their base) really cares about while Republicans were not. The words "women," "equality," "unemployment benefits," and "minimum wage" were used early and often in every single press availability.
"If we don't turn out those voters in numbers closer to what we have in a presidential, we won't succeed. And the way I think we do it is identifying the issues that women care about and people of color care about: minimum wage, economy for everybody," said Vermont Rep. Peter Welch.
"The question is can you execute?" he added. "I think it's progressive issues that motivate middle income and low income voters who've been totally left behind in the recovery. And it's the effectiveness of the execution of the ground game that gets the vote count up."
In an October report for the Voter Participation Center, Democratic pollster Celinda Lake and her team estimated that at least one in three voters in what they call the "Rising American Electorate" who voted in 2012 will not turn out in 2014. The study defines the RAE as unmarried women, people of color, and voters between 18 and 29.
"If progressives can lower this number by just 2%, it would mean an additional
1.3 million RAE voters and the margin of victory in many close races," they wrote. "We have seen this difference in the past; the drop-off among RAE voters was 3%
greater in 2010 when Republicans won back the House, than it was in 2006 when Democrats won both chambers. Turning out RAE voters is essential."
Rep. Jim Himes said that getting key groups, especially women, out to vote was crucial if Democrats wanted to "change the battlefield."
To understand just how much Democrats know this and are trying to appeal to these voters, one only needs to listen to Rep. Steve Israel, the chairman of the Democratic Congressional Campaign Committee.
"Rising wages, pay equity for women, a fair tax code, immigration reform, these are not just topics; these are the fundamental differences in the United States Congress right now between Democrats and Republicans. This is about: Whose side are you on?" Israel said last week at the retreat. "And on every one of those issues, rising wages, pay equity, immigration reform, a fair tax code, we're on the side of the American people."
While the prospects for a House takeover remain low, Democrats saw a glimmer of hope last November in Terry McAuliffe's Virginia gubernatorial win. They say the 2013 governor's race showed that the party was capable of turning out voters who normally stay home in an off year.
"The DCCC is employing a lot of the same tactics that we put into place last year," said Michael Halle, who worked as the coordinating campaign director for McAuliffe. "I think a lot of this is transferable…The turnout component of the election is ofter overlooked or they think it's not possible to impact and we came in from the very beginning with the belief that it was a necessary path to victory."
Halle said the campaign began early by not just polling likely voters, but also more "sporadic voters" to try and get a sense of what issues would get them to turn out in an off-year.
"Because of who [Republican] Ken Cuccinelli was, women's issues were really powerful among white unmarried women. For African Americans, deeply important were inequality issues," Halle said. "I think that's why both committees are going to do well with those messages this year."
Republicans maintain they have a strong edge in the election, confident they'll hold on to their majority and the public will still be angry about the difficulties of the health care law rollout and unsatisfied with the president and the economy.
"If Democrats think more top-down Washington mandates are the answer to their political woes then they have learned nothing from the implosion of Obamacare," said Daniel Scarpinato, spokesman for the National Republican Congressional Committee. "Middle-class families are struggling in the Obama economy, losing their health care and losing their jobs — and that failed record is going to tank House Democrats in 2014."
It's not that Democrats aren't nervous about the possibility of the health care issues hurting them in the midterms, but the message from the caucus right now seems to pinning Democratic hopes on the health care launch improving to the point where Obamacare won't be as big of an issue in November.
"We're still a lifetime from November … a lot of their strategy seems to rely on people being grumpy about the economy and the ACA 10 months from now," Himes said. "There's no question October and November from the standpoint of the ACA was very painful … but every single week thousands of people sign up and the economy, while nothing to crow about, is slowly but surely recovering."
Kate Nocera is the DC Bureau Chief for BuzzFeed News. Nocera is a recipient of the National Press Foundation's 2014 Dirksen Award for distinguished reporting on Congress.

Contact Kate Nocera at kate.nocera@buzzfeed.com.

Got a confidential tip? Submit it here.