Democrats Defend Obama's Fundraising Swing
"The best way he can fight for the middle class is to have a Democratic House of Representatives," said Rep. Steve Israel.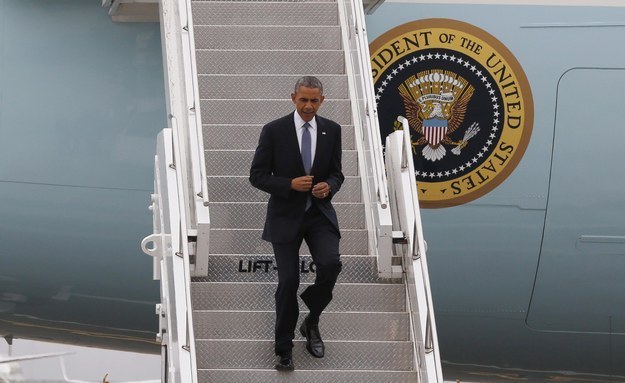 WASHINGTON — President Obama has continued on an aggressive fundraising schedule in recent weeks, despite an ongoing crisis at the border, the downed plane in the Ukraine, and the conflict in Israel and Gaza.
House Democrats, including the chairman of the Democratic Congressional Campaign Committee, defended Obama's decision to keep his fundraising commitments. In the current astronomical fundraising environment, they argued that the president is just doing what he has to do.
"We live in a world right now where every day can interfere with many things and President Bush was out there fundraising on tough days and President Obama has tough days where he's also fighting for the middle class," DCCC chairman Steve Israel told BuzzFeed. "And the best way he can fight for the middle class is to have a Democratic House of Representatives."
Obama is spending three days on the West Coast this week at various fundraisers for the DNC, the DCCC, the Senate Majority PAC, and the House Majority PAC. Last week, he attended events in New York for the DNC and House Majority PAC. The president's public schedule for Wednesday consisted entirely of fundraisers. Minority Leader Nancy Pelosi attended Wednesday's DCCC event and Obama told the audience that he needed "her back as speaker of the House."
Republicans have been sharply critical of the fundraising swing. Incoming Majority Leader Kevin McCarthy said the president appeared to be "on the loose and having a good time" instead of addressing various global crises. Arizona Rep. David Schweikert released a statement Wednesday that said the president was "missing-in-action" and implored him to visit the border.
Democrats say the fundraising isn't new to this or past administrations and Obama is able to do two things at once.
"Presidents have always assisted their parties. This is not something new. Presidents have always taken summer vacations and played golf, but when it's not your president you criticize him for doing that," said Rep. Jim Himes, who serves as the National Finance Chair for the DCCC. "The sorry reality is presidents have always done that. And I say sorry reality because someday we need to get to a system where there's a lot less money in the system. The world only gets more complicated so that probably increases the urgency where everyone from democratic back benchers to the guy in the Oval Office won't have to spend so much time raising money."
White House Press Secretary Josh Earnest on Tuesday told reporters that the president was more than capable of keeping track of world events and attending the fundraisers at the same time.
"What will be clear to you as the president goes through the next several days is that he will be paying all of the necessary attention to make sure that American interests are represented in each of these circumstances," Earnest said. "Again, he can do that through phone calls. He can do that through conversations with staff either in Washington, around the globe, or traveling with him along the West Coast. That will be the urgent priority."
Earnest also said that if the situation warranted, Obama would "alter the schedule."
Some members said they were more focused on their own work than what the president was doing, and believe he is committed to returning to Washington if he needed to do so.
"We've got a lot of business to be done here. I'm on the conference committee with the VA bill, we've got to get that VA bill done by the end of the month," said Rep. Julia Brownley of California. "The president has said he'll be here if he needs to be here and that's about all I can say."
Rep. Cheri Bustos from Illinois also wasn't concerned that the president might be out of touch or that the constant stream of criticism would be harmful to the same Democrats for whom he's trying to raise money.
"I'm sure he's being briefed constantly and is informed of what's going on in our country. Like any job it's a balancing act, we've got to fit a lot of things in in a 24-hour day," Bustos said.
"In this line of work, there are critics every place you turn. There are people who agree with you and people who disagree with you," she added. "I know the president's heart is in the right place and he's doing the best he can to deal with these terribly tough issues."