Crisis Withdrawal On Capitol Hill
The holidays just weren't the same without a crisis on the Hill. The regularly scheduled insanity will resume shortly.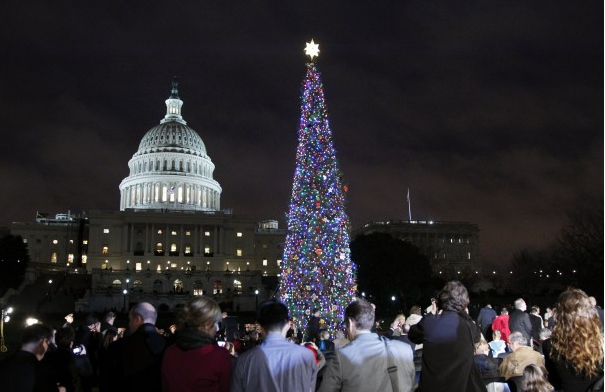 Something has been missing from the holiday season this year: There's no fiscal crisis on Capitol Hill.
This time last year, member of Congress, their staffs, and an assembled press corps rang in 2013 from the Senate hallways and press galleries. Stories were filed in between sips of champagne and half-hearted "Happy New Year" greetings. On New Year's Day, the gang got back together to do it all over again in the House.
The budget deal brokered by Rep. Paul Ryan and Sen. Patty Murray this year, however, guaranteed an unusually quiet D.C. and at least some downtime after a crisis-filled year. Still, without a huge deadline, many of the type A personalities who dominate Capitol Hill had to re-learn how to literally do nothing.
"I think I'm still working it out of my system," said Ben Marter, communications director for Sen. Chris Murphy. "I went from feverishly clutching my Blackberry, wondering if I had lost service and maybe that's why I wasn't getting emails, to just checking it a couple of times a day. Holding a little piece of firewood in my Blackberry hand helps too."
Another Democratic aide said it took him at least a few days to learn how to relax before embarking on an actual vacation. When finally settled in at the airport, enjoying a glass of champagne, two reporters emailed trying to confirm a rumor (that he could not confirm).
"Selfishly, I thought to myself, If this happens now, this is really going to ruin this glass of champagne," he said.
Brad Dayspring, the communications director for the National Republican Senatorial Committee, was downright jovial about the crisis-free Christmas but responded almost immediately to a reporter's email.
"Crisis-free brings holiday glee," he wrote in an email. "'Twas the night before Christmas, and all through the house, not a creature was stirring. For once."
Dayspring's good mood was due in part to a stress-free joint-family holiday with his fiancée.
"There were no arguments, injuries, or hospital visits, which was a sigh of a relief and a sign of good fortune for our upcoming nuptials," he said.
The unplugging part may be difficult for some, but others are using the relative quiet to prepare for some looming battles. The regularly scheduled insanity will resume shortly for those going through crisis withdrawal.
Budget appropriators still need to come up with numbers for a giant government-funding bill before Jan. 15. Republicans are still trying to figure out what exactly they'll ask for in exchange for raising the debt ceiling, although the Obama administration has already said, again, that they won't negotiate. Democrats are pushing hard right now for an extension of federal unemployment insurance, which expires on Saturday. Politicians are also gearing up in earnest for election season, a time typically where very little significant legislation actually gets done.
A Republican aide said that not having to constantly respond to reporter's requests, or be stuck with a needy boss gave him the mental headspace to get ready for the difficult debt ceiling fight sometime in February.
"I didn't leave D.C., but I also didn't stop working," he said. "It was just work without the level of anxiety I've grown so fond of."