Conservative Women's Group Claims Credit In Mark Sanford's Win
Victory has a thousand mothers.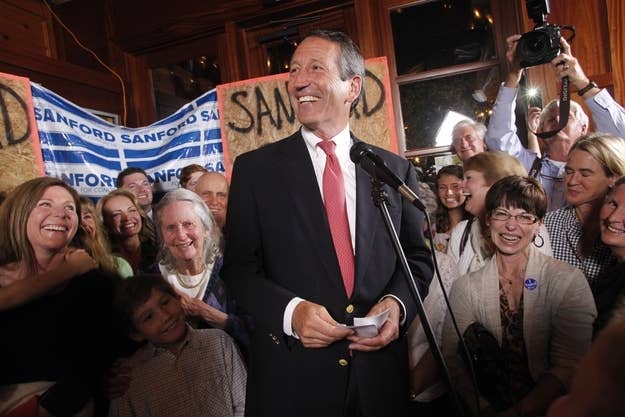 A conservative non-profit that was among the few national groups to back former Governor Mark Sanford, despite his complicated personal life, claimed victory on Tuesday night, and celebrated a $250,000 independent expenditure spent in the final week in South Carolina's first district.
"Independent Women's Voice was the only outside group supporting Sanford on a significant scale, by educating voters about the facts about the Democratic candidate," said IWV president Heather Higgins in a statement.
The group came into the district to support Republican Mark Sanford after the National Republican Campaign Committee opted to stay out of the race when Sanford's ex-wife accused him of trespassing.
Sanford's poll numbers had dropped considerably two weeks before the election, and they showed him trailing his opponent Elizabeth Colbert Busch by 9 points. IWV says they had no plans to get involved in the race but they poll tested the district to determine if their money could help at all.
Mitt Romney won the district by 18 points, but Sanford's personal life had given Democrats a reason to believe the race was competitive. The Democratic Congressional Campaign Committee spent $458,000 on the race along with the House Majority PAC, which spent $426,000. An official with the DCCC said the committee broke even on the race between their agressive fundraising and expenditures. Sanford ended up winning by 10 points.
With a specific focus on repeal of Obamacare, IWV ran TV and print ads, including a full page Monday ad, signed by 200 women, urging support for Sanford.
"Sanford's victory marked a tremendous comeback against long odds. He was out fundraised by Colbert Busch 3:2, and money poured into the race from the Democratic Party and from a number of PACs for his opponent," Higgens said.
Kate Nocera is the DC Bureau Chief for BuzzFeed News. Nocera is a recipient of the National Press Foundation's 2014 Dirksen Award for distinguished reporting on Congress.

Contact Kate Nocera at kate.nocera@buzzfeed.com.

Got a confidential tip? Submit it here.