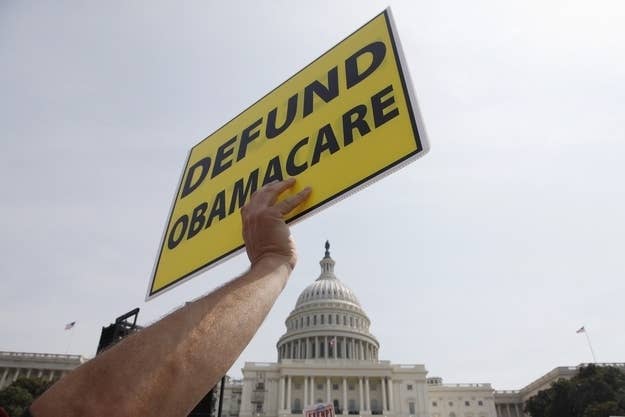 WASHINGTON — Conservative groups on a conference call late Saturday night agreed to hold off on criticizing House Republicans for a funding resolution that delays the implementation of Obamacare, according to participants on the call.
While groups like the Tea Party Patriots and ForAmerica have been forcefully calling on members of Congress to not accept any government funding measure that does not completely defund Obamacare, they are reluctantly holding their fire over a House passed measure that only delays the law and repeals the medical device tax.
Both Tea Party Patriots President Jenny Beth Martin and ForAmerica Xhairman Brent Bozell were on the call. Both have worked to mobilize their supporters to call members and demand nothing short of full defunding. They've been highly critical any Republican who has indicated a willingness to fund the government without defunding Obamacare.
"The House needs to completely defund Obamacare, not one penny to Obamacare. If so groups would reluctantly live with a one year no funding deal, but has to fully defund all aspects of Obamacare. Delay without defund or if House funds it in any capacity, then all hell is going to break loose," said a conservative strategist who was on the call.
The strategist said a one-year delay of funding was "as far as these groups are willing to go."
A shutdown is looming and the government is set to run out of money on Oct. 1. The House passed a measure Saturday night to fund the government and delay the law, but Senate Majority Leader Harry Reid has said his chamber will not accept a resolution that makes any changes to the health care law. The Senate does not come back into session until Monday, leaving little time to avoid a shutdown.
Conservative House members have also said they won't support a so-called "clean" funding measure, but there are likely enough votes in the House to get one through.
"If the House does not stick to its guns on this, there will be a major problem with the conservative and tea party base," the strategist said.
Other groups are at least expressing their dissatisfaction with the House plan, but held back on mobilizing against it. Heritage Action, another group that has been forcefully calling on Republicans to reject anything short of defunding, put out a statement Saturday saying they would not "key vote" the delay provision.
"The Blackburn Amendment presented by House Republicans is a delay of Obamacare's provisions but does not fully defund implementation of Obamacare. Although it falls short of full defunding, Heritage Action will not key vote against the Blackburn Amendment because a delay is a step towards preventing the law's entitlements from taking root," they wrote.