Congress's Next Fight Is Already Here: The Debt Ceiling
"I am hopeful that we will use every leverage point available to try and turn this country around," said Sen. Ted Cruz. GOP senators lay out wish lists for debt limit increase demands.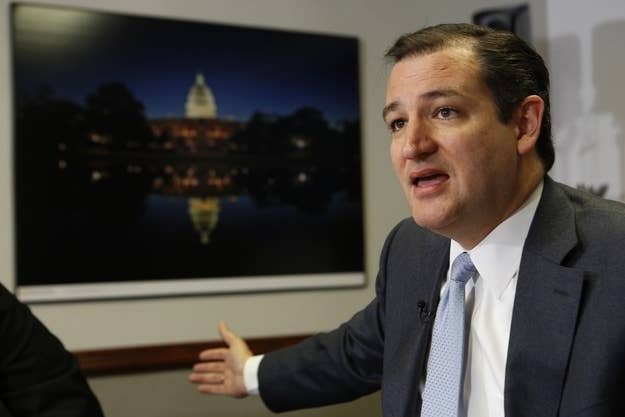 WASHINGTON — Senate Republicans Tuesday said they are ready to go to battle over raising the debt limit early next year, echoing comments made by Rep. Paul Ryan over the weekend that the GOP would rally for certain concessions from Democrats at that point.
As far as the debt ceiling goes, Republicans were largely in agreement that they should oppose any sort of "clean" debt limit increase — although there wasn't exactly unanimity over what concessions to demand in exchange for raising the debt limit.
GOP senators BuzzFeed spoke with suggested everything from tax reform, to energy reform, to further changes or delays to Obamacare and it's mandates.
"We as a caucus — along with our Senate counterparts — are going to meet and discuss what it is we're going to want out of the debt limit," Ryan said on Fox News Sunday. "We don't want nothing out of this debt limit. We're going to decide what it is we're going to accomplish out of this debt limit fight."
The budget agreement will, as Ryan hopes, limit the likelihood of another government shutdown that left the GOP reeling in October. The shutdown was the result of a tactic, largely pushed by Texas Sen. Ted Cruz and House conservatives, to defund or delay Obamacare in exchange for funding the government, a fight many Republicans didn't want to pick.
Cruz suggested that this would be another moment to try and get some changes or delays to the health care law.
"We have got to rein in our out of control spending … we've also got to provide real relief to the millions of people hurting because of Obamacare. I think that needs to be the focus," Cruz said. "I am hopeful that we will use every leverage point available to try and turn this country around and pull back from the fiscal and economic cliff we find ourselves in."
Wisconsin Sen. Ron Johnson laid out a wish list of things he thought he could agree to in exchange for a debt limit increase.
"What I'd like to see the House do is go ahead and between now and when the debt ceiling issue comes up, is concentrate on a couple key issues, whether it's energy, whether its tax reform, or what we can do to preserve freedom in health care," he said. "I think any time the president comes to congress and asks to increase the debt burden on our kids and grandkids the American people do expect some measure of fiscal discipline."
Sen. Jeff Flake argued that negotiations over the debt limit have been effective, resulting in spending reductions that Republicans want. Flake would not point to any one thing he'd like to see as part of a debt limit increase except to say "spending cuts."
"Every ounce of fiscal discipline we've had in the past couple of decades has come from debt ceiling negotiations," he said. "To let that pass and raise the debt ceiling without addressing the source of our long-term structural deficit isn't a good thing."
Sen. Jerry Moran echoed Flake's comments.
"I've said from the very beginning raising the debt ceiling should be accompanied by changing the way we do business," he said. "Reducing our spending and it's been a general goal of ours, raising the debt ceiling we ought to be reducing spending in corresponding numbers and I think that's the point of negotiation."
White House press secretary Jay Carney reiterated on Monday that the president would not negotiate over "the full faith and credit of the United States." Economists and business leaders have warned repeatedly over the last several years that a failure to raise the limit could result in default and uncertainty in the global markets.
Democrats were incredulous that Republicans were already beginning to talk about needing something in exchange for raising the debt limit. On Monday, Minority Leader Nancy Pelosi's office blasted out an email with the subject "Paul Ryan pencils in February manufactured crisis."
"Last week, House Republicans were selling the Ryan-Murray two-year budget compromise as a bill that stops the drama and ends the GOP-led lurching from manufactured crisis to manufactured crisis. House GOP Budget Chairman Ryan made short work of that myth on FOX News Sunday," it read.
Kate Nocera is the DC Bureau Chief for BuzzFeed News. Nocera is a recipient of the National Press Foundation's 2014 Dirksen Award for distinguished reporting on Congress.

Contact Kate Nocera at kate.nocera@buzzfeed.com.

Got a confidential tip? Submit it here.